Committed to Improvised Plastic Applications
SCJ has a rich data bank of over 7000 shades of masterbatches in various polymers, in-line with the international standards and its R&D centre is churning more new and customized plastics and additives for the wire and cable industry in sync with newer application trends.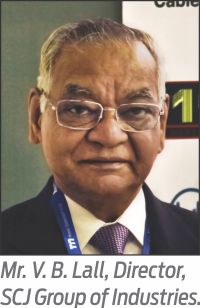 With over four decades of strong foundation, the SCJ Group has become a notable Indian player in the field of color and additive masterbatches, PVC compounds, co-extruded sheets and telecom cables. SCJ has continued to provide the plastic processing industry with quality products, both for standard and tailor-made applications.
The SCJ Research & Development center, located in Delhi and handled by experienced and trained professionals, has a full range of prototype processing machines to simulate the actual processing condition. This provides a comprehensive technical service in all aspects of processing technology.
Wire & Cable India interacted with Mr. V. B. Lall, Director, SCJ Group of Industries to know more of his views on recent compounding trends in the wire and cable industry. Excerpts:
Wire & Cable India: Brief us about SCJ Group?
V. B. Lall: SCJ Group started working effectively in 1969 and we started off at that time with the PVC, which was the only polymer available at that time on the larger scale. Other polymers like polyethylene (PE), PPE etc. came much later. So, we started with PVC compounds and PVC masterbatches. We also had an indoor cable manufacturing unit. As far as cable sector is concerned, we have a rich background of PVC cables, PVC compounds and masterbatches.
We founded a company called SCJ Plastic Ltd. in 1983 and we started making polyolefin masterbatches, primarily polyethylene masterbatches for the packaging industry and process industry. Then, by putting up more machines, we have reached a production capacity of about 70,000 tonne with 75 lines operating in Delhi, Baddi (Himachal Pradesh) and three units in Daman. Additionally, our offices are in Delhi, Bombay and Daman with sales executives distributed virtually all over the country. We are catering to cross-section of the cable industry as well as the packaging sector. Then, we have all the FMCG processors; we are working for them for masterbatches, and addittives.
Now, since we are at the wire and cable exhibition, I would like to focus on our background in cable sector. Way back in 1960s, we got to know exactly what is required by the cable industry and therefore today we are one of the leading suppliers of master-batches to the cable industry. We have masterbatches as per IS certifications as far as color is concerned. We also develop color as per customer's requirement, meeting the international shade standards of Pantone, RAL. Our masterbatches comply with the RoHS and REACH standards, which are also international standards made to meet the environmental norms. We are very particular in keeping a check on pollution.
Moreover, SCJ makes special category masterbatches for the cable industry which are anti-rodent/anti-termite and eliminate the damages done by rodents/termites. In addition to this, we have special masterbatches which do not fade when exposed to Sunlight. Here, a special pigment is added so that the colors don't fade in addition to a UV stabilizer, which takes care of the compound from getting brittle.
Today, SCJ caters to a complete range of customers in the cable and is still growing; we have completed 47 glorious years. We have a very good R&D system in the development center in Delhi equipped with latest testing equipment and have small labs with testing equipment for end-products. SCJ provides certificates of reliability to all its customers.
WCI: Fire-resistance, anti-termite and anti rodent are current trends that every compound company is talking about. What is SCJ doing in this regard?
VBL: See, we know the importance of fire-resistance today, especially after what happened sometimes back in Delhi, a fire in one of the theatres. Well, maximum death occurs not because of fire, but due to the smoke and we actually require a low-smoke cable. If the cable is made of PVC, by nature, the chlorine contents are fire impeding. For instance, if you take flame near to a PVC cable, it will start burning and the moment you take away the flame, the fire will automatically extinguish because of high chlorine elements. However, there are special additives which are chemicals that help in improving the low-smoke characteristics. That is what we are focusing on, i.e. fire-resistance, low-smoke and zero-halogen. These are the features of cables that help in reducing causalities in case of fire. Coming back to anti-rodent and anti-termite, these are also the need of the industry and we are glad to tell the industry that we have these products ready with us. Our special range in this category is also environmental friendly.
WCI: Do you have something that can cater to renewable energy sector like solar, wind, etc. Do these applications need special chemicals or processes in to make?
VBL: Of course, we are working on these highly upcoming applications. Our R&D wing is working non-stop to come with some really practical and marketable solutions on these fronts. We indeed are generating enough enquiries in this regard.
And, yes, you actually need different type of additives to make these products. We are working on them and we will be able to give our customers something in case they ask.
WCI: The market is growing and you have ample time to develop products that can be used in solar power applications, especially when we have huge potential in solar to the tune 700 odd GW.
VBL: I see the wire and cable sector growing well. You would be surprised to know that the household cables are growing in a big way. Today, we have got machines with an output of over 1,000 mpm and there you require special masterbatches, which are compatible with and are absolutely essential for these high-speed cable machines.
Yes, the solar power segment has got tremendous potential and to realize it, many industries would have to contribute. We have already developed the right products and have given to the industry. The cable units are welcome for any queries.
WCI: There is also a view or trend talking of transition for PVC to PE, your opinions in this regard? Do you think that power sector would also prefer PE cables in coming times?
VBL: See, PVC is ideal for use. As far as properties of polyethylene (PE) are concerned, it is better. But, because of the fire hazards, PE is not being used in a big way so far as electrical commissioning is concerned. But, yes, PE cables are increasingly being used in telecommunication sector. In fact, we have our own plant also, Himalaya Communications in Baddi, where we make all sort of telecom high bunched cables.
WCI: For your cable production, do you have everything in-house or are you sourcing something from outside?
VBL: We are producing telecom cables and some raw material is sourced from outside while master-batch are from our own stable.
WCI: Any recent addition in product portfolio that you want to name?
VBL: Yes, like I already mentioned, we are working on specialized raw material products like for solar energy; also, we are working on further improving the specialized very high-speed masterbatches for the household cable and skin master-batches.
WCI: Are you exporting also?
VBL: No, export is not something immediate. However, it is definitely on the cards though; we are planning an export outlet and will soon start working on it.
WCI: I would like to know your overall views on the wire and cable industry.
VBL: As I said, the wire and cable industry has matured, but it still can do better as many foreign companies are investing in India in collaboration or individually. The industry has huge growth potential, not only on production part, but technology as well as the Indian wire and cable is a very strong market. Also, the younger generation is fully trained and educated on what is required to bring wire and cable industry in-line with international standards or even better.
WCI: You were just telling about collaborations; have you also been approached on the matter? If there happens to be a technical JV, what are your expectations from it?
VBL: We have been approached, but we are still thinking about the idea. The German companies are coming like Lapp India in Bhopal and other companies are also trying to set up production facilities in India as there is a big growth potential here.
See, where my company is concerned, we have reached a stage where the quality and production is of very high order but we are open to improvements. If we go in for a joint venture, we will put more stress on technology. Our main focus would be whether the company's technology is at par with world standards or not. We will see whether the company is prepared to accept and deliver the technological advancements desired by our company and clients. We will check if they have got the potential, have got the set-up for the R&D, or it is on their top priority.
Additionally, we should anticipate what would happen in coming 10 years and start working on that. We are concerned that it should be a world known group, but are more concerned about the technological background of the company, whether they are R&D oriented or not. As far as sales are concerned, we have got a very good team, especially the sales and marketing team. We want to sell good quality products or a product in-line with future technology. So, when we will join hands with them, we would wish to become world leader in technology and R&D both, not only product.
WCI: How much percentage of your compound masterbatches gets directed to wire and packaging segments?
VBL: See, these are two different aspects in a sense. As I told you, the wire and cable is a totally different business sector. Today, we are selling compounds and masterbatches under the company named Kund Kund Polymers. There is no clash between the capacities for the masterbatches for packaging sector and the cable. There is parallel growth, which is continuing steadily and confidently, both production and technology wise.
WCI: Finally, you want to add something to this?
VBL: The very fact that Messe Dusseldorf is conducting an exhibition on the wire and cable shows that not only in India, but across the world, it is a very important sector and in this exhibition itself you can see active participation by many foreign companies. Very fact that European companies are coming up shows the industry has big potential. I hope that we keep growing and magazines like WCI help industry in growing and in terms of knowledge along with better understanding of customers and their profiles.