Mikrotek Machines Ltd.: Globally Appreciated Dies and Die Polishing Tools
Established by technocrat Mr. B Kamal Babu, Mikrotek today is one of the top manufacturers of wiredrawing dies and die polishing equipment in the world.
Mikrotek is a modern company with its plant housing state-of-the-art machines producing quality precision drawing dies. As an ISO 9001:2008 certified company, Mikrotek has moved an edge forward to supply dies which exceeds customers' expectations and is closely working to supply an array of sophisticated products to every nook and corner in India and important nations of the world.
WCI recently interacted with Mr. B Kamal Babu, MD, Mikrotek Machines Ltd. and Mrs. B. Anitha Kamal, Director, Mikrotek Machines Ltd. to know the basics on which the company works to stay amongst the top diamond die makers of the world. Excerpts:
Wire & Cable India: Kindly brief us about the company Mikrotek.
B. Kamal Babu: Mikrotek was started by me in 1993 to manufacture an entire range of precision diamond dies and die polishing equipment, used in wire and cable production. The wires/cables drawn through our dies/products are used in satellites, medical wire, automobiles, electrification, house wiring, motherboards, fiber optic cables etc. Prestigious companies like Apple, Mercedes, and BMW employ these wires. Mikrotek stands as one amongst the top diamond die manufacturers in the world and we supply to more than 30 countries worldwide.
Additionally, we set up 1000+ die-shops in India and abroad and have sold 3000+ die polishing machines, both significant achievements by a single company in the world. Mikrotek setup 95 percent of die rooms in India and has won 4 prestigious international awards from International Wire and Machinery Association. The company has won many awards including the "Most promising manufacturer" award from IBN7 and CNN IBN along with a "Quality Manufacturer" award from International Product and Services.
Mikortek believes in socially responsible business. Working towards women empowerment, 80 percent of the employees at Mikrotek are women. The company provides accommodation for employees, interest free loans and free educational grants for their children. Therefore, it is a preferred employer for people from adjoining villages/areas. We are doubling our production capacity and well positioned to supply the demand for global wire & cable fueled by the infrastructure growth all around the world.
WCI: Share with us the recent developments on products or processes front at the Mikrotek.
BKB: Today, our customers are looking for quicker response time for their queries, swifter deliveries and zero defects. As a result, we made some internal changes within the organization to channel our efforts to meet these expectations of our customers. We are ISO 9001:2015 certified, ensuring that clients will benefit from internal processes that are documented, learned, consistently reviewed for improvement, and consistent with quality assurance best practices established by the Inter-national Standards Organization. These process improvements & standardization efforts help us deliver high quality products to our customers consistently.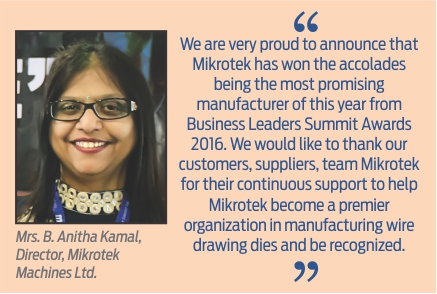 We have an R&D department which is focused on improving the performance of our products as well as developing new products. These R&D efforts help us offer improvements and new products, from time to time, aligned with our customer needs and expectations.
We participate in all the industry shows and exhibitions to better understand and gauge the manufacturing trends and industry developments. We also closely engage with our customers to understand their needs to ensure that the products and solutions we offer are relevant and meet the needs of our customers and are in alignment with industry trends and developments.
WCI: Kindly elaborate about the multifunction, innovative machine for dies at the display at Wire Mumbai.
BKB: We developed a fully automatic, tungsten carbide die grinding, polishing and sizing machine with 5 work stations operated through programmable logic controller. This machine automatically feeds the tungsten carbide dies, one by one. Operations are as follows: rough grinding, fine grinding, polishing and mirror polishing of reduction cone and sizing, bearing formation and mirror polishing of bearing is formed in the last operation. Between each operation the die is air cleaned and the diamond liquid is injected into die. This machine is one of its kinds and very much operator friendly.
We also developed a new pneumatic, foot operated hand polishing machine. This model employs chucks creatively, and can be controlled by electric brake for instant start and stop.
Operator safety and ease of loading and unloading the dies are the key benefits to our customers who employ these machines in their facilities.
WCI: Tell us about the recent technological trends in wire dies globally or that India should adopt or has already adopted?
BKB: Conventionally, all the Indian wire clearly seen the drawing companies started demanding to run their machines at the highest speed. So, we are again at the forefront in delivering the goods very similar and even better than the European standards and ensuring that the machines for the cables are running at the 90 or 100 percent of the rated speeds. This is a big change in the wire and cable industry and Mikrotek dies have performed very well under these stringent conditions.
WCI: What are your views in general on the wire industry? How is it turning up or would turn up in the next 3 to 5 years?
BKB: I have been regularly travelling all over the world, attending the wire and cable seminars and exhibitions. Besides, we have been exporting to more than 30 countries to very key customers or reputed customers worldwide. As per the present trend, the top growth is expected for the wire industry in the African countries followed by India, proved by the recent statistics.
China is on the downward trend; Europe is more or less stagnant at 1 percent growth; very surprisingly, America is growing, but it is limited to 2 percent; though India is on the second position, the growth is expected to be anything between 10 to 15 percent, which is a massive growth for any industry. For the next 5 to 10 years, I see continuous growth in demand of wire because automobile and real estate both needs the cables and springs; so, wire will have a big demand in the next 10 years. You will see more good times than bad times going forward.
WCI: What about the power sector?
BKB: The growth in the cable industry has been sluggish, in the last 2 years in India. Given the Government's ambitious agenda and plans for growth, we expect the overall business environment to improve and anticipate huge demand for power cables in the coming years.
WCI: Are you exporting dies or die polishing machines or both?
BKB: Our major focus is on exporting dies.
WCI: Major market share outside India?
BKB: Our major market share includes Europe and Germany. For the past 20 plus years, nearly 40 percent of our production goes to the most advanced engineering industries in Germany and we are very proud being a major supplier to German companies which are considered standards of excellence.