Spirka Schnellflechter GmbH: Braiders for Wide Variety of Screened Cables
Fault-free braids, precision in lay lengths, sensitive handling of the core material and gentle, jolt-free winding of the cables before and after the braiding process are decisive for the quality of the cables and their competitiveness. Spirka Schnellflechter promises to fulfill all through its quality braiding machines.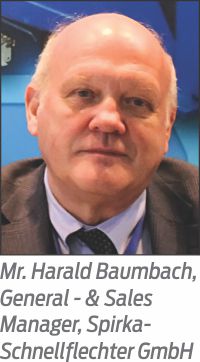 Spirka Schnellflechter GmbH has long been known as one of the producers of the finest braiding machines. The company-history goes a long way back, more than 100 years, to a company Guido Horn (founded in 1908) in Berlin. Since 2009, the company has continued the production of braiding and spiraling machines of Wardwell Europe GmbH (and also of former companies SPIRKA and SCHNELLFLECHTER BERLIN) at its new facility in Berlin-Schöneweide.
Exclusive production rights for Wardwell Europe GmbH and therefore also for the SPIRKA and SCHNELLFLECHTER brands are now held by Spirka-Schnellflechter GmbH. Besides, the company provides spare parts and service for all braiding and winding machines supplied by Wardwell Europe GmbH and also for braiding equipment from the Hacoba, Spirka and Schnellflechter brands that are in the market.
As a result of overtaking the American company Wardwell Braiding Co., which is a traditional supplier of braiding machines since 1906, Spirka-Schnellflechter GmbH are able to provide a very comprehensive machine program for braiding, spiraling and winding for the cable industry. Wire & Cable India recently held a brief conversation with Mr. Harald Baumbach, General – & Sales Manager, Spirka-Schnellflechter GmbH on the sidelines of the wire exhibition in Mumbai. Excerpts:
Wire & Cable India: To start with, can you tell us about this company?
Harald Baumbach: Our company is a very old company. We were founded more than 100 years ago. We make braiding machines, spiraling machines and winding equipment for customers in the cable industry and in the hoses industry for medical applications. The company is small; we have 30 workers, but we are the part of a bigger group called WILMS Group. Combined together, you can say that we supply nearly all kinds of machines that a cable factory is using.
WCI: Tell us briefly about your product portfolio?
HB: Spirka-Schnellflechter makes braiding and winding machines. These machines are used, on one side, for shielding electrical cables and for armoring of tubes and hoses on the other. Another application field is medical use for braiding of catheters. For these machines, there is also the coil market, which is huge and I hope this would be the case in India.
Our comprehensive product portfolio includes braiding machines, dancer-controlled payoffs and takeups, longitudinal foil taping attachments, concentric taping as integrated or separate units for the above areas of application and mentioned requirements which are well known to cable manufacturers.
WCI: Any new development on machine or application side?
HB: We are focused on new applications, especially in the field of aerospace like cables for aircraft industry, which are looking for wires with very fine diameters. For this, we have adjusted our machines for very precise tension regulation applications. Same is the case for medical field there are many new applications for which we need to prepare ourselves. We have supplied many machines for aerospace applications in Europe and China. We have just got back from the exhibition in Shanghai last week.
WCI: How has been the experience in India?
HB: See, the experience with India is different. India since many years has been a market for us, though with some ups and downs, depending on the developments in terms of products. We have supplied several machines to India for special applications, for example, machines for braiding LPG hoses. Some years ago, this was a good market; so we had good experience. But, now the market went down for that particular product and we don't supply those many machines for this application. However, we also have customers in the cable industry to which we supply our braiding machines. We therefore had some good experiences and we hope that we continue to have good experiences in future too.
WCI: Any future plans or strategy that you have for the Indian market or any new machine?
HB: We have a good strategy here in India and we are trying to intensify our market here by focusing on niche products. We also have a competition in India; we therefore have to focus on the fields, which we assume we are better in and we can get these orders as we make some really niche products.
WCI: Since you have been present in the Indian market for long time, can you speak something about the market? How do you see this market in next 5-10 years?
HB: One of the reasons why I am here is to find out what our strengths are in the future, what we need to prepare for ourselves, and what the products will be we should focus on. This is also one of the reasons why we have a representative, who speaks to our customers about the future product that they would need and their other specific technical requirements. As I said, I hope in the medical field we can get improvements and alterations. Also, products like cables, fine wire application for aircraft industry, and application for aerospace are what we are focused on and for what we are looking for the best concepts and solutions to come forward with innovative, cutting-edge products.
Moreover, the increasing demand for cables for applications in automotive, data transfer and other industrial applications as well as the constantly growing requirements for increased transmission speeds, data security and quality parameters are also making greater and greater demands on the effectiveness and the quality of cable screening with regard to the braids and foil taping of cables.
Fault-free braids, precision in lay lengths, sensitive handling of the core material and gentle, jolt-free winding of the cables before and after the braiding process are decisive for the quality of the cables and their competitiveness. The same applies for precision taping processes below and after the braiding, whether longitudinal or concentric taping is used.
WCI: Can you summarize what you intend to provide to aerospace and medical wire and cable requirements?
HB: The trend in these fields is to get thinner and thinner cables because it is the question of space and this means you need to use very thin cables, which could be braided in with very fine wires. For this trend, we need some special applications for tension control, for pitch control, etc. For these, we would be required to have some special drive systems with special, precise control systems as the quality demand for such cables are very high. You have to meet these requirements in order to get approval for cables meant for aerospace and medical industry. As you know, aircraft is a sensitive product, everybody likes to fly safe and flying safe means you need good cables with good, precise quality.
WCI: Anything else you want to add to product side?
HB: I think it is a good challenge if we fulfill what all we expect. We will hopefully at the end of this exhibition see or hear what the trends are and what our customers are looking for in order to prepare ourselves.