The Year 2017 & Ahead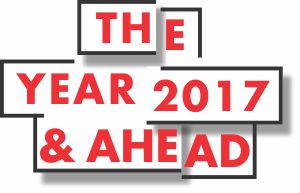 The wire and cable industry in India is growing at respectable rate currently and hopes to continue doing so in the next few years, because of many ambitious plans for infrastructure development as announced by the Govt. in the railways, power transmission, data communication, etc. As the new year is to begin shortly, many companies, hopeful of the continued positive vigor experienced by the industry, are gearing up for new performance-enhancing initiatives on product, process, human resources, and environment fronts for the individual company growth and collective industry progress. Here is what many in the industry feel about the year 2017 and ahead.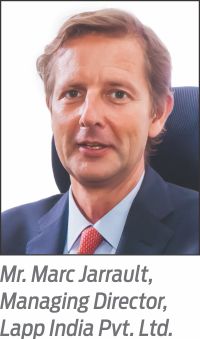 2017 is a critical year for us mainly due to promising growth opportunities presented by the segments we are present in. India is the fastest growing country and the second largest country in terms of turnover outside of Lapp Germany. Our ever increasing customer base is a testimonial to our commitment towards our customers and demand for our products. We now have over 5000 customers.
Innovation has always been key to our success. We provide products and solutions to meet the changing requirements of the various industry segments. In addition to offering tried and tested standard products, we offer customized solutions to meet customer requirements. This year, offering customized cabling solutions under ÖLFLEX® CONNECT will be one of our key focus areas.
In addition to the above, we also want to strengthen our position in the retail by launching ÖLFLEX® INFRA, our retail brand in other cities across India. Currently, we are present in Indore, Bengaluru and Cochin. This would help us establish as a leading cable manufacturer in both industrial and retail market. Further, we are confident about meeting our customer expectations both in terms of high quality, safe and reliable products/solutions and delivery time.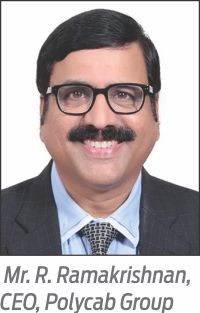 Year 2016 started out with the belief that the Indian economy could touch the 8 percent growth mark. Year 2017 starts with the acknowledgement that this is not going to happen at least in the current fiscal. There are a few imponderables which could pose risks for Indian economic growth in 2017.
First of course is demonetization and its impact. The demonetization is expected to impact growth in the short-term with the cash crunch impacting discretionary consumption and cash transaction heavy sectors. In the medium to long term, demonetization is expected to benefit growth and improve tax compliance resulting in an improvement in tax buoyancy. Interest rates will also come down since the banks are having lot of surplus deposits.
Another important thing is the GST implementation; GST will be a game changing reform for the Indian economy by creating a common Indian market and reducing the cascading effect of tax on the cost of goods and services. The gains from GST always come in the long term, but there will always be some pain in the short term. GST will also ensure greater compliance and supply chains will also be revamped.
Brexit and Trump effect, though seemingly far-fetched, is also important; Slower growth of goods exports (vis-à-vis imports) because of bleaker global macroeconomic environment caused by rising protectionism, uncertainties created by the unexpected outcomes of referendums in Britain and Italy and Trump's Presidency.
The rise of crude oil also affects us a lot. India is the fourth largest importer of crude oil. Lower oil prices kept the economy on a stable path and managed to keep inflation under control. Following the OPEC decision, there is likely to be a cascading impact on the country's fiscal scene and inflation dynamics.
Despite these challenges, India's economic outlook for 2017 is optimistic. It could be among the fastest growing economies in 2017. Mitigating these risks is important, particularly given global economic uncertainty, and failure to do so may prevent the economy from realizing its growth potential in the coming year. We expect the dust to settle down in six months and thereafter, we might see economic buoyancy. If GST is implemented with consensus and clarity, the organized sector will benefit significantly.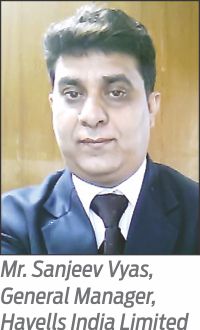 Havells India Limited today is synonymous with quality in the wire and cable sector and we wish to add more to our quality niche and product range in the year 2017. In over two decades, we have not only established a plant infrastructure with some of the most modern and automated plant and machineries, but also have produced possibly the widest range of cables covering HT cables, EHV cables, LT cables, instrumentation cables, control cables, marine and offshore cables, single and multi core flexible wires, aerial bunched cable, solar cables, etc.
Innovation is one of the core values and way of life at Havells. Moving with this philosophy, the company has invested in extensive R&D to develop best-in-class products and address the ever changing requirements of our discerning customers. In the year 2017, we are determined to take our innovative edge and R&D capability to the next higher level ensuring safe critical applications of our products. Havells' cable and wire test laboratory at Alwar has got formal recognition of compe-tence from NABL in accordance with international criteria and we hope to garner similar laurels in the years ahead.
Havells has also taken one step ahead towards business excellence in the Industry by setting up Diagnostic and Field Study Centre at Alwar with objectives such as providing a methodology for mapping test results to cable circuit failures, for accessing the accuracy and compatibility requirements of cable installation accessories, and for selecting cable by overcoming installation issues by experiencing the field studies. We will continue, in 2017, to improve the center and come up with more attractive and practical diagnostic methodologies.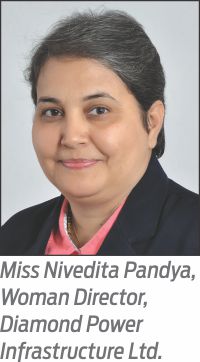 Diamond Power Infrastructure Limited today is uniquely positioned as a leading manufacturer pan India and worldwide to provide a comprehensive suite of power infrastructure products – LV, MV, HV, EHV cables, transmission & distribution conductors, transmission towers, and EPC projects services under one roof. We have recently augmented our present conductor manufacturing capacity from 50,500 MTPA to 1,50,500 MTPA. We have also enhanced our medium voltage cables capacities with a cumulative capacity of 7500 KMPA by installing three additional state-of-the-art high speed CCV lines at our Vadadala plant.
In the year 2017 and onwards, our focus will remain to deliver the demands of performance, quality and consistency, keeping in minds our responsibilities towards nation and environment. After installing such a huge manufacturing set up, our emphasis and priorities will remain to achieve best process efficiencies for optimum utilization of infrastructure with acceleration of R&D activities specifically in conductor segment. From 2017 onwards, our focus will also remain in pushing up our plans for backward integration into PVC, XLPE, HTGS, GI wires and strips, and steel drums.
Moreover, the first half of Year 2017 is going to remain challenging due to factors like uncertainties around GST roll out, possibilities of economic and financial reforms etc. Combined effect of all these factors is going to keep the market range-bound demanding highest level of perfection in the short-term/ long-term planning.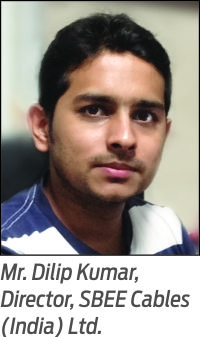 Over the years, SBEE Cables has come to manufacture wires and cables as per the time and market demand by introducing the latest products as per the current standard, and, for that reason, have been recognized globally as a company of choice for quality of its products and services. For 2017, we are moving to our new facility which will help us in widening our product range, improved production processes with less back tracking and helping us in volume business as we would get enough space and independence in carrying out developmental and storage activities.
Further, as we are a market-centric, process-focused organization which develops and delivers innovative solutions to our customers for today and tomorrow, we wish to devote a significant energy and resources in developing newer and better processes, products, services and management practices in the year 2017 and onwards. Also, on the work culture front, we will be committed to create a workplace, which is inclusive in nature with the combination of talents, experiences, and perspectives of each employee.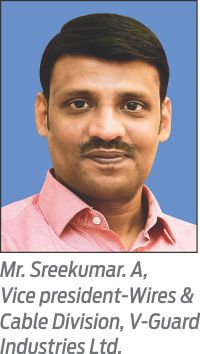 Wires & Cables Division is all set to expand its manufacturing capability and capacities in the year 2017. Significant increase of the HWC capacity planned in this year will help to widen its market footprint. As a part of the strategic transformation initiative for the business process, wire & cable division will relook into many of the key areas in its journey to achieve manufacturing excellence. Backward integration projects planned at both the manufacturing facilities will be drivers of process efficiency and will also result in boosting the bottom line.
Sustainability practices will be at the forefront of the division's vision and will enable installing the integrated management system for these projects. In the people side of the business, having achieved many accolades in the national level in the past few years, the motivation will be through empowerment, training on high performance leadership and sponsored participation in international competitions. In the quest to provide complete solutions, new product developments are also on the anvil and will be supported by high end research in the year 2017.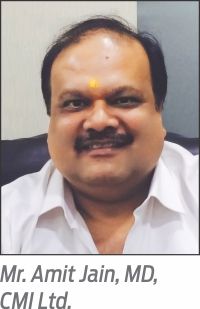 We expect the Indian economy to recover in Q1 of FY 2017-18. As far as the wire and cable sector is concerned, we expect solar, defence, cement and power domains to provide growth momentum to the sector. With the slowdown in the real estate sector, we would imagine that there would be muted demand for the domestic segment. Smart city projects are seeing some traction and 2017-18 is expected to see the projects really taking off; this will provide demand to niche and highly specialized cables.
However, the outlook for the wire and cable industry is in good shape for the next few years, and CMI Ltd. would be fine-tuning its perfor-mance in the year 2017 and ahead to harness better growth. The industry, growing at the rate of around 15 percent currently, will start growing at the higher rate in the coming few years. CMI limited will continue doing over the next 5 years as the future looks bright amidst plethora of proposed plans by the government to boost infrastructure.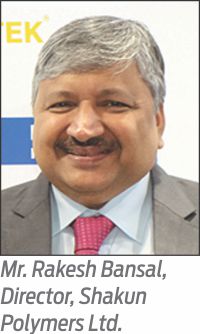 The first two quarter of 2017 looks a little uncertain due to the impact of demonetization on overall economy. Some other major impacts in 2017 are elections in some states, budget on 1st February, 2017, implementation of GST, etc. Looking on these changes, the impact on economy would be severe in short term. However, long term benefits are expected for compliant companies. So, let us wait and watch!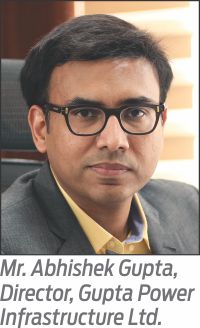 We at Gupta Power Infrastructure Limited always focus on our core values and strength, blending those with new practices. This year our priority areas will be new customer acquisition, growth of our brand RHINO wires, cables and LED lighting in retail segment through network expansion and creating a world class infrastructure for future growth.
We have added HTLS conductors, Integrated Solar LED Street light, LED solar light to our product line so our main focus will be how to grab large market with innovative products in this segment as well as the production capacity enhancement for house wires and cables.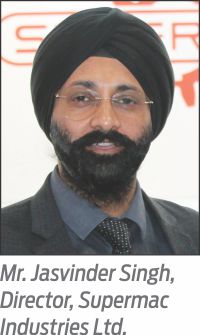 We have been in the capital goods sector of cable industry for more than 40 years, having made the beginning since cable machinery was imported in India. We were among the first to start import substitution by developing machinery and equipment with the latest technology. Due to the high techno-logical standards, our foot hold is strong internationally as well.
The beginning of 2017 has been slow in India, due to the immediate impact of demonetization of high denomination currency in November/December 2016. The end user, particularly in the house wiring sector, has been used to cash economy and therefore it may take some time to pick up the demand in this sector. However, we have been catering to various other segments of the cable industry, like power, communication, automobile etc. The latest developing sector is in solar cables with the thrust on renewable energy. The automobile sector also appears to be facing slow down in the immediate present. But other sectors should not face a dent in the demand for cables.
Investment in capital goods is a long-term decision and is generally done keeping in view at least 3-5 years in future. Therefore, a short term dip in demand, in some sectors of the cable industry, should not affect the overall scenario in long term. Thus, we have a positive outlook for our field of production, as we have a good demand from exports as well.
Even for the domestic cable Industry, it is expected that with the roll out of the Goods & Service Tax (GST) and expansion of the formal economy, the outlook should be bright at least in the second half of 2017. The pent up demand can be deferred for a while but cannot be extinguished, since cables are essentially in the category of durable goods. On the whole, outlook for 2017 for us is quite positive.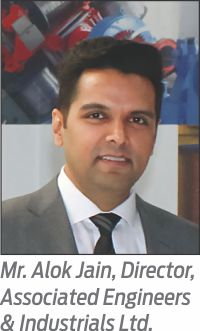 Power sector is undergoing a significant change that has redefined the perspective and decision making process of cable and conductor manufacturers. Even small and medium businesses are willing to evaluate and use high-performance machinery in order to achieve quality products, lower costs and higher production efficiency.
The bigger players in the market are focusing not only in expanding, but also in optimizing their current stranding capabilities with a long-term view on capital goods investment that perform consistently for more than 20 years with minimum maintenance. The return on investment is increasingly worked out taking into account the overall cost of ownership including raw material, manpower, space and energy savings.
Considering the feedback and repeated orders from our existing customers for AEI Rigid Stranders and the fact that AEI Machines enjoy a very good reputation as robust and reliable machines worldwide, we are confident that in 2017 also, cable manufacturers will continue to entrust AEI with one of the most important investments of the unit, the Rigid Strander. With the healthy uptake, both from within India and globally in the immediate future, we are also expanding our production capacities to be ready to fulfill this upsurge in demand.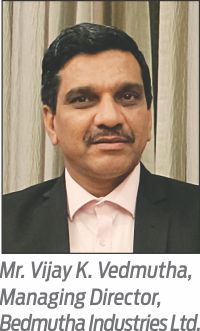 The contribution of steel wire Industry has played an essential role in the infrastructure development of any country all over the world. Indian steel wire industry over a period of years has also developed itself to match the requirement of the country and has technologically upgraded to match the international standards, and this would continue apace in the years to come, including the year 2017.
Over the last decade, the industries has invested heavily in latest technology and has invested in the considerable capex in the anticipation of the growth momentum in infrastructure segment because of push given by the government; but the same is moving at a slower pace than expected, hence there is major issue of capacity utilization for last few years and there is margin pressure, like in the steel sector.
We, at Bedmutha Industries Ltd. have also invested in the latest technology and machinery at our ultra-modern green field project at Nardana MIDC, Dist. Dhule, in Maharashtra state. We are ready to leverage the emerging opportunities in infrastructure of our country expected to take off from FY17-18 and we see immense potential in the next 10 years.