Integer Conference Review: The Middle East Cable Industry Insights with Market & Policy Trends
The 3rd Advanced Cable Middle East 2017 organised by Integer Research took place at the Oberoi Dubai on the 7-8 March, and successfully attracted over 100 attendees to discuss the latest market challenges and opportunities in the Middle East wire and cable industry.

The conference started with a keynote speech given by Taher Diab, Senior Director, Dubai Supreme Council of Energy. Diab delivered an overview of the government's role in pioneering sustainable energy in Dubai. The local government plan to follow an integrated energy strategy to 2050, which will see a more diverse mix of energy use in solar, clean coal, gas, "green peakers" and nuclear energy.
Simon Baker, Independent Consultant, chaired the second day of the conference with discussions on specialty cable market developments, telecommunication cable solutions, cable engineering and raw materials.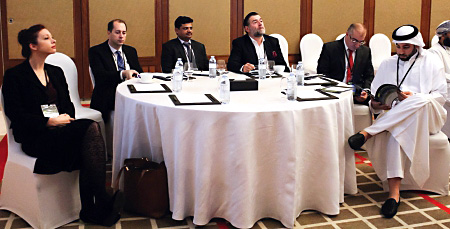 Market and Policy Trends
The keynote discussion was held as a leadership forum with panellists including Andrew Shaw, Managing Director, Dubai Cable Company (Ducab); Gert Hoefman, Chief Executive Officer, Oman Cable Industry (SAOG); Charles Edouard Mellagui, Chief Executive Officer, Qatar International Cables Company – Nexans;. Mohammed Itani, Managing Director, Energya Cables Saudi Arabia and Ahmed El Sewedy, Chief Executive Officer, Elsewedy Cables. These top leaders shared their views via an extensive Q&A on the challenges they faced running their cable businesses in difficult times. They also commented on overcapacity, tariffs, continued competition from inferior products and the current political events in the USA, Turkey and parts of Europe.
Cable Industry Insights
Philip Radbourne, Director, Integer Research presented a paper on the latest market developments in the global cable industry. Based on Integer's forecasts, global wire and cable production is likely to see growth of 2 percent year-on-year in 2017, and Saudi Arabia will continue to lead the Middle East cable demand.
Delegates then heard from Andrew Shaw, Ducab for his insight into the road ahead for the Middle East cable industry. In a market with challenges of low growth, overcapacity and protectionism, it is more important than ever for the regional wire and cable stakeholders to seek fresh potential in markets such as India and Africa and investigate new opportunities in renewable energy sectors.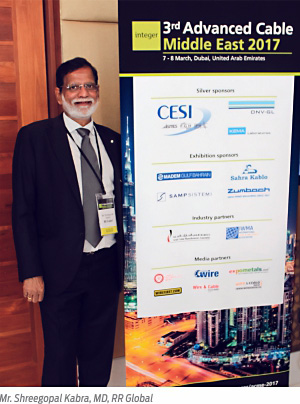 The session was completed by Volker Wendt, Director, Europacable. Wendt introduced some of the latest policy changes in Europe's energy, telecom and industrial sectors and explained the impacts of these policies on the development of the wire and cable industry. He also encouraged the Middle East cable industry to work closely with its European partners to further stimulate cable demand across the two regions.
Power and Energy Infrastructure
The afternoon session welcomed a senior utility representative Abdullah M. Albishi, Distribution Services Executive Director, Saudi Electricity Company SEC. Albishi shared the company's strategy and experience in the shift to aluminium medium voltage cables and aluminium transformers. The company has made some successful cases in the switch and expects to benefit more by reducing average transformer CAPEX by 17 percent in 2017.
Gunsang Lee, Regional Manager, LS Cable & System gave a presentation focusing on innovations in high-voltage cable design and system installation. As an international leader in the high-voltage and extra high-voltage cable sector, Lee showcased the LS approach of transmission tunnel design and installation of long-length cable drums.
Specialty Cable Market
Louisa Winnik, Senior Analyst, Integer Research opened the session with a comprehensive introduction on the market developments in the global specialty power cable sector. Winnik presented Integer's research findings and forecasts for specialty demand in several industrial areas. It is expected that the oil and gas industry will continue to drive the increasing demand for specialty cables in the Middle East, with strong potential in renewables and rolling stock.
The discussion then moved onto a specific industrial area – solar cable application. Mehmet Erbuga, Sales & Marketing Manager, Prysmian Middle East provided an insight into quality standard requirements for solar cables to the Middle East market. A key message for the audience was that the industry would benefit more from growth and profitability by enhancing product quality management throughout its life-time.
Telecommunication Cable Solutions
Jan Tezcanli, Head of Fibre, Middle East, Ericsson took the lead in this session by stating that the Middle East FTTH/B sector is growing more rapidly in 2016, with an average penetration rate rising to 44.8 percent. To meet the increasing data demand, a multi-purpose fibre network would need to be rolled out in the region for the benefits of faster network, lower cost operation and full use of capital assets.
Charles Jerry Brown, Technical Director, Hengtong Marine Cable Systems followed the discussion and shared his view on the trends of subsea fibre optic cable design. To fulfil clients' specifications for subsea cables, new long-distance cables with robust crush resistance and lower conductor resistance are desirable.
Cable Engineering and Raw Materials
The final session considered innovations in cable engineering and new use of aluminium cables. Antony Douglas Falconer, General Manager, Oman Cable Industry (SAOG) presented an accelerated ageing test to assess the resistance of cables to the development of water trees. In addition to using tree retardant XLPE, it is suggested that a comprehensive accelerated ageing test could enhance the resistance from design to manufacturing.
Selman Unlu, Deputy General Manager, Sahra Kablo Turkey and Masaichi Suwa, Senior Analyst, Metal Economics Research Institute, Japan (MERI/J) respectively introduced their product design and research findings of aluminium cable applications. The substitution of aluminium for copper in the wire and cable sector has been widely adopted in Turkey, and has started in China and Japan. This trend could potentially expand across the Middle East cable industry following the steps already taken by the Saudi Electricity Company SEC.