SMS Group: Global Experts of Metallurgical Plants and Machinery
Maintaining its long-term commitment to Germany as an engineering and production location, SMS Group has been successfully able to drive the international expansion of its production.
The joint venture of Polycab Wires and Cables and Trafigura, India has placed an order with SMS group for the supply of a CONTIROD® CR-3500 line.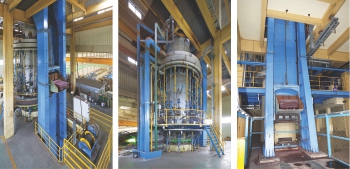 SMS group is one of the leading system suppliers for the steel, aluminum and non-ferrous metals processing industries. With several locations worldwide, SMS group is close to the customer and offers high quality plants, machinery and services. The group specializes in turnkey plants, has created the Ecoplants brand with sustanibility and energy-saving in view, and upgrades older plants to ensures that its customers remain successful and competitive.
In September 2017, RYKER BASE PRIVATE LIMITED, a joint venture of Polycab Wires and Cables and Trafigura, India, placed an order with SMS group for the supply of a CONTIROD® CR-3500 line. Commissioning of the CONTIROD® line at the JV's new plant in the Indian state of Gujarat is scheduled for the first quarter of 2018. WCI recently talked to one of the company spokespersons know more about the supply, technology and other significant aspects of metal processing work. Here are the inputs he provided:

Wire & Cable India: To start with, tell us briefly about SMS group and its area of expertise.
Ans: Well, SMS group is a group of global players in plant construction and mechanical engineering for the steel and nonferrous metals processing industry. It is one of the leading system suppliers for the steel, aluminum and non-ferrous metals processing industries: from iron making, steelmaking technology, continuous casters for flat products and rolling mills, surface-finishing lines for hot and cold strip, steelmaking and continuous casting technology for long products, pipe and tube plants, forging technology, copper and aluminum plants, closed-die forging plants right through to ring rolling machines including compatible heat technology, electrics and automation, as well as the related service. Environmental technology systems are supplied under the Ecoplants brand. So, in a nutshell, we cover the complete metallurgical process chain. You will find the complete range on our website: www.sms-group.com
WCI: In September 2016, RYKER BASE PRIVATE LIMITED, a joint venture of Polycab and Trafigura, placed an order for your CONTIROD® CR-3500 line. What is the status of the order vis-à-vis installation and commissioning?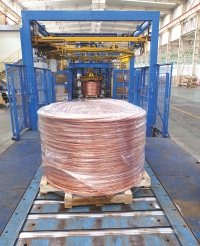 Ans: The order is in progress and commissioning is scheduled for the first quarter of 2018.
WCI: The CONTIROD® CR-3500 line performs casting and rolling of wire rods in a single process, doesn't it? What are other highlights of this line and technology used by this line?
Ans: The integrated process of melting, casting and rolling is essential for the copper rod quality. Our shaft melting furnace with lambda control system reaches low oxygen pick-up and works very economically due to advanced infeed material distribution. The twin-belt casting machine has a comparatively larger cast bar cross section with equal grain structure. In the rolling mill with individual AC-controlled drives the casting structure is completely converted to a fine-grained forging structure. These cutting-edge technology facts are the best precondition for later-on high-speed drawing to very small diameters. SMS group will thus help RYKER achieve a high product quality over the whole process chain.
Coming to its highlights, the CONTIROD® technology can bring out up to 60 metric tons per hour production capacity. This is the largest available capacity in copper rod manufacturing plants. SMS group installed and commissioned two of the 60 t/h CONTIROD® plants.
The constant developments and improvements during the more than four decades history of CONTIROD® resulted in significant energy savings. The fuel consumption at the furnace system was reduced by 27 percent, whereas the electrical energy consumption was reduced by 60 percent.
WCI: As a metal plant and machinery maker, your area of expertise covers almost all metals of industrial importance. Is the difference much from metal to metal from view-point of machine design and development? How do you establish a quality-wise synergy among such a vast portfolio?
Ans: Different metals have their different challenges. For instance; In case of copper rod plants we have to pay special attention to topics like oxygen pick-up, temperatures and surface oxide. The integrated process needs a close-loop consideration. Of course we are using modular design philosophy and use our internal network for our development.
WCI: Tell us about SMS group's set-up in India. SMS group's workshop in Bhubaneswar, India – How do you see this as an advantage?
Ans: SMS group operates as a full liner in India. Together with its sister companies- Paul Wurth and SMS Concast, which are now part of SMS group, it offers the Indian market a full range of products and services under the name of SMS India Pvt. Ltd. It provides integrated services, intelligent solutions metallurgical plant and rolling mill technology from one source.
Our facility in Bubaneshwar, India opened in November 2014 is working at full capacity according to plan. We are adhering to our philosophy of a closely linked, global network of production and workshop facilities. With our Bhubaneshwar facility, we are all set to support the 'Make in India' campaign.
WCI: How do you rate your target industries in India technology-wise? Are they lagging behind the rest of the world, especially the Indian copper, steel, and aluminum wire industry? What more needs to be done?
Ans: The Indian copper industry is growing. However, the present per capita consumption of copper rod products is still far behind other nations but the consumption is being boosted by country's young population. Now is the right time for enhancing the technology so as to attract bigger investments in future.