The Great Breakthrough
The new Gotthard Base Tunnel (the world's longest railway tunnel); the underground tunnel for the geologically precarious Bosphorus strait; 111 kilometres of new tunnel in just 26 months for the Doha Metro: when people talk about projects of the century like these, one name is always mentioned: Herrenknecht. We pay a visit to the global market leader in mechanized tunneling technology.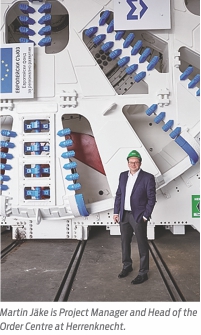 Visitors to the company's lobby are met with a wealth of materials: a cabinet displays the findings from test drills in North Carolina and Kuala Lumpur, Jurassic limestone from Switzerland and granite from Singapore. These items posed challenges and placed extreme demands on Herrenknecht's technology. Also in the foyer are photos of heads of state or of government, including Angela Merkel or Gerhard Schröder with Martin Herrenknecht standing next to each one of them. Each picture shows a different project; they are memories of ground-breaking moments in XXL.
Tunnelling machines used all over the world are developed and built here at Herrenknecht AG: machines which are sometimes more than 100 metres in length and have almost 6,000 HP of power; machines which are used to bore adits and tunnels out of hard stone or a mixture of soils with a high water content and which in the process even create the tunnel tubes themselves. The company can build supply and disposal tunnels from 0.1 metres or traffic tunnels up to 18 metres in diameter… for now – even bigger dimensions are conceivable to Herrenknecht.
The machine is really cooperative – but the mountain is not
"We are always pushing the limits of possibility with our customers and all stakeholders," says Stefan Jäke, Project Manager and Head of the Order Centre at Herrenknecht. "Excellent service is our top priority. We are always on hand with help and advice for our customers throughout the project duration, until we have made a successful breakthrough." Every tunnel boring machine is fully assembled here, put into operation and tested. The customer then approves, dismantles and ships it. In units that weigh tonnes. "Our customers are not just interested in drilling holes. The entire periphery also needs to be taken care of," reports Stefan Jäke. Asked about what that kind of monster machine can do, Jäke smiles, "The machines are unique and designed for the respective project. They are specifically adapted to the area's geology. So it all depends on the mountain or the soil."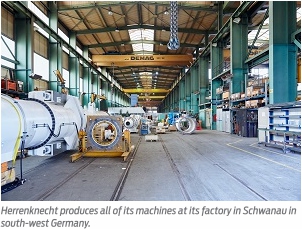 The objective: a machine that never stands still
Herrenknecht's history is a success story of a company that began in a garage and gradually morphed into a global player. Design engineer Martin Herrenknecht founded the company just less than 40 years ago. The first Herrenknecht machines even bore his initials: MH1, MH2, MH3. The latest one is the S-1068 large diameter machine.
"This means that we have built over 1,000 machines of this type," said Stefan Jäke. He added that each one posed a different challenge: "One needed to withstand 15 bar of water pressure, while some are configured to penetrate soil that was considered impenetrable 10 years ago." Each application can pose a wide range of challenges. Cables and connections used in the front drilling zone have to meet very different requirements to those fitted inside the machine. Countless cubic metres of earth are moved every minute, along with various boulders along the way. Everything is moving, "This creates tremendous vibrations, especially when drilling through hard stone, but even in normal conditions". "All the components we use have to withstand this", said Stefan Jäke. "Our big aim is that both the machines we use and the components inside them survive the drilling sections in one piece". The common denominator for everything is reliability. This also applies to the components.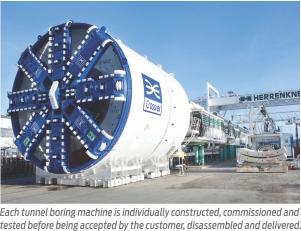 This is why companies depend on suppliers being reliable partners and shipping reliable products. The electrical wholesaler Friedrich Streb supplies components for these extreme applications to Herrenknecht, including Lapp connection solutions such as ÖLFLEX® power and control cables, UNITRONIC® and ETHERLINE® data network cables, SKINTOP® and SKINDICHT® cable glands and EPIC® connectors.
The EPIC® industrial connectors, for example, were used during construction of the Gotthard tunnel as extension connectors. This was because the further the tunnel boring machine was driven into the mountain, the longer the cable for the power supply and controls had to be. To ensure that everything worked reliably, the EPIC® H-BE connectors were interconnected with housings and inserts every 50 metres. These connectors are particularly suitable for higher voltages as well as currents and boast a high level of reliability. This is particularly important deep in the tunnel.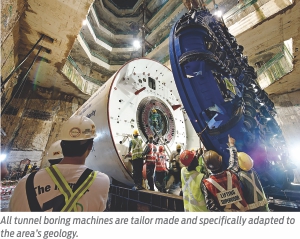 Should the Lapp product range ever not have the right cable for the job, Lapp simply develops one. For Herrenknecht, Lapp developed a special cable for a crane system located at the rear of the tunnel boring machine. In normal operation, this crane is controlled via wireless remote control. If this fails, the crane must be operated via an emergency control cable. The crane operator carries a portable control panel with a six-metre connection cable, which can be connected to the provided sockets when necessary. The cable is used to transmit bus signals and to stop the crane in an emergency. It must be designed to withstand constant movement. The designers at Lapp developed a combined Profibus cable with highly flexible control wires. The outer sheath also has to withstand the mechanical stresses. Stephan Gabler, Director of Customized Products at Lapp: "We are very proud of the fact that we were able to deliver this cable for this fascinating project for Herrenknecht for years without complaint."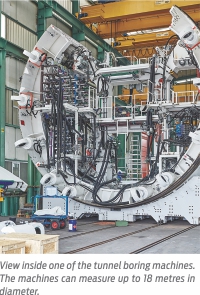 Inside Lapp solutions
Stefan Jäke also stressed the importance of expert suppliers and high-quality components: "Without good suppliers, we would not be able to manage the volume that we process here every day." Streb, now a company employing 500 staff in 16 locations, was one of the first electrical machine building companies in Germany and is now one of the country's ten biggest SMEs in electrical wholesale. "Streb, Lapp and Herrenknecht make an efficient team," said Streb General Manager Michael Ufheil in summary on a joint tour.
Which exact components are used in all control cabinets, controls, transformers and supply lines in a 100 metre machine? That's a company secret.
But the reason why is no secret: in the Herrenknecht-Streb-Lapp constellation, quality is key. When it comes to collaboration, Stefan Jäke also knows that: "The most important aspect nowadays is open communication, and that requires built-up trust."
The world's longest railway tunnel
4Herrenknecht tunnel boring machines drilled through more than 85 km to create the Gotthard Base Tunnel. The total volume of drilled-out material is five times the volume of the Great Pyramid of Giza: 13.5 million m3.
Herrenknecht, headquartered in the village of Allmannsweier, Baden-Württemberg, is a global market leader in tunnelling machines with around 5,000 employees. The company supplies the most advanced tunnel boring systems in the world for all subsoil types and in any diameter from 0.10 to 19 metres. So far, Herrenknecht has completed more than 3,100 projects around the globe in all applications: metro, rail, road, utilities, hydropower, pipelines, mining and exploration.