Troester : 125 Years of Excellence
The excellent results produced by TROESTER's extrusion technology, coupled with optimal control and regulation systems, have turned TROESTER into a competent manufacturer of complete lines and individual machines in the cable-sector.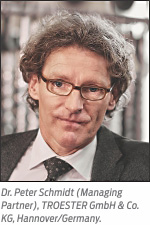 In 1892, the engineer Paul Troester came up with the innovative idea of building machines for processing unvulcanized rubber and gutta-percha. He thus laid the foundation for one of the world's leading companies in the processing of unvulcanized rubber and plastics.
At present, there are about 600 employees in R&D and manufacturing, mechanical and electrical design and administration – worldwide with locations in Hannover/Germany, Shanghai/China and Cuyahoga Falls, Ohio/USA and about 40 representatives throughout the world. The headquarters in Hannover is also the research and development centre of the company which, for example, boasts the very first production of high voltage cables in CCV systems through the use of rotating discharging conveyors (1992).

The product range for the cable industry comprises of extruders for rubber and plastic processing, cross heads and cable machines like cater-pillars, capstans, accumulators and winders. With electrical equipment, automation, regulation and control technology complete cable production lines are delivered like CCV lines for MV, HV and EHV cables; VCV lines for HV and EHV cables; rubber CV lines for LV and MV cables; sheathing lines for LV, MV and HV cables; core insulation and sheathing lines; etc. Moreover, TROESTER provides innovative cable and core coating solutions of a cutting-edge technological design aimed at efficiently supporting the sustainable and on-demand transmission of clean energy through HV and EHV cables from anywhere in the world.
TROESTER'S wide range of services for the extrusion of cable components includes engineering and design, project management and coordination, state-of-the-art equipment, installation and start-up services, in-house and on-site training of customer's staff, after sales support as well as material trials with new material or customer's materials in the TROESTER technology centre.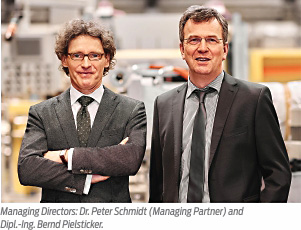 Dr. Peter Schmidt is the Managing Partner and runs the company together with Dipl.-Ing. Bernd Pielsticker. WCI recently interacted with Dr. Peter Schmidt on a host of issues including some current trends in extrusion technology which are being adopted across the industry globally. Excerpts:
Wire & Cable India: First, accept our heartiest congratulations for TROESTER's successful completion of 125 years in wire and cable industry. Can you summarize some of the major innovations and award of contracts which aided you evolve in the industry as the front-runners in field of new technology?
Peter Schmidt: Firstly, many thanks indeed for your kind congratulations. To come back to the question, it is very difficult to summarize in a few words, but I would just like to mention a few highlights from the past several years, such as the patented POST HEATING system which we developed and introduced to the market that significantly increases the production speed on VCV lines.
Our recently introduced TRENDSEAL system not only substantially reduces technological scrap when starting the line, but also decreases the set-up times, thus increasing the productivity of the line.
I am proud to announce that TROESTER has delivered the world's longest CCV line, which specializes in the production of subsea cables, and one which our long running LRS system has also been successfully implemented into.
WCI: As a robustly growing company, can you share with us brief outlook of the Indian wire and cable sector? Also, can you share with us your journey in India briefly and how the technology and perception about technology in Indian wire and cable industry has evolved in all these years?
PS: The Indian cable market has always been very important to TROESTER. As a matter of fact, we delivered the first lines to the Indian cable industry in the 1960s. When I visited India in 2004, I was greatly satisfied to see a perfectly maintained line in production that was almost 30 years old. A few things I would like to mention when comparing other wire and cable industries with the Indian wire and cable sector: firstly, there is a huge interest in innovation in India, not to mention that one of our first conductor post heating systems went to one of our Indian customers. Secondly, the sector is also very open-minded when it comes to new technical solutions, employs highly skilled engineers and discussions in India always take place at the highest technical level.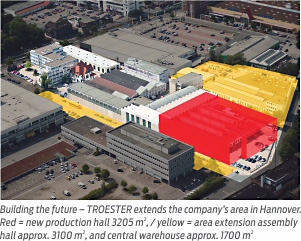 Currently, we find ourselves in a very good position in the Indian cable industry, and I am very glad and proud to inform you that we maintain excellent relations with all the players in the Indian market, and all or most of the major players operate our lines. We see a large potential for growth in the Indian cable sector and are also well prepared to serve the Industry with our expertise in future.
WCI: For the insulation of cores, TROESTER supplies CCV Lines as well as VCV Lines (vertical lines) for the production of power cables which stand out for their excellent manufacturing quality. Can you tell us in detail about the advantages of VCV lines over CCV lines in terms of efficiency and profitability? Also, brief us about the further innovations and technical developments in this field.
PS: Over the last years a lot of TROESTER CCV and VCV lines have been put into production worldwide. It is not easy to give you a clear answer here, since it depends on the type of application. When referring to medium (MV) and (HV) high voltage cables, in most cases, a CCV Line is the best solution. Our CCV lines are designed with two rotating TWINROT caterpillars and the Troester Roundness Stabilization System (TROSS). This combination facilitates very good geometrical cable values such as roundness and concentricity, even when producing extra high-voltage cables (EHV).
The VCV line is also an excellent choice when EHV cables are to be produced and deliver excellent cable roundness and concentricity. As a matter of fact, a 750 kV, 3.500 mm² copper conductor prototype cable has been successfully produced on one of our VCV lines.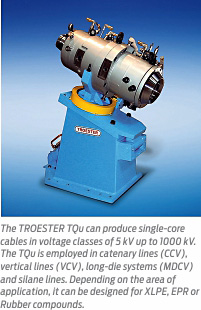 A comparison of CCV and VCV with respect to investment costs shows that the cost of equipment is comparable, but the construction costs for VCV towers are significantly higher.
WCI: As reported, you are planning to introduce technical solutions for CV tube components, heavy duty cable jacketing and submarine cable equipment at Interwire 2017. Can you please elaborate on the same?
PS: We will take the opportunity at the fair to present our latest technical solutions to our Indian customers. Our main focus will, of course, be on CCV and VCV lines and heavy duty sheathing equipment, but we also want to showcase to the Indian market our optimal technical solutions for high speed lines for silicone insulated cables. In Europe, we are currently seeing an increased demand for silicone insulated wire and cables and are confident that we will also see a growing demand in India in the future.
WCI: Brief us about your subsidiary company, X-Compound. What kind of products and industries does it cater to and how has it helped TROESTER in diversifying its product range?
PS: Located in Switzerland, X-Compound has been part of the TROESTER Group since 2011. At X-Compound, we engineer and manufacture entire compounding lines, ranging from upstream to downstream equipment. The mixing unit is a continuous kneader. Without going into too many technical details, the working principle of the continuous kneader is ideal when compounding shear sensitive materials like the halogen-free flame retardant (HFFR) compounds widely used in the cable industry.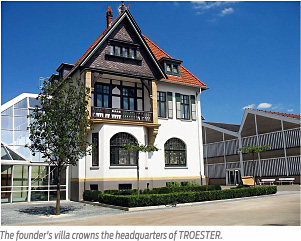 A major part of X-Compound business takes place in the cable industry supplying compounding lines for HFFR, soft PVC, filling compounds (both PVC or EPDM-based). Supply very frequently takes place to the same cable manufacturers that operate TROSTER extrusion lines. Newly developed compounds can immediately be tested on a Troester extruder. The synergy effects are remarkable here.
WCI: Being a pioneer in the industry, can you elaborate on some current trends in extrusion technology which are being adopted across the industry globally?
PS: Yes, some major global trends do exist that are being adopted in extrusion technology. The main trends which I would like to mention are: first, since extrusion is an energy-intensive process, we face a growing need to optimize the energy efficiency of our extrusion lines; second, the compounds processed on our machines use oil-based raw materials. Our customers therefore expect the consumption of these materials to be minimized on our machines when manufacturing a product with given characteristics; last but not least, my thoughts extend towards the ongoing digitization of the industry, and, in particular, the Internet of Things, which will certainly have a great impact on extrusion in the future.