Anchor Electricals Pvt. Ltd.: Tipped with Panasonic's Global Technological Excellence
Being a leading manufacturer of over 3,000 products under 20 major electrical product groups including wires and cables, Anchor under Panasonic has scaled heights only few companies in India can compete today. Since 2007, under the wings of Panasonic's technological superiority and Kaizen business philosophy, the company has been able to cater widely to the domestic as well as industrial needs. The company is also planning wires and cables capacity increase at both Daman and Kutch facilities.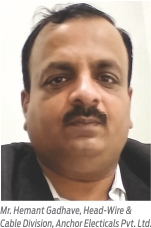 Established in 1963, Anchor is a well-known name in the electrical accessories market of India. Later on, when global conglomerate Panasonic acquired it in 2007, a new synergy has been infused in various areas such as manufacturing, production management, quality control and enhancement, logistics development, etc. With Panasonic's support, Anchor has been able to introduce product categories suitable for the Indian market and which have been widely appreciated and accepted by Indian consumers. The company is also working on various other products to be launched soon for its customers.
Wire and cable India recently had an insightful interaction with Mr. Hemant Gadhave, Head-Wire & Cable Division, Anchor Electicals Pvt. Ltd. to get updated on Anchor's latest developments in wire and cable segment, its technological investments, R&D, quality control, Panasonic advantage, etc. Excerpts:
Wire & Cable India: Please introduce the anchor division of Panasonic to us and also share something about your wire and cable unit.
Hemant Gadhave: Anchor is a leading manufacturer of complete electrical solutions. Since its establishment in 1963, Anchor, it is a well-known name in the electrical accessories market of India. The company ushered a wide range of trend-setting indigenous electric products and claimed the position of a safe, reliable and trusted brand throughout the nation. Today, Anchor is a completely owned subsidiary of Panasonic, one of the largest global conglomerates.
Our focus remains on the underlying capabilities of the product or service which will differentiate our products from its competition in the market. This very well shows that we are the trend setters in this industry for manufacturing different variants. At Anchor's Cables & Tapes Business Unit (WCT BU), we always think of development with innovation and we constantly are in pursuit of developing special insulating compounds to provide our customers with safest wires. We are also working on various other products for our customer which will be coming soon in the market.
Anchor wires and cables cater to the domestic as well as industrial needs and are widely used in residential and commercial sectors. They are widely recommended by electrical and project consultants, architects, interior designers, private and government institutions, project engineers and are used by builders, OEMs, dealers, electrical contractors, electricians, the automobile sector and individual homeowners.
WCI: Anchor has been a part of Panasonic since the year 2007. What benefits does Anchor avail being an Indian firm from Japanese oriented Panasonic?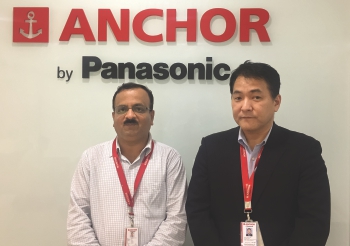 HG: Panasonic has brought in synergy in various areas such as manufacturing, production management, quality control and enhancement, logistics development, etc. With their support, we have been able to introduce product categories suitable for the Indian market. The products are technically superior while our manufacturing processes have become more energy-efficient and cost-effective in comparison to competitors in the organized sector.
WCI: What is the present size of Anchor? Introduce us to your product range with installed capacity and their respective applications.
HG: Anchor manufactures over 3,000 products under 20 major product groups including switches and wiring devices, wires and cables, circuit breakers and protection devices, fans, and lamps and luminaries, and caters to core sectors of the Indian infrastructure economy, viz. residential, commercial and industrial infrastructure.
Wires and Cables BU manufactures products such as light duty cables; building wires – Advance FR, FireGUARD FR-LSH, Advance EFFR; communication cable – telephone cable; flexible cables – multi core cable, submersible cables; insulation tapes – PVC electrical insulation tape.
We are also the first enterprise to introduce FR PVC electrical insulation tapes in India. Each of our products carries the hallmark of Anchor quality and offers several higher performance characteristics.
WCI: Further, tell us about your recent product or capacity expansion or brief us about any planned expansion, if any.
HG: At Anchor's WCT BU, we are focusing on increasing our manufacturing capacity on both the locations. For us, innovation is the hallmark of every vital development and keeping this philosophy in mind, the company has invested in R&D to make sure that the customers get the advantage of latest technological developments. Through these innovations, we have been able to develop special insulating compounds and provide our customers the safest building wires with desired electrical and mechanical properties. For us, power saving and safety of our customers will always be our prime concerns and motto.
WCI: Please tell us about the technical infrastructure for wire and cable manufacturing. How was the plant in the pilot stage? Since then, have you expanded or invested in new technology or machinery?
HG: The entire range of Anchor wires and cables is manufactured in our state-of-the-art facilities located at Daman and Kutch. These plants incorporate the latest in cable technology – electronic / PLC based machines and manufacturing techniques with which ensure a high degree of quality and consistency. Several hi-tech machines carry out a series of manifold, complex processes to manufacture Wires as per IS 694.
For the highest quality and accuracy in the drawing stages, the natural diamond and polycrystalline diamond wire dies are used for all the sizes, thereby maintaining a uniform diameter of the copper wire throughout its length and ensuring uniform resistance. 100 percent bunching of conductors gives additional flexibility, compactness, cohesiveness thus improving concentricity and maintain uniform insulation thickness throughout the wire.
World renowned German crosshead known as the 'heart of the extrusion machine' ensures better concentricity and best surface finish. Continuous winding of insulated wire through automatic high speed dual take-up from Germany provides a changeover for the full to the empty reel without speed reduction, thus ensuring continuous production without stoppages. The static weighing system installed on the coiling stages on each of the coiling machine ensures the weight of the coil is as per the required specifications thus controlling any chance of weight variation going to the next stage.
A well-equipped testing laboratory with most up to date testing equipment further strengthens the WCT BU and leads to continual product improvement. For control of dimensions of wire, a highly precise instrument is there to test insulation diameter, thickness and concentricity with accuracy of 5 micron against the standard of 10 micron. It tests 1440 X 3 = 4320 points against 6 X 3 = 18 points to measure the actual thickness. Measurement of LOI, HV AC & DC, smoke density and flammability tests constitutes our regular scheme of testing to ensure that customer gets the best quality product.
WCI: As you are primarily into housing wire, tell us how your housing wire product range has evolved over the period of time and what kind of trends have you foreseen. Further, what changes we might witness in near future?
HG: In this age of globalization and technology, it has become increasingly important for companies and businesses to think of different and advanced solutions in order to survive in the market. Thus, innovation in business process as well as products and services is indispensible at every step for us to grow. It will not only help the business to gain a competitive edge but also make it survive in the long run. Latest trend is to eventually focus on supplying cables for specific applications tailored to certain industry needs. India, already, has a lot of potential in sectors like mining, power, metro railways, oil and gas, cement, and steel to name just a few. Different kinds of cables are now being used for special applications such as mining, oil drilling, and shipbuilding. Special cables are also used in crane, elevator, solar power plants, new generation motor vehicles, windmill solutions, and security systems.
At Anchor, we thrust upon providing the best products constituting the best features possible for our customers. As already said, for the product development with innovation, we constantly are in pursuit of developing special insulating compounds to provide our customers with safest wires. We are also working on various other products for our customer which will be coming soon in the market.
Apart from these, our regular USPs will always remain with any wire and cable we manufacture and those are like 100 percent FR wire, 100 percent electrolytic grade copper, 101 percent ++ conductivity, 100 percent bunching, 60 percent extra annealing against standard requirements, more than 30 percent ++ oxygen index etc.
WCI: It is nice to know that Anchor has been with the prestigious IF award for excellence in product design by the International Forum of Design. Do share with us the details and tell us about other accolades that you may have gotten in other areas.
HG: Anchor's WCT BU has obtained national and international certifications like ISI mark, ISO 9001:2008, BS OHSAS 18001:2007, ISO 50001:2011 in recognition of its systems and products that cater to its huge customer base. ICAI (International Copper Association India) certifies our copper quality amongst the best copper quality used in the manufacturing of cables.
WCI: Your export business covers a negligible amount of just 1 percent. What are the factors for a slow export rate and mention your plans to venture into more markets, if any?
HG: Initially, the focus on the export sector was less, but with the change in the management strategy, the export sector is also being looked upon as a market where the Anchor brand can be built up. With the support from the global Panasonic team, the exports in the African countries, the Middle East and South East Asian countries are being boosted.
At Anchor for export market we have the range: single core PVC insulated non-sheathed cable with copper conductor 300/500 V (U0/U) and 450/750 V (U0/U) (generally conforming to BS 50525-2-31 which was earlier BS 6004); light duty PVC insulated and sheathed flexible cables, circular twin, 3-core, 4-core and 5-core 300/300V 300/500V (generally conforming to BS 50525-2-11 which was earlier BS 6500 & BS 7919). Anchor also exports PVC insulated and flexible cable 600/1000V – Type BK (HR) & Type CK (HR), generally conforming to BS 6231.
These cables can be manufactured in different grades of PVC insulation like FR (flame retardant), FRLSH (flame retardant low smoke & halogen), and HFFR (halogen free flame retardant) as per customer requirements.
WCI: Kindly elaborate on the Kaizen philosophy, which Anchor has started following under the aegis of Panasonic, which is controlling the company's process and quality parameters. How has it resulted into some noticeable process and operational improvements? Elaborate!
HG: Kaizen has definitely helped the WCT division a lot; it focuses on continuous improvements and involves every employee in making small, daily changes. Using knowledge from every employee, it identifies problems at their source by better visualization and understanding the abnormalities to find out the real cause and have permanent solution. The changes in the manufacturing methodology by focusing on the pull system to ensure the customer satisfaction with the availability of the right product at the right place at the right time.
It has contributed immensely in decreasing wastes through eliminating over-production, improving quality, being more efficient, having less idle time, simplifying work processes, improve safety and reducing unnecessary activities. All these have translated to money savings and turning potential losses into profits.
Thus, overall it has helped in making the appropriate and correct use of skills of employees to further improve the competitiveness which can greatly contribute towards the growth of your business; standardize the working culture and measure all possible metrics to attain the best market result.
WCI: The government has announced some of the ambitious initiatives such as Make in India, Digital India, Smart Cities, etc. What do these initiatives mean to the company like Anchor? Do you see some visible demand surge of your products now or in future because of these initiatives?
HG: As the new government is focusing on 'Make in India', the industry can grow at similar rate for the next 5 years. PM is working hard to turn his talk into reality. In order to back up his rhetoric, Mr. Modi has launched the 'Make in India' campaign; this programme "represents an attitudinal shift in how India relates to investors, not as a permit-issuing authority, but as a true business partner". It is a new deal for India, and the wire and cable industry has a big expectation from it. Also, increasing the budget allocation by the Govt. on the power sector has opened up the wire and cable industry. The major growth driver will come from the segments like power & infrastructure, building & construction. Moreover, the initiative by the new GOI on overall developments which includes 100 smart cities, Make in India, PPP in Railways, Home for all by 2022, electricity for all, focus on defense equipments manufacturing, focus on renewable energy are very positive signs for increase in demand.
The government's move to spend USD 15.3 billion on smart cities will have a strong positive impact on the real estate sector. Developers will be able to offer new projects in the upcoming cities – boosting the regional, social and economic infrastructure.
Development of smart cities in India would provide ample opportunities to the real estate developers, who will not only have to focus on technology-driven homes but also affordability and lifestyle quotient.
These developments will definitely have a positive impact on the growth of Anchor Electricals. Moreover, Panasonic as a group possesses the complete expertise of designing a smart-township. Anchor's core business of electrical construction materials will add immense value in terms of building smart cities in India.
WCI: What are the key challenges before cable manufacturers in India and how do you propose to surmount these in times to come? Do you see any effective govt.'s intervention playing a role in addressing some of these challenges?
HG: Around 35 per cent of wire and cable available currently in the market continues to be sourced from unorganized sector players with lackluster focus on quality and technical support and supply sub-standard products at low prices and also follow unethical practices. This kind of parallel market is a serious matter of concern for India. In certain segments, small local producers may be encouraged by legitimate tactics like price preferences, but in most segments there is violation of even basic standards and thus there are chances of more fire accidents due to poor quality of wires and cables, more power consumption which is harmful for everyone. Standard regulations followed by medium-sized and large-scale manufacturers are bypassed by most small ones. In India where perceptions of quality are important, unscrupulous small producers may try to sell counterfeit cables, usurping the brand-names of the more reputable Indian cable makers.
We also know that the growth of cable industry is synonymous to the growth in overall electrical equipment sector. For unprecedented growth of the industry, it is inevitable to develop an uncompromising attitude with regard to quality. Manufacturers and contractors should be made to adhere to stringent BIS guidelines to ensure quality adherence and facilitate wire and cable industry to see a significant rise in efficiency.
The cable industry is facing a few challenges at the moment such as – tight liquidity positions, as the major raw material for manufacturing of wires and cables is copper and aluminum and their volatile prices fluctuation affects the margins.
Then, there is slow decision making from the government bodies to upgrade the rules and regulations for wire and cable manufacturing. The focus should also be on synchronizing the standards all over the world which will really support each and every manufacturer.
WCI: What are your growth targets for this year and beyond?
HG: The electric wires and cables market is expected to witness rapid growth in the coming years owing to government investments in power and telecommunication, coupled with dynamic industrialization and rapid urbanization.
The targets is to sustain the profits, growing the business by 10-15 percent, increase the market share, and also come up with new products having various specialized applications like CCTV cables, fire alarm cables, electric vehicle charging cables. Now, with the governments thrust on the renewable energy sector, the solar cables etc. are few major emerging required applications, which we intend to work on and help the business to gain a competitive edge and make it survive in the long run. The latest trends are to eventually focus on supplying cables for specific applications tailored to certain industry needs.