Aradhya Steel Pvt. Ltd.: Considerable Capacity Addition to Build Economies-of-Scale
Aradhya Steel is seriously pursuing a plan to increase its high carbon steel wire capacity to 10,000 tonne a month by the next year, the additional capacity preferably to be a new plant near a port.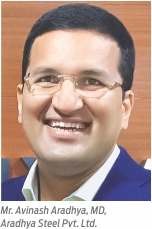 Aradhya Steel is the country's acknowledged producer of high-quality steel wires and ropes with a wide variety of diameters, tensile strengths, coating and spool packages. The company's automotive products such as tyre bead wire, auto cable outer wire, auto cable inner wire and steel spring wire are much sought after in India and overseas. It has two manufacturing plants based in Davangere, Karnataka, India, equipped with competent technologies like wire drawing, heat treatment and surface treatment, etc.
The company has been consistently increasing capacities and almost trebled the tyre bead wire capacity to 2500 tonne in 2015-16 in its Unit-II. Moreover, Aradhya Steel has undergone considerable capacity addition in high carbon steel wires, taking it to about 5000 tonne a month. The company wishes to further add a capacity for high carbon steel wire in terms of a new plant, preferably near a port, thereby taking the total capacity to around 10,000 tonne a month. WCI recently had a brief chat with Mr. Avinash Aradhya Managing Director, Aradhya Steel Pvt. Ltd. to confirm the news about the recent and upcoming expansion. Excerpts:
Wire & Cable India: Have we heard right that Aradhya Steel is planning a major expansion for value added steel products? Please brief us about the plan?
Avinash Aradhya: Yes, we have not only increased our capacity to 5000 tonne per month, but are looking forward to utilize almost 100 percent of our capacity within the next quarter. Moreover, our plan is to increase the capacity of high carbon steel wires to 10,000 tonne per month by the next year. We would prefer this new expansion to happen closer to a sea port as the current location (Davangere, Bangalore) of our existing plant is logistically unfriendly for exports.
WCI: Going by the volume, this expansion seems to be massive from steel wire industry's standard. You must be investing a lot in technology to handle this volume. Kindly share with us the technology, machinery, and automation this project would witness.
AA: The expansion is in line with the capacities of the major Indian steel wire companies. Huge capacities are required to take benefits from economies of scale followed by significant amount of investment in order to meet the projected increase in demand of steel wire products and matching long product capacity expansion. Ultimately, profitability in industry comes only with capacity utilization, which we are mainly focused on.
WCI: Will you please give us the names of major suppliers you are in touch with for this project? Any technology worth naming and that only few have seen in India?
AA: Indian machine manufacturers have come a long way in improving the quality of the machines and imports are not required unless for special applications.
WCI: Tell us about the value added products you are going to manufacture with their respective capacities. Are you going to add up some new products – niche or conventional – after commissioning of this planned project, or are you just going to increase the volume of your existing product lines?
AA: The capacity enhancement is in our existing product range of wires and ropes for the automotive and general engineering industry.
WCI: What would be your raw material procurement strategy for this enhanced volume of production? Would you be importing steel for this? Is there any concern related to steel prices and fluctuations therein to hamper steel wire production in India?
AA: Indian steel wire rod quality is fine for the bulk requirements and there is sufficient capacity available if they don't get blocked for exports. We are importing wire rods only for special applications.
WCI: Coming to market, do you think that market is ready to absorb the capacity you are adding in terms of enough demand availability? The Indian steel industry has been complaining of the demand slowdown just recently. Doesn't that worry you?
AA: In value added steel products, it is quality that drives demand. Hence, we are investing heavily to ensure that our operations are focused on producing the highest quality of products consistently. Further, we have been focusing heavily on exports of steel wires as the policy interventions of the government make our products uncompetitive in the domestic market due to higher raw-material costs and inter-state taxation policies.
WCI: Finally, tell us about the raw material scenario in general, the imposition of minimum import price on steel, steel price fluctuations, and the need of Govt.'s policy intervention for the growth of this immensely crucial industry.
AA: The Government must view the industry holistically and ensure level playing field for all upstream and downstream steel products to make its 'Make in India' policy work. The policies of MIP support the steel manufacturers and make the downstream products uncompetitive as the country has entered into Free Trade Agreements wherein our customers find it cheaper to import than to produce domestically due to higher raw-material costs and zero customs duty on our finished products. Further, if steel wire rod imports are curtailed, the Government must ensure that domestic producers are fulfilling domestic demand which is not happening as they have booked their capacity for exports.
The Indian wire manufacturers are globally competitive if the raw-material prices are in line with international prices.