Bharat Wire Ropes Ltd.: Now a Global Wire Rope Major
With the state-of-the-art Chalisgaon factory already commissioned and operational from March 2017, BWR's plan to export 60 percent of its product-mix seems feasible given its range of products, applications, and quality which are manifestations of its huge investments in technology. The company has already considering Dubai and Singapore for its offshore offices to boost its export presence.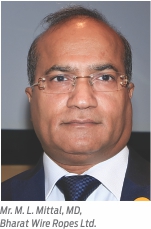 Established in 1986 in Mumbai, Bharat Wire Ropes Ltd. is swiftly growing company, especially under the new management taking over the company in 2010. The company has now become an acknowledged manufacturer of strands, wire ropes and slings for use in a varied list of applications like general engineering, fishing, elevators, cranes, material handling, onshore/offshore oil exploration, ports, shipping and mining, etc.
The construction of Chalisgaon facility in Maharashtra is yet another remarkable feat under BWR kitty. Investors and general public have exhibited tremendous support and confidence while BWR released its IPO and garnered Rs. 70 Cr to be invested the new facility. The factory has already commenced production this year in March. WCI recently held a brief interaction with Mr. M. L. Mittal, MD, Bharat Wire Ropes Ltd. to know about the basics which has rapidly catapulted BWR in the major league globally. Excerpts:
Wire & Cable India: Please describe your professional journey so far. Also, throw light on the progression of Bharat Wires Ropes Ltd.
MLM: Well, I am a chartered accountant by profession and worked with Welspun Group for 25 years before we acquired Bharat Wires Ropes from Shah Group in the year 2010. Just in short span, we achieved a complete turnaround for the company and took it to the global level. This SSI unit soon became a medium scale enterprise and started handling major projects. By 2015, we made few financial tie-ups and started the construction of Chalisgaon factory in Maharashtra spread over 64 acre of land and have commenced the production from March 22, this year.
In the mean time, we got Rs 70 Cr in March 2016 through IPO (Initial Public Offering), receiving excellent support from the bank and general public. The company is now in the lookout for bigger projects and tie ups, which it didn't do hitherto, and is even bidding for few international projects.
Maintaining the competitiveness both in quality and price, we established an entire chain of process through setting up a new plant and procuring machinery from Germany and South Korea, which of course can deliver quality product at right price, satisfying customers. We are giving a vision to our philosophy of satisfying customers by inviting them to our site, thus becoming confident enough about our presence in the international as well as domestic market.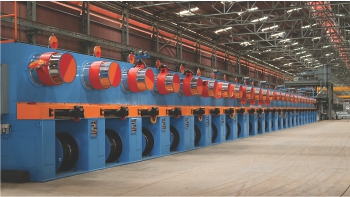 Our present capacity is 66,000 tonne, out of which we have utilized 12,000 worth of capacity and targeting 30-35 thousand of maximum utilization this year as it is impossible to utilize the entire capacity in one go. Since the project is going at a faster pace due to the quick support from Germans and Koreans over certain issues, we are assertive to reach the number soon. Also, we are getting satisfactory export commitments from Germany, South Africa, Dubai, and even Nepal where we received an order of two million USD, along with orders from some untouched territories like Taiwan and Egypt where we never exported.
We have raised a strong 30-members marketing team together with an excellent production team and we have hired some of the best talents from India and around the world. In comparison to China, Korea or other European countries, our labor cost is the lowest and we have also been able to control our average cost through various permutations and combinations and with the help of 100 percent subsidy on the fixed capital from the Government of Maharashtra.
Apart from these parameters, investors' confidence level matters as well. After we raised the IPO, there were concerns among intermediary agencies and bankers, compelling us to decide the best price in order to keep something on the table for the investors to make money later on. We initially released our IPO at the rate of Rs. 45, which touched Rs. 95 by March 22, 2017 (when the production started). The investors got an almost 100 percent return in just one year time and we in return got their 100 percent confidence in us. If there is a stable base of investors, the customers will build their trust level resulting into more agreeable offer price on our better quality products.
Thus, the combination of investors, customers and staff works together and if we talk about our staff, we announced ISOP (Incentive Stock Option Plan) last week for the staff members. I am hopeful of them to get huge market rewards on the collective performance for the benefit of company.
WCI: Raw material plays an important role in the manufacturing of wire ropes, so please throw some light with regard to your raw material strategy.
MLM: We are buying steel from the Indian steel companies, even importing when there are certain export commitments and try to cover the steel price taking big orders from domestic markets. Being an engineering product, steel cannot affect our bottom line even when there is a hike in its price. Although, our maximum cost possible is covered through big deliveries. But it sounds next to impossible when it comes to covering cost for a year as steel is available on cash basis with its price fluctuating more often. If we book today and pay the price, the delivery is expected within a month or two from the Indian market, but we have to pay immediately, unlike import, where we get 3-4 months to pay the money. We keep some inventory to run the plant but at the same time we don't haze for longer periods.
WCI: Bharat Wire Ropes as a project seems quite dynamic. What was your vision at that time when you conceptualized this project and also throw some light on the global technologies you have invested in?
MLM: There were days of Ambassador and Fiat in our country until Maruti swiftly arrived in the 90s, when no good cars were available in India. In the wire rope history, for the last 50-60 years, except for one company, nobody really stood up and invested USD 80 million in India or across the globe with installation of new technologies, brand new machines, or a completely new plant with an aim to cater to domestic as well as global markets.
If we talk about Rs. 500 Cr of investment, the prerequisites must be attained to produce quality wire ropes. Investing Rs. 150 Cr in the pickling and patenting of the furnace and utilizing a small capacity becomes a complete mismatch if we take the project cost into consideration as less is not viable at all. Also, the quality of machinery is imperative to evade maintenance cost and decay of the product grade. Purchasing cheap machinery from China or any deemed source can lead to multiple problems in rope manufacturing as rope is not a commodity item and there is a lot of technology requirement in the machines itself. So, the rope we manufacture is refined, smooth and extraordinary, which of course was our pivotal concern and made us invest in this high-tech Rs. 500 Cr worth plant.
WCI: Can you please elaborate on the product-mix you have in wire ropes and the markets you intend to serve.
MLM: Speaking of this project, we can manufacture wire ropes from 6 mm-125 mm, which will help us to cover the requirements of the entire market, specially the fishing, coal & mining, oil and gas sectors and we are targeting around 60 percent export. Our focus involves every market where ropes are involved – lifts, elevators, cars, construction of bridges, piling purpose and so on. We identified two areas – Dubai and Singapore – for our offshore offices, which are already the major hub for wire rope requirements.
WCI: When we talk about 60 percent export, which geographical areas do you aim to cover?
MLM: We don't plan to cover one particular zone but the entire global area and we are already supplying to Egypt, Taiwan, Australia, Dubai, Cuba, U.S.A. and many other countries.
WCI: Clear from the entire conversation that your project is a good example of the Govt.'s flagship program 'Make in India'. Would you like to make some comment on that?
MLM: While conceiving the project, we had this in mind to produce some unique and world-class products indigenously, and this founding vision of ours later echoed in the form of the subsequent Govt.'s initiative, viz. Make in India. People say that this is one of the biggest projects in the world as we have provided every facility under single roof; the designing and internal layout has turned out to be quite excellent.
Being a 40-year-old company, we are not qualified for the Make in India benefits. However, the project which we have set up in 2016 automatically becomes the part of the initiative. Besides, the assistance from the Govt. of Maharashtra can give us a competitive edge against other small players in the country. Moreover, after demonetization, the small players who were running the business unethically have started feeling the heat, letting the professionals operate more freely. In fact, after the currency crunch, even the small players from unorganized sectors are supporting and coming to us for business as they were affected badly after demonetization.
WCI: If we ask you what are the turnover targets that you might have set for your company for the next 3 years and what growth percentage are you expecting?
MLM : Our target is to reach 30-35 thousand tonne this year; therefore, we expect our turnover to reach Rs. 300 Cr approximately. We are also expecting almost Rs. 100 Cr increment in the initial years, which amounts 30-40 percent raise in our growth.
WCI: How much time will the market take to fully absorb the capacity you have?
MLM: The way we are targeting and marketing our product, we will hopefully capture the market within a year if everything goes well according to our plan. The way government is working on 'Make in India' program; we will definitely get multiple leads from the international market as well.
WCI: Please share with us the statistics with regard to the size of the global wire rope industry.
MLM: The number is quite ambiguous due to unavailability of clear data; but certain section believes the market to be around USD 5 billion. I am not sure but I guess Bharat Wire Rope is the only company listed and focused into wire rope manufacturing.