Madem Reels Group: A New Reel Plant in USA to Cater Untouched Cable Markets
Having footholds in Brazil, Spain and Bahrain, Madem Reels sets a new plant in the United States of America, to commence the production from December this year. With USD 6 million investment for the new plant, the company is also set to open warehouses in various states of the US, including Georgia, South Carolina, Pennsylvania, West Virginia, Illinois and Texas.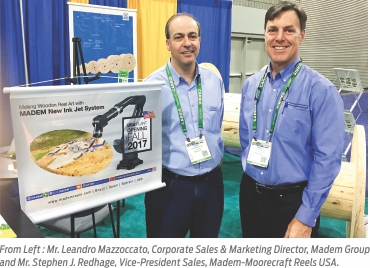 A leading manufacturer of wooden reels for electric cable companies, Madem Reels started off its operation in the year 1949. The company started its activities as a wooden barrel manufacturer for the wine industry of the region. Approximately 30 collaborators were part of the company. Today, with more than 67 years of history, Madem Reels is among the fifteen largest forestry groups in Brazil, who supply to more than 40 countries. Wooden reels of 450mm to 3200mm diameter steel cables, electrical cables, communication cables and conductors are the products manufactured by the company.
WCI recently had a brief interview Mr. Leandro Mazzoccato, Corporate Sales & Marketing Director, Madem Reels Group. Excerpts:
Wire & Cable India: With five existing production plants in Brazil, Spain, and Bahrain, you are now about to open a new factory in the US. Please brief us on the same and highlight some of its main features.
Leandro Mazzoccato: We have been supplying to cable plants in the US since 1997. During these years we had some partners and a manufacturing plant, which we sold in 2010 due to the market recession. Now we are back as a joint venture with Moonrecraft Reels, who are into reels manufacturing since 1966. The company has a local, family controlled business and we are extremely excited to work and grow our companies together.
WCI: What will be the capacity of the new factory? Also, tell us the cost/estimated cost involved in the project execution? Have you already commissioned the project?
LM: We already began to supply wooden reels to some key and global customers from our Brazil plant.
Investment for the new plant is around US$ 6 million, which includes the assembly shops and structure cost. In the first phase, we will make 100 truckloads of knock down reels per month. The machinery is under production in Brazil; and the first machinery shipments will reach North Carolina by September.
We expect to begin the production by December this year.
WCI: Why did you decide or plan a factory in the US, especially when you have already plants in various locations serving major wire and cable customers across major territories of the world?
LM: Our top 10 cable customers have presence in all continents and we are proud to be approved as a worldwide supplier, having the reputation of one of the best quality and service suppliers in the wire and cable sector. Now with the new plant in North America, we are continuing our plans to open factories in all parts of the world.
WCI: Will there be any additions to your existing product range for the new plant, or will you continue making here what you are making at other locations? Tell us about the product to be churned out from this factory.
LM: All Madem factories have the same process of production, machinery and technology. Also, the wood used is kiln dried pine wood, which is heat treated ISPM 15 and 'green' certified; we do not work with native or jungle wood. All plants are ISO 9.000 and ISO 14.000 certified. USA plant will have the latest and most modern wooden reels line in the world with full automation/CNC/robot and ink jet technology, produced by our Madem machinery division that develops solution only for our worldwide plants and other companies group. Besides the wood division Madem has other 5 manufacturing plants in Brazil making plastic films for packing.
WCI: What markets do you intend to serve from this location? Does this location provide an ease of reaching out to some markets which you weren't able to in past?
LM: USA, Canada, Mexico and Central America are the markets we are going to target. At this moment we supply 130 cable companies in 40 countries so we will try to offer to the North American customers a better cost and better logistics.
WCI: Tell us about the USP of this factory and the products you are going to manufacture here.
LM: We will make wooden reels, plywood reels and also work with recycled reels.
WCI: Wood is the main constituent of your reels; from where would be procuring raw materials for this new factory?
LM: We will use all local wood, mainly from North Carolina and South Carolina states that are the main pine wood producers in the world.
WCI: Anything you would like to add about the new factory.
LM: Our new company will open assembly warehouses in several USA states to develop timely delivery for the cable companies. The warehouses will open in Georgia, South Carolina, Pennsylvania, West Virginia, Illinois and Texas.