Supermac Industries : An Urge to Become Global
Supermac is one of the most advanced setups in India for cable manufacturing systems. After developing roots in India, Supermac is considering going global with their range of excellent extruders and eyeing markets such as Europe and America. With its recent tie up with SIMPACKS (U.S.A.), Supermac is now able to provide complete solution for building wire and control cables with
high speed insulation and high speed coiling.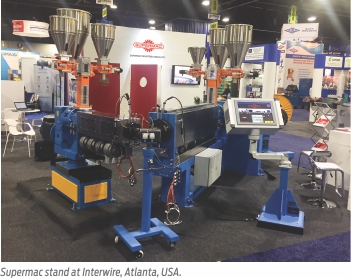 Established in 1974, Supermac, a solution provider for the cable industry, supplies high end manufacturing systems and process technologies. The company has three advanced manufacturing facilities located in Manesar and New Delhi, altogether covering an area up to 95,000 square feet, which has further increased to 110000 sft. The zeal to establish itself as a market leader has made Supermac to vision itself as a leader with in-house panel making, automation and testing facilities. Further, a team of specialized engineers enable the company to handle commissioning and installation tasks of varying complexities.
Supermac has recently tied up with SIMPACKS to represent them in Indian and South Asian market. SIMPACKS is specialized coiling machine manufacturer and by incorporating this high speed coiling machine, Supermac will be able to offer the complete solution with coiling machine to building wire manufacturers in India and abroad.
WCI recently had a brief interaction with Mr. Jasvinder Singh, Managing Director, Supermac Industries (India) Ltd. at Interwire. Excerpts:
Wire & Cable India: What do you intend to achieve by this alliance in terms of technology and market reach?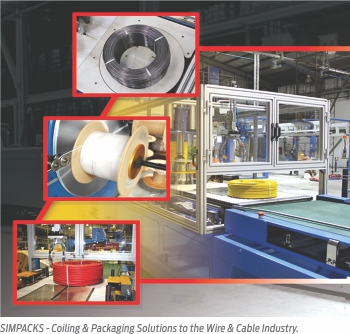 Jasvinder Singh: We have tied up with SIMPACKS to represent them in Indian and South Asian market. They are specialized coiling machine manufacturer and by incorporating this high speed coiling machine, we will offer to supply the complete solution with coiling machine to building wire manufacturers in India and abroad. Earlier, the industry was using multiple coiling machines to match the productivity of our high speed insulation line. However, by incorporating this high speed coiling machine, industry can save upon spending on multiple machines, space and labor.
The core focus of Supermac is to keep developing new products and constantly adding new services. By introducing SIMPACKS and its products to Indian market, Supermac has again upgraded the building wire manufacturing process and made it more productive and profitable for manufacturers. Supermac always believes in introducing world class technology and makes it compatible to Indian scenario.
WCI: To start with, please tell us about the idea behind exhibiting at Interwire 2017.
JS: We are expanding our avenues and network. We probably feel that the technology we are offering is at par with people here at the exhibition, even superior in some aspects. We feel that we have a very strong chance to offer our technology and services here to the entire wire and cable fraternity. That is the basic idea behind putting our machines here on show.
WCI: Asking you candidly, why should a company here in US continent opt for Supermac machines?
JS: It is simple. This is because we are a combination of very good technology with an appropriate commercial sense. If you see the inputs that we are putting in here with our combined efforts, the total package comes out to be reasonably priced as compared to what which others are offering here. If they buy the same bunch of technology from any of companies from Europe or America, they probably will end up paying twice or thrice the price we are offering here. Any customer in the first place wants an uncompromised quality, which we have been doing for the last 40 years and secondly, if that quality they get at a good price, nothing beats that.
WCI: Since this is a new market for Supermac, how do you plan to support and provide after sale services for the companies interested in your product from this (US) continent?
JS: We have incorporated good techniques and the machines are very robust and don't require the service very often; you just need to follow the normal maintenance schedule. If customers follow the maintenance schedule as per the enclosed guidelines, they won't get into any break downs. Moreover, in case of any mishap, we have an online system through which we offer the customers' service within 24 hours. If a major mechanical breakdown occurs, we have ready spares for all our products and machines. The products, which we have designed, are based on IS designing parameters. So, we can easily give them the replacement, wherever and whenever they want within 7 days. Apart from this, we have tied up with few people over here and they are going to keep a stock ready with them just in case of major break down; they are the ones who can supply spares to the customers. Therefore, there are three layers of protection – online, spares with the agents, and if those spares are not ready with the agents, we can provide the customers within 7 days.
WCI: Would you like to quote something about the tie up you have made with these people for spares' stock?
JS: It is too early for us to quote anything regarding that. May be when we get the first order, we will be in a situation to quote something about it.
WCI: Tell us about any major breakthroughs at the event so far?
JS: We have received many good enquiries from major companies of North and South America. In fact, the companies are among the prominent names in the industry and these enquires seem to be very serious ones. Once we start following up with them, then probably we would realize where these queries take us.
WCI: After looking at your machines displayed out here at the event, what is the first feedback you get from the companies from these areas?
JS: They are amazed to see the technology coming from India and many said that had we replaced 'Made in India' tag, nobody would have guessed that the machines are manufactured in India. Everyone has appreciated – not just the workmanship but the inputs we have put into it.