ZUMBACH equips its powerful instruments with the recognized OPC UA standard. With this key technology, measurement solutions provide easy, scalable and secure information exchange with different systems in the production line – Platform and manufacturer-independent data exchange.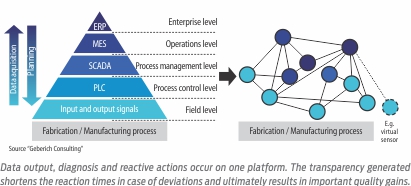 The wire and cable industry now may prepare its dimension, profile and diameter measurement field data for new Industry 4.0 services. Instruments with the new OPC UA standard meet the technical requirements for intelligent data networking.
ZUMBACH has equipped its powerful measuring instruments with OPC UA which ensures a simple, scalable and secure information exchange between different production line systems – regardless of platform or manufacturer.
Transparent data management – simple monitoring in real-time
One software enables all M2M (machine to machine) or M2H (machine to human) measurement data obtained to be interconnected on one output platform, collected, displayed and analysed. The OPC UA standard facilitates horizontal AND vertical integration across various levels of the automation pyramid. This means that the requirements for industry automation along with future semantic communication scenarios from Industry 4.0 and the Internet of Things (IoT: Internet of Things) have already been met.
ZUMBACH has it today, everyone else will have it tomorrow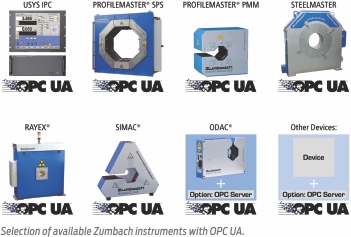 OPC has the broadest circulation in the field of automation, but is technologically industry-neutral and can be run on all operating systems. Communication between plant equipment takes place reliably, securely and independent of the manufacturer. As one of the first equipment manufacturers for inline measurement and monitoring, ZUMBACH integrated OPC UA into its PC-based stems with host communications protocol (e.g. in the PROFILEMASTER® profile measuring systems series, in measurement systems for hot rolling mills and STEELMASTER cold processes as well as in the USYS IPC series for universal data recording, processing and display systems and many more). The OPC UA server is additionally available as external gateway software for measuring devices with microprocessor and host communications protocol (ODAC® laser diameter measuring instruments, MSD diameter and ovality measuring systems, spark testers, computer interface boxes, and more).