KEI Industries Ltd.: A Complete Power Cable Portfolio
Delivering persistent growth in terms of numbers, KEI aims to touch Rs. 5000 Cr in sales by March 2020. With 15 percent raise in the current sales and 20 percent increase in volume, the profitability of the company improved by 50 percent this year.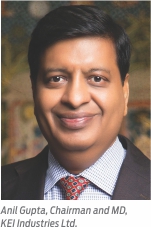 KEI Industries, incorporated in 1968, is known for its unique product range across the world. It is one of the leading players in the wires and cables industry, engaged in manufacturing of high and low tension cables (EHT, HT and LT), control and instrumentation cables, house wires and stainless steel wires. The company has been growing at quite a faster pace covering almost all the products, applications and sectors including wind farms, solar energy parks, and other projects related to power generation, transmission and distribution.
KEI commenced Engineering Procurement Construction (EPC) operations in the year 2007 and also secured prestigious orders across the country. WCI recently had an opportunity to interview Anil Gupta, Chairman and Managing Director, KEI Industries Ltd. Excerpts:
Wire & Cable India: As the financial year has recently concluded, please give us a review of KEI's performance along with the developments during the year.
Anil Gupta: The performance has been tremendous this financial year ending March 31, 2017. Our sales increased by 15 percent; we grew by 20 percent in volume terms; and our profitability improved by 50 percent. We have achieved 77-78 percent of our capacity utilization and the current year also looks extremely good. We expect to grow by around 15-20 percent at least this current financial year as we see a strong market for cables because of various ongoing infrastructure projects.
Our capital expenditure on our high voltage cable plant is complete and we are manufacturing cables up to 400 kV now; we have just doubled the capacity of our EHV plant, which can now produce cables from 66 kV to 440 kV. Soon enough, probably by the year end, we will enter the commercial selling of 400 kV cables.
WCI: We can see that KEI has been growing at quite a faster pace. We would like to know KEI's plans in short- and medium-term for enhancement in market reach and product portfolio.
AG: In electrical cables, we are now covering almost all the products, applications and sectors including wind farms, solar energy parks, and other projects related to power generation, transmission and distribution. We have that comprehensive kind of product range. Moreover, from here on, we will keep adding specialized/specialty cabling products which may be needed for some specific projects. Besides, our company may also go ahead with building newer capacities to produce more.
As far as our market reach is concerned, our focus will remain on increasing our export basket and reach to more countries where we will be exporting our products (cables).
WCI: Tell us about some figures which you may have targeted for the next 5 years.
AG: We expect to reach around Rs. 5000 Cr in sales by March 2020, which is of course our goal; and we expect that KEI will successfully be able to augment the capacity to reach that goal.
WCI: Do you have any specific strategy in place for this target or will it be going on with the existing business line?
AG: Most probably, it will go on with the existing business line, but our focus will be more towards increasing our reach through retail and distribution network.
From logistic point of view, we want our stock closer to the customer base so that we are able to service the customers faster. Also, there will be product development from our side to address new technology based projects, which are coming in the country in the manufacturing sector. Thus, we will be producing cables to suit their requirements.
WCI: Talking about the retail focus, you have a new ad campaign on-air. Tell us what was the idea and how was that campaign conceptualized?
AG: Basically, our idea behind the new campaign is to get closer contact with the users. That's why the campaign has a theme which says 'Jode Dilon Ke Taar'. The slogan tries to convey that the customer can depend on us and we will give them higher order benefits in return. Therefore, we want an instant connect with the customers and want them to perceive what we are selling is technically superior, cost-effective and a safe product. We are moving a step ahead of the peers in the industry and delivering good quality product with better service.
WCI: What about increasing your reach by having more of stock yards that you just mentioned?
AG: At the moment, we have around 16 depots for wire, 4 for cables and we plan to have a total of 18-20 depots more, across the country, which will stock both wires and cables together. As under GST, the depots will be constructed from the logistics view point rather than the taxation as now we are going to have a single tax regime in India. At the moment, we are almost covering the entire country but our intention is to double our dealer strength in the next three years.
WCI: Coming to exports, you said that you would like to increase the exports as well. What percentage of your production goes into exports and which countries are you covering right now? Further, tell us about the countries would you like to cover in the near future.
AG: Out of the total turnover, our export accounts for over 15 percent; our aim is to take it to 20 percent, from the total sales stand-point.
Currently, we are exporting to almost half of the world, which includes Africa, the Middle-East, the Far East and few parts of Europe. We intent to increase our geographical reach.
WCI: Tell us about your views on GST and how it is going to impact the wire and cable sector.
AG: One of the major benefits of GST is that the taxation will become unified. The disputes related to taxation will fade away. Moreover, based on the logistics, the movement of goods from one place to another will be free, resulting into lesser stocking cost as we won't need to create stocks of product in every state of the country. But, if we talk about the present tax rate announced by the government, it is too high. The representation has been made to the government to correct the rate to the logical level of 18 percent.
WCI: We would like to know about your views in general about the wire and cable sector. How do you see things happening with Govt. policies and converting them into practical execution?
AG: I guess the Govt. plans are going according to the announced policies in transmission, distribution and generation segments. Solar is picking up fast, giving a good growth to the cable industry. The Govt. expenditure on infrastructure as well as railways is bringing boost to the cable industry.
WCI: You have your EPC division as well. Tell us how is the EPC division performing and are there any major plans for that side of your business?
AG: The EPC division is performing quite well. We are now focusing on turnkey cabling projects in transmission and distribution sectors, where lots of our products are getting consumed. In the space of transmission projects, we supply high voltage cables and, in the distribution side projects, low to medium voltage cables are sold and laid by us.
Lots of states are going from the overhead system to the underground cabling system in order to reduce their AT&C losses and have better aesthetic looks of the cities, moving towards smart cities. We are also executing turnkey projects for such underground cabling projects.
WCI: Anything which you would like to add about KEI or industry in general?
AG: A good consolidation will occur in the industry for sure. Most of the companies are doing technological improvement in their plants, machinery and quality standards. We are definitely moving towards healthier and bigger companies, forming a bigger market in India. With the introduction of GST, I think lot of unorganized sectors will move towards the organized sector.
Talking about us, we are covering all the cable products – be it solar, wind, oil and gas, any power sector segment, or a specialized product for industries which are coming up. We are able to fulfill every special cabling need and develop all specialized products for various metro projects coming up in the country. Our strength is that we produce smallest to the highest voltage grade on the power cable side.