Davis-Standard and Maillefer combination is an attractive proposition for the wire and cable industry as well as for the industries based on plastic/compound processing as they may now expect an assorted range of leading extrusion and processing technologies.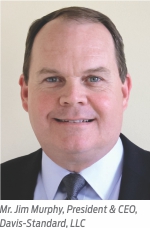 Davis-Standard, LLC, head-quartered in Pawcatuck, Connecticut and a global leader in the design, development and distribution of extrusion and converting technology, recently announced to acquire another extrusion technology giant, Maillefer International Oy of Vantaa, Finland and Ecublens. This coming together of two proven technologists is sure to develop into a market leading global extrusion systems and services provider to a world-class customer base.
WCI recently interacted with Mr. Jim Murphy, President & CEO, Davis-Standard, LLC on this significant development in the extrusion and converting technology area which concerns a number of industries including wires and cables. Excerpts:
Wire & Cable India: Since the acquisition agreement is final, when will the acquisition process be complete and what would be the probable operational structure after the acquisition?
Jim Murphy: Davis-Standard expects to complete the acquisition of Maillefer in mid-September and there will be no changes to the current management or operations of Maillefer. Mr. Lars Fagerholm, the CEO of Maillefer, will remain with the company and continue to lead the Maillefer business. Our focus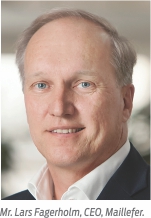 is on continuing to serve our customers with the technology and customer service they know and expect.
WCI: What considerations did make Davis-Standard acquire Maillefer? What are the projected synergies out of the two companies combined together? Does the company culture of the two companies reinforce each other?
JM: Maillefer's excellent reputation for leading technology and strong customer service made it an attractive opportunity for Davis-Standard. Maillefer's owners were looking for the best future for the business and a combination with Davis-Standard was appealing to both parties. Davis-Standard and Maillefer share strong company cultures built around our dedicated employees providing leading technical solutions to our customers. We will continue to focus on providing leading technology and continue to invest in our employees to develop it.
WCI: Maillefer's and Davis-Standard's product ranges are somewhat similar, especially in extrusion and other plastic/compound processing systems. What should a customer expect after the acquisition in terms of technology? A product with the combined technological expertise or a product with enhanced individual features?
JM: There will be no immediate changes to the product range that we currently offer to the market. Our customers can be assured that they will be receiving the same support and quality products that they know and expect. We do have product management and engineering teams working on opportunities to improve our product offerings based on the combined technology and experience of both companies. We will be identifying and offering these enhanced products to our customers in 2018 and beyond.
WCI: Our magazine concerns the wire and cable industry, where Maillefer has some notable contribution by way of its extrusion, stranding, coating, and other technologies, especially in India. How would Davis-Standard be taking that legacy forward in the wire and cable industry?
JM: Both Davis-Standard and Mallifer focus on providing customers with unique production solutions driven by our technical expertise in extrusion process technology and application experience. Both companies entered the extrusion machinery business in the 1940s with wire and cable extrusion systems. This acquisition of Maillefer brings together two strong companies and provides a strategic move to advance our efforts in the wire and cable industry.
WCI: India has been an emerging and successful market for Davis-Standard over the past 10 years. What industries has it been able to serve in the region so far? How does it expect to serve the Indian wire and cable industry after acquiring Maillefer, quite active in the said industry?
JM: Davis-Standard has been active in India in the packaging, medical and automotive markets, primarily supplying extrusion lines for films and tubing/hose. We have seen the growth in the market with both multinational companies and growing Indian companies. Maillefer's expertise in high voltage cables and fiber optic cables will open new opportunities as India continues to develop its infrastructure.
WCI: Now that the two global extrusion brands are combined, how will the customers be benefitted in terms of superior solutions, support services, and maintenance solutions?
JM: The combination of Davis-Standard and Maillefer is attractive because there is very little overlap with our existing customer base, and combined we can reach both new geographies as well as new end markets. We see power transmission and distribution as a steadily growing market that we need to participate in on a global basis. Our longer-term goal is that the new organization will be stronger together than the two organizations are individually, today.
WCI: Does Davis-Standard have a growth outlook for the Indian wire and cable industry? If yes, please share! How does it see itself instrumental in this growth?
JM: Davis-Standard and Maillefer share a common belief that the Indian market will continue to develop, and that it represents a big opportunity as companies look for higher levels of technology and increased productivity. Maillefer currently has an office in Mumbai that is active in the Indian market, and we look to add capabilities to grow our business in India as the market develops.
WCI: You may add something left in above questions.
JM: We are very excited about the opportunity to bring together two companies with dedicated employees focused on developing innovative extrusion processing technology. Davis-Standard and Maillefer have deep roots in the industry and we see a bright future to better serve our customers as we are stronger together.
Thank you for the opportunity.