IEEMA to Work Towards Truly Globalizing the Indian Electrical Industry: Shreegopal Kabra
"This year our focus lies on all members, particularly those who are in the stage of development and growth by way of better quality and commitment to the environment. Our main aim as IEEMA is to ensure the Indian electrical industry has a much larger global footprint by increasing our exports and technological know-how."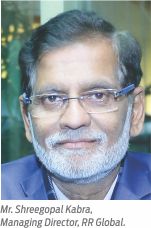 Mr. Shreegopal Kabra, Managing Director, RR Global – which operates in three verticals: electrical, infra, and chemicals – was recently chosen as President, IEEMA, the apex body for the Indian electrical and electronics Industry. RR Kabel, a company within RR Global Group, is a widely acknowledged player in the Indian wire and cable industry with a comprehensive product range of cables.
Mr. Kabra would be entering the office on 22nd September, 2017 with a slew of priorities to further growth of the concerned industries along with aligning IEEMA's policies to the Govt.'s vision and environmental concerns. WCI interacted with Mr. Kabra to get updated about his plans as the president of IEEMA. Excerpts:
Wire & Cable India: First things first, congratulations on being elected as President, IEEMA, the most prestigious body of electrical, industrial electronics and allied equipment industries in India! Tell us your priorities as the new IEEMA president.
Shreegopal Kabra: Thank you! It is an honor to be elected as the president of one of the India's largest and most successful apex bodies servicing the fastest growing industry in our country. Of course, my priority is to continue the good work done at IEEMA and look after all 850 members, work with them to shape policies that will make the industry more environmentally friendly and add benefits not only to the industry but to the country as a whole.
WCI: Do you think IEEMA, as the apex association for electrical and associated industries, has been able to live up to its vision and objectives? Our readers would like to know some of IEEMA's significant milestones, which had positive impacts on the industry as a whole.
SK: Yes, it has. The work done by IEEMA over the years is unprecedented.
Success is only possible collectively. IEEMA's milestones are aplenty. But rather than listing one or two, you can see the entire picture by looking at the industry's growth chart over the years. The country's per capita electricity availability has almost doubled from approximately 400 kWh in 2003 to over 800 kWh today. The electrical industry has been efficiently able to cater to the fast arising needs of various electrical goods owing to the rapid consumption growth of electricity. The products have been benchmarked to quality and the production systems have been made competent by syncing it to the latest technology. All this has been possible because of the presence of an effective policy-making and strategizing body like IEEMA.
WCI: As the new president, how would you be striving to make IEEMA relevant to today's business dynamics? Tell us if you have crafted a vision or strategic roadmap for the further value addition to the association.
SK: This year our focus lies on all members, particularly those who are in the stage of development and growth by way of better quality and commitment to the environment. Our main aim as IEEMA is to ensure the Indian electrical industry has a much larger global footprint by increasing our exports and technological know-how.
WCI: As the top electrical and allied industry association, IEEMA also has the onus to carry the Govt. vision and national policy into strategies it crafts for the furtherance of industrial growth. Do you have any specific plan to align IEEMA's strategies to any particular national policy?
SK: We believe that both the public and private sector must work together to ensure the success of such fantastic programs.
WCI: As is well known, IEEMA undertakes various activities and offers a myriad of services to assist the electrical and associated industry, do you personally think that there is scope of adding more such services to the existing ones? Any particular one in your mind?
SK: There is always scope to grow, do more and do it well. This year our focus will be on the 'domestic or housing electrical divisions', particularly since this segment has a lot of catching up to do. This will also ensure that the biggest sector is aligned to the PM's 'housing for all' scheme, something that the industry is dedicated towards.
WCI: Besides organizing seminars and much visible exhibition like Elecrama, IEEMA also organizes various training programs. What does the association wish to achieve through such training programs? Who can attend these programs and what would they achieve? Any new training program in offing?
SK: We will review all our seminars and conferences. We do have many more exciting and knowledge based programs on offer for the industry and allied industry, however at this point I am unable to disclose any of these. I will take office on the 22nd of September and will subsequently be in a better position to share more details.
WCI: What outlook does IEEMA has on the growth of entire electrical and associated manufacturing industry in relation to the growth of power generation, power and data T&D, growing urbanization, etc.? Also, tell us the impact of various national policies on the growth of electrical and associated industry.
SK: Despite tougher economic conditions both domestically and in the global sector, we are confident of working with the public sector to overcome challenges and be mutually beneficial to each other. You will see the results over a period of time. Please trust the process.
WCI: Hailing from the wire and cable industry, do you have something to say to our readers and industry stakeholders from IEEMA platform? What specific benefits the wire and cable industry can expect from your tenure?
SK: On 22nd of September, I am taking over as President of IEEMA and not just for the wire and cable industry, IEEMA goes far beyond that. The benefits will be seen and spread across. My objective is to ensure that IEEMA as a whole continues to grow.
WCI: You may add something if not covered in above questions!
SK: I would like to thank everyone for this opportunity. I am confident IEEMA members will see and experience positive change soon.