Ryker Base Pvt. Ltd.: A Joint Venture to Quench Polycab's Growing Copper Needs
With an annual capacity of 240,000 metric tonnes, Ryker Base Pvt Ltd would be the first base metal manufacturing investment by Trafigura and Polycab in India with an objective to address the domestic supply-demand gap in the copper wire rod market. The 60 percent of the production though would be gobbled up by Polycab itself, remaining 40 percent would be available in the market.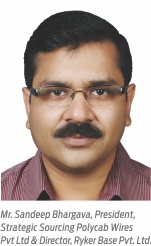 Polycab Wires Pvt Ltd, one of India's largest wire and cable producers, entered a JV last year with the Dutch multinational trading company Trafigura to jointly set up a facility for manufacturing copper wire rod at Halol Gujarat. With a proposed total investment of about Rs 167 crore, the manufacturing unit is expected to be operational in the first quarter of 2018.
This joint venture brings together Trafigura's global expertise in metal trading and Polycab's rich experience in the Indian copper wire rod market, feels Mr. Sandeep Bhargava, President, Strategic Sourcing Polycab Wires Pvt Ltd & Director, Ryker Base Pvt. Ltd.
Wire & Cable India: What factors and market strategies did motivate Polycab to form a joint venture with Trafigura in the form of Ryker Base Pvt Ltd?
Sandeep Bhargava: Polycab Wires Pvt. Ltd. is one of the largest wire and cable manufacturers and consumers of copper rods in the country. Our current growth plan involves doubling of the copper consumption. Thus, to secure our most precious raw material on both the quality and quantity fronts, we felt a need to have a copper rod mill of our own.
Trafigura, which is one of the largest trade houses for non-ferrous metals in the world, is best qualified to secure excellent quality raw materials for rod mill. Therefore, a joint venture between two stalwarts of the industry, which brings together Trafigura's global expertise in metal trading and Polycab's rich experience in the Indian copper rod market, is formed. Moreover, Polycab has a growing network of specialist manufacturing units producing everything from household wires to equipment for power generation and transmission, industrial development and transport infrastructure.
The Indian copper wire rod market is currently estimated to be worth USD 3 billion and is expected to grow 12 percent year-on-year. With increased public and infrastructure investment by the government, the market is expected to witness a significant rise in demand in the foreseeable future.
WCI: Ryker Base is setting up a base metal manufacturing facility with a huge capacity in Gujarat. What is the status of the project? How much work has been completed and when is it to be commissioned?
SB: The manufacturing facility is expected to start commercial production in the first quarter of CY 18. The project currently is on schedule; the civil work is in progress and machinery is expected to arrive in the latter part of this year.
WCI: As we know Ryker Base has placed an order with SMS Group for CONTIROD CR-3500 Line, how is the installation going on for the line? What other technology would this project line up for setting up an efficient manufacturing plant?
SB: The project timeline has been explained above. At present, Ryker has already started discussions with various manufacturers for setting up their facility for their downstream products which will be disclosed in due course.
WCI: The mammoth 240,000 tonnes project is also being touted as one with the least environmental footprint in terms of less energy consumption and lower carbon emission. Do elaborate on such remarkable and likely features that this project is going to have.
SB: This is the prime reason to select this (CONTIROD) technology. If we were to compare the offerings of this technology to the current available technologies in India, we have a 26.9 percent reduction in fuel consumption, a 60 percent reduction in electricity consumption and a reduction of 70.6 kg CO2 per tonne of metal produced.
WCI: It is said that Ryker's USD 25 million project at Halol is aimed at bridging the supply-demand gap in the copper wire rod in the Indian market. Please explain this supply-demand gap specifically and quantitatively and to what extent your project will be able to address the gap.
SB: Currently, there is a huge gap in the supply and demand of good quality copper rods to suit the cable market in the country. Although this project is aimed at securing copper requirements of Polycab, there would be around 100000 MT/year of good quality rods available in the market.
WCI: How much would this backward integration JV with Trafigura help/aid Polycab in meeting its own copper rod requirements for cable making? Will Polycab be able to source a substantial amount of its copper rod requirement from this project? How much will you consume and how much will you market? Any estimate?
SB: This project would meet 100 percent of Polycab's copper needs. Self consumption would be 60 percent and 40 percent would be available to the market.
WCI: This project is significant in base metal scarce country like India. How do you think this project at Halol fits the bill of 'Make in India'?
SB: This project is a step towards 'Make in India'. Originally planned in another country, the management of Polycab decided to set it up in India. We have a foreign partner thereby bringing in FDI into the state of Gujarat. With the setting up of this plant, Polycab is significantly cutting down on its imports of copper. Right now Polycab imports 50,000 MT of copper per annum.
WCI: Please give a real market scenario in India vis-à-vis base metal required by the wire and cable industry and its ready availability.
SB: According to the trade data from DGFT, the copper demand in India in 2015 was 500 KT, whereas the total production was 380 KT. The remaining 140 KT of copper were imported in order to meet the remaining demand of the industry.
From the same data, it is also apparent that India has two key suppliers of copper – Sterlite and Hindalco. While Sterlite's total production in 2015 was 200 KT with its installed capacity of 270 KT, Hindalco's annual production was 180 KT with its installed capacity of 240 KT. Hindalco has also announced to expand its capacity up to 480 KT with CONTIROD process, which may further ease the copper rod crunch scenario.