The 12-block straight line wire drawing machine for high carbon steel rope wire application has a line speed of 30 meter/second. This machine is being supplied as a repeat order to Gustav Wolf GmbH, Germany.
February 3, 2018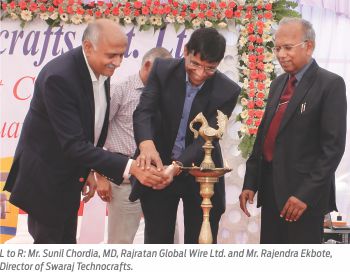 Swaraj Technocrafts Pvt Ltd, a renowned name in the field of equipment building recently commemorated the export of their 100th machine to Gustav Wolf, a leading rope wire manufacturer in Germany as a Platinum Roll out Ceremony. In the celebration, many dignitaries of wire industry from around the globe were present with Mr. Rajendra Ekbote, Director of Swaraj Technocrafts.
Mr. Ekbote was happy to announce the export of their 100th machine and said, "With the delivery of this machine we have achieved a milestone and with continued support and trust from their clients they will achieve bigger milestones". Speaking about the beginning of the venture, he said, "Swaraj Technocrafts stands today as a well-known company in the field of equipment building because of the people who believed in me and my mission to make Swaraj synonymous to international standard machines. And now as we export to Spain, Germany, Czech Republic, Mexico, U.A.E, Saudi Arabia, Thailand, Malaysia, Tunisia, Nigeria and other countries I feel extremely proud and happy with what we have achieved".
Remembering the ties with Swaraj Technocrafts, Mr. Sunil Chordia, MD Rajratan Global Wire Ltd said, "It's a proud moment for me as I share a very close and emotional connect with Swaraj. It is exporting machines which I would have liked to use in Rajratan twenty years ago. We are exporting superior quality machines to the same German customer who was our JV partner. I really feel happy and enjoy the thought that I am part of this journey of Swaraj."
Swaraj has been a leading manufacturer for many years and has a team of experienced professionals and technicians along with an array of fully equipped machines and instruments. It has been engaged in designing and manufacturing all types and ranges of equipment and its auxiliaries required for wire industries.
Swaraj will display this machine at their Stand G 70/ Hall 10 at Wire Dusseldorf 2018, in Germany.