In order to make non-toxic fire-safe cables, the Indian cable manufacturers should think beyond PVC and must now use cross-linked halogen-free compound along with the highest international certifications, feels
Mr. Shreegopal Kabra, MD, RR Global.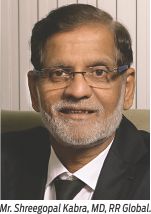 RR Kabel, a company within RR Global Group, is a widely acknowledged player in the Indian wire and cable industry with a comprehensive product range of cables. Known for making high-quality housing cables, the company wide product range includes control cables, instrumentation cables, data cables, a wide variety of application cables, and so on. The company also is credited for making India's 1st heat-resistant and flame-retardant REACH and ROHS compliant cable with Unilay conductor.
In a recent interview with WCI, Mr. Kabra explained many things about how to make a fire-safe and reliable cable in India. Excerpts:
Wire & Cable India: You have been a strong votary of fire safety in cables. What are important parameters that a manufacturer needs to ensure in order to make fire-safe cables?
Shreegopal Kabra: The most important is the need to shift to cross-linked halogen-free cables from the current PVC cables. Over the last decade the western world emphasises usage of cross-linked halogen-free cables in hospitals, hotels, sky rises, stations, airports, theatres, schools and all places of public gathering. These cables have higher temperature resistance and do not catch or propagate fire. In a fire situation, these cables emit very little non-toxic smoke eliminating the risk of deaths due to inhalation of toxic gas. This also facilitates fire-fighting and evacuation.
WCI: When it comes to fire safety, the major focus shift towards suitable compounding. Give your views on that! Also, tell us what more is required to make a cable fire safe.
SK: The halogen-free compound is the most important ingredient of a halogen-free cable. All the major halogen-free compound producers are in the western world and there is a pressing need to have them manufactured in India to make these cables easily available in our market.
WCI: There are a number of organizations internationally that set fire safety standards for cables. How much is it important to acquire these safety standard certificates? Does one need to apply much discretion in selecting the right standard?
SK: It is important for a customer to insist on the correct documentation/certification as the certification bodies continually monitor and audit the manufacturing facility, process control and the certified product. The manufacturers should provide test reports in relevance to the standards they are certified.
WCI: As a corollary to the last question, how important is it for a customer to focus on the documentation behind any manufacturer's claim on certain standards met? In other words, shouldn't manufacturers share the test data with customers to back up their claims of conformance with a standard?
SK: The international certifying bodies themselves are very stringent these days conducting surprise visits, picking up samples from users/ markets and doing random tests to ensure compliance with the standard certifications.
WCI: It is also contended that along with cables, cable accessories are also responsible for fire hazards. Give your views on how cable accessories must also be procured to the same standards as cables?
SK: Cable accessories ensure that the cables are connected and used appropriately. Substandard or under-specification accessories would mean loose or improper electrical connections – leading to potential fire hazards.
WCI: Tell us something about RR Kabel's popular UCT cable? Does this unilay technology have something to do with fire safety apart from other benefits it talks about?
SK: UCT conductor is a very special way of laying down copper strands to form a smooth circular conductor shape over which a consistent insulation can be done ensuring proper concentricity. The UCT conductor ensures complete electrical connection. Its perfect circular shape means that the electrician does not have to twist it before usage. In a UCT conductor, there is no risk of breaking of a couple strands while twisting, which could lead to reduced conductivity, cause over-heating and a short circuit.
WCI: As regards to India, how much focus do you think cable manufacturers are presently attaching to fire safety and fire survival in cables? What according to you should be done to spread awareness of the fire safety among manufacturers and consumers both?
SK: Unfortunately, in India there is not enough focus being put in by cable manufacturers to produce and sell only the right quality. A very strong monitoring of the cables being sold in the market should be done by IS. The end use of a cable is the major criterion which governs setting up and updating of the specifications of the cable. IS should also consider to establish standards for cross-linked halogen-free cables and make their usage in public frequented constructions/areas mandatory. RR KABEL is one of the very few Asian cable companies and the only Indian cable company to have acquired the coveted BASEC certification for halogen-free installation cables.
WCI: In recent Cable & Wire Fair 2017 conference, you spoke about the need to emphasize on Q1 rather than traditional L1 by the national and other govt. Please elaborate on the concept. Does the concept of Q1 also incorporate fire safety as quality quotient?
SK: L1 should not be and cannot be the only criterion to purchase cables in any government or non-government organisation. There has to be a techno commercial balance to use the right quality and the right price. Usage of substandard and spurious cables is a threat to human life and property. Q1 should the factor to make a purchase decision. Cost saving in purchasing non-standard cables is insignificant to the huge damage its usage threatens to cause.
WCI: You may add something not addressed by above question!
SK: The world has moved to using ROHS and REACH compliant cables and in India we still continue to use cables with lead content for commercial reasons. ROHS and REACH compliant cables ensure that there is no known toxic substance in the insulation. The cables are handled by electricians and in fact in India we have a tendency to bite off cable insulation using teeth, which is very dangerous should the cable insulation have toxic substances. The cables are also likely to be touched by children and users and hence all the more need to have the cables which are REACH and ROHS compliant. RR Kabel is one of the few companies in the entire Asian region and the only in India with the highest international certifications.