EUR 4 million investment in cutting-edge facilities and equipment to respond to increasing demand for electricity
March 21, 2018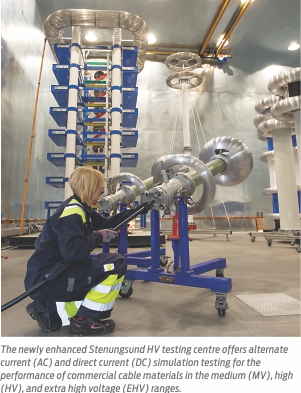 Borealis and Borouge, leading providers of innovative, value-creating polyolefin solutions for the global wire and cable industry, announce the inauguration on 21 March 2018 of the newly expanded high voltage (HV) electrical testing facilities at the Borealis Innovation Centre in Stenungsund, Sweden. EUR 4 million have been invested in order to expand and equip the facility with cutting-edge testing equipment, which is unique among polymer producers. The facility enables Borealis and Borouge to continue their position as industry innovation leaders in the most demanding segments of wire and cable. It also opens up new opportunities for collaboration with customers and value chain partners.
The wire and cable laboratories in Stenungsund have been important development centres for cable insulation products since 1970, when the first Cross-linked polyethylene (XLPE) cable insulation products were produced at the Stenungsund plant. The scope of testing activities has been expanding steadily over decades, starting with testing on electrical cables and cable extrusion lines in 1986. In 2009, a new three-layer Continous Vulcanisation (CV) extrusion line was installed. The completion of this most recent two-year investment project in electrical testing now significantly expands the range of testing activities.
The newly enhanced Stenungsund HV testing centre offers alternate current (AC) and direct current (DC) simulation testing for the performance of commercial cable materials in the medium (MV), high (HV), and extra high voltage (EHV) ranges. When developing innovative new materials, testing is crucial to help ensure material safety and promote quality assurance. Within the framework of customer and value-chain cooperation, the HV testing centre can also open up an entire spectrum of new project types, and can accelerate the time to market for new innovations.