MFL Group, the manufacturer of hi-tech wire drawing, stranding-armouring and extrusion machinery has recently deployed its two innovative platforms, viz. a customer service platform and 3D interactive spare parts platform with three crucial objectives: minimizing response time, allowing traceability, and working closer to our customers.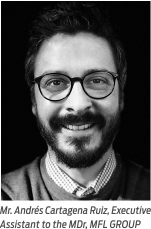 "On the engineering and manufacturing front, we're transitioning from an Engineering-to-Order (ETO) to a Configure-to-Order (CTO) culture. We're basically converting machine customizations into options," said Mr. Andrés Cartagena Ruiz, Executive Assistant to the Managing Director, MFL GROUP in a brief interaction with Wire & Cable India.
Wire & Cable India: Give us a brief summary of MFL GROUP and its product portfolio!
Andrés Cartagena Ruiz: MFL GROUP is an engineering and manufacturing group of companies headquartered in Molteno (Italy) that enjoys a 120-year industrial legacy (founded 1897). We design and build high quality and top performing wire drawing, stranding-armouring and extrusion machinery for the production of ferrous wires and ropes and non-ferrous wires and cables.
WCI: Through some light on the advantages of 5 brands under one umbrella.
ACR: Our machines are manufactured under five brands: MARIO FRIGERIO, FRIGECO, CABALLE, OM LESMO and EURODRAW ENERGY. The first two are native MFL GROUP brands and the last three joined our portfolio in 2015 bringing extremely valuable intellectual property to the table.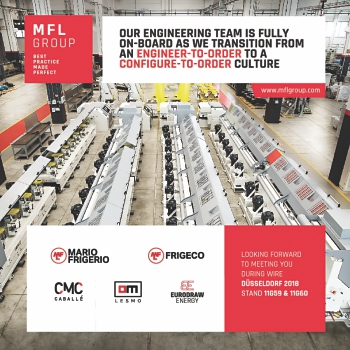 WCI: Please tell us about your technical infrastructure for wire, ropes and cable machinery manufacturing.
ACR: Our organization is built to support its long-term strategy. The entire group employs more than 330 people based in two manufacturing units in Italy, one in Spain, one unit in China, two sales and service offices in the USA, one sales and service office in China, and one sales office in Switzerland. Our manufacturing plant in Molteno (Italy) is ISO 9001, ISO 14001 and OHSAS 18001 certified. This is an unmatched level of certification for machine manufacturers in our industry. Out of the 330 employees, about 80 are engineers, which we consider the heart of the company.
WCI: Would you like to share any new development on the product, process, or market front?
ACR: If you plan to attend the upcoming Wire & Tube Düsseldorf 2018 exhibition you will be able to experience several aspects of how we're tackling the present and the future. On the engineering and manufacturing front, we're transition-ing from an Engineering-to-Order (ETO) to a Configure-to-Order (CTO) culture. We're basically converting machine customizations into options. Also, we're going to officially introduce our newly deployed Customer Service platform, which allows the customers to track any technical assistance inquiry in a transparent way. Last but not least, we're going to show our customers the 3D interactive platform specifically designed for identifying and ordering spare parts. Both the customer service and the spare parts platforms have three main objectives: minimizing response time, allowing traceability, and working closer to our customers.
WCI: Tell us some unique characteristics of your machines that facilitate the production of long-term reliable wires and cables.
ACR: I'll mention three examples that define our "Best Practice Made Perfect" tag-line. First, the gearboxes of our wire drawing machines are manufactured in-house. We have been doing this for 100 years and we can't find the advantages of doing it otherwise. Second, we only use top brands for the automation equipment and the design of the electrical panels is also done in-house. This allows us to service our customers without depending on third parties. And third, all of our production sites are located in the middle of industrial ecosystems historically known for the manufacturing of high quality industrial machinery.
WCI: Your views on the Indian wire and cable industry. How does MFL GROUP look forward to this market and your plans for the same?
ACR: India is a very particular market. While it has ambitious plans to improve its infrastructure and electrical grid, it also has an army of highly educated engineers and scientists to do so. What I'm trying to say is that there are interesting opportunities for MFL GROUP to grow its installed base in India but it's also a difficult market to tackle for a European manufacturer because of local competition. Unlike other markets that we're able to handle remotely, strategic partnerships with local industrial groups in India are the key for success.
WCI: Brief us also on the R&D and innovation culture at MFL GROUP.
ACR: For decades we've been considered a place-to-go for young engineers. If you visit our headquarters, it's not rare to spot engineering interns from the Milano Institute of Technology working on particular problem assigned by our R&D department. The age range in our R&D and engineering departments is between 25 and 80 years. Know-how passes on from generation to generation. European industrial machinery manufacturers are constantly challenged by ambitious market demands in terms of productivity. That keeps the team going at full throttle. They don't have time to accept the status quo. This has been going on for decades and that's what keeps us alive.
On another front, we've converting our R&D culture into a multi-disciplinary one. In the past, mechanical, electrical, and manufacturing R&D were handled by separate teams. Nowadays, R&D breakthroughs are born from a multi-disciplinary team where a new discipline has been recently welcomed to the roundtable, that of Internet-of-Things and Machine Learning initiatives. R&D is driven both from the bottom-up and from the top-down approach. In fact, I just came back from a hands-on workshop where we learned the basics of how to program "state machine" conditions and also how to run Artificial Intelligence (AI) platforms on our databases. Also, later this year I plan to enrol in a short course offered by the Massachusetts Institute of Technology (MIT), which covers the implications of AI on business.