Set to Grow Organically in India by Installing a New Compounding Line in Goa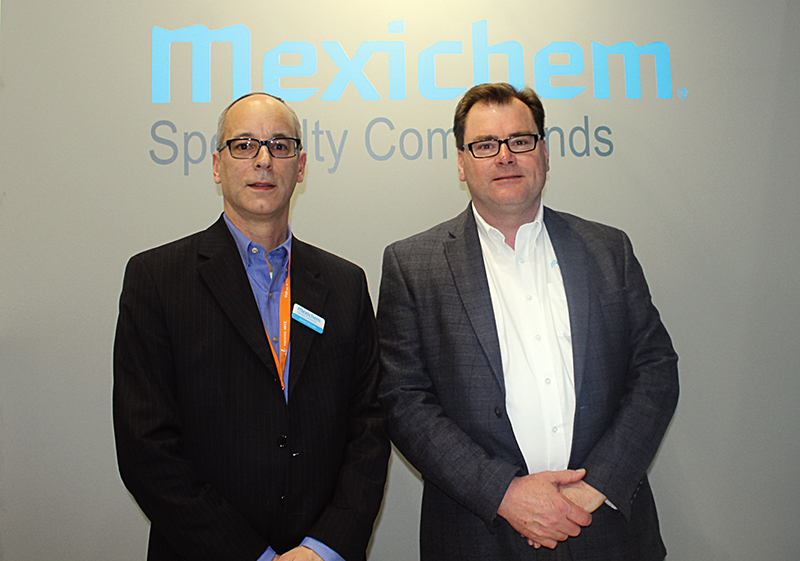 Mexichem Specialty Compounds, a subsidiary of Mexichem since 2011, is continuing its rapid growth drive globally through organic and inorganic expansion strategies, including the subcontinent. The company is ready to put a completely new thermoplastic compounding line in Goa to be commissioned soon. The new plant will produce specialty thermoplastic compounds based on both PVC and non-PVC polymers with a strong focus on the wire and cable industry.
The company specializes in the design and development of a variety of compounds including Flame Retardant PVC, Low Smoke Zero Halogen, Thermoplastic Elastomer and Olefin as well as a range of color concentrates. With the new plant in Goa, Mexichem Specialty Compounds (MSC) will cater to customers not only in the Indian subcontinent, but also in the Middle East and ASEAN countries. Wire & Cable India recently talked to Mr. Daniel J. DeLisle, General Manager, Mexichem Specialty Compounds to know in detail the plans of the company for the Indian market. Excerpt:
Wire & Cable India: Brief us a little about Mexichem Specialty Compounds and the work you do.
Daniel J. DeLisle: Being a leading polymer compound manufacturing company supplying specialty thermoplastics to customers across the globe, we work on constantly developing and designing Flame Retardant PVC, Low Smoke Zero Halogen, Thermoplastic Elastomer and Olefin compounds as well as a range of color concentrates. Mexichem Specialty Compounds, a subsidiary of Mexichem, takes pride in developing solutions for the cable manufacturers and such solutions are not limited to one polymer. Depending on the requirements of our customers, our objective is to develop custom-made materials that can be used in a cable, which successfully meets various specifications and standards in place such as CPR, UL, etc.
WCI: How has India been for Mexichem? What are the new things that Mexichem is introducing in the Indian market?
DJD: Our business is wide spreading. There are a few things we have been doing in parallel. One is acquisition. We have acquired a couple companies in the last two years – Sylvin Technologies, USA and Vinyl Compounds, Europe. Mexichem intends to grow its business through these acquisitions and more.
The second thing is organic growth. There are planned organic growth programs for the entire AMEA region and also India which is obviously a big part for us. We continue to ship products to the AMEA region sites from our UK and US production sites. Moreover, we design and develop products in those markets for local as well as global customers. We always like to make products with specifications that can be used worldwide.
The commitment that Mexichem Specialty Compounds made was to build a facility in Goa, add compounding capacity, and create a team of people on the ground. We have definitely stood by this commitment. In Goa, Mexichem's Dura-Line business already has manufacturing operations and we are now going ahead with a state-of-the-art compounding facility at the same site. We have our commercial and technical teams in place at the Goa facility, which is set to produce almost all products within the portfolio of Mexichem Specialty Compounds. The setting up of the facility by putting up the compounding line in the area is the first step. As we continue to grow, we may add more capacities there as we usually do at other locations. For instance, we are installing additional capacity in our North Carolina facility in the USA. As we see the growth opportunities organically, we capitalize on that in addition to expanding through acquisitions.
WCI: What is your strategy for the Indian market for the next 2-3 years?
DJD: Typically our representatives travel to markets and work to cater to global customers in different geographic locations. However, we have now hired local personnel to focus on the requirements of the market here and help us grow our business organically. The next step is investing capital, which we have done in Goa. The order for the compounding lines has been placed and we are now starting to get those orders in process. Once we set up the compounding facility, we will start producing locally here in India.
When you decide to take a unit from zero manufacturing to a new compounding facility, it is considered altogether a big step and we look forward to servicing this region with locally produced compounds.
WCI: Tell us about your product portfolio.
DJD: For the wire cable market specifically, we make a flame retardant low smoke compound called SMOKEGUARD®, which is used for plenum applications in the US market. In the US market, there are UL 910 and NFPA 262 types of specifications for the performance of plenum cables. SMOKEGUARD is a premium product designed to perform to these high flame retardant requirements. We continue to develop additional SMOKEGUARD® products as the market continues to evolve in different areas.
We have a wide series of low smoke zero halogen compounds called MEGOLON®. MEGOLON® is designed to meet requirements for the emerging CPR European standards. This product line was developed for for applications like data and telecommunication cables, power cables, energy cables, and a variety of specialty cables. The zero halogen market is in the US, Asia, and all across Europe. Even the entire AMEA region is using the non-halogen product line.
Additionally, we have a series of TPE compounds called GARAFLEX®, designed for tough industrial applications by offering good low temperature properties and other features such as sunlight resistance, oil resistance, wide operating temperatures and wet location properties.
We are proud to be able to service our customers with a one-stop solution by offering a range of compound choices – from a flame retardant PVC product line to thermoplastic elastomer compounds (TPE) materials to a non-halogen product line if they are looking for non-halogen solutions.
WCI: What products would you be manufacturing at the Goa facility?
DJD: As with all of our facilities, we plan in a way that enables us to produce the portfolio of products we feel will continue to grow in that specific geographical area. So for the Goa facility, we will be producing LSZH compounds, flame retardant PVC products. And TPE compounds to meet the ongoing and future needs of this region.
WCI: Your take on the Indian market in terms of the opportunities for Mexichem Specialty Compounds.
DJD: Our team sees India is an essential organic growth market. Our goal is to be globally positioned and locally responsive to the markets we serve and based on our commitment to this market, it means investing in manufacturing in this geographic region to remain close to the customer base. This will help us to service our customers better and ensure that we are fulfilling our commitment.
WCI: Can you brief us about the R&D in MSC?
DJD: We have R&D teams located on all our sites. For us, it is really crucial to have communication with all the technical teams to avoid duplication in our efforts. This constant communication on a weekly basis with the technical teams at different sites is to ensure that we are being as efficient as possible when developing a solution for a cable customer or any other customer for that matter.
We have certain teams that focus on the development of zero halogen compounds. Other technical teams focus on PVCs and TPE compound development. We communicate with those technical people across the region to ensure the technological availability of our resources. It is extremely crucial for us so that we are not redesigning something in Europe which we have already developed in the USA or vice versa. Any technology that we need at any of the sites is well communicated internally.
WCI: Besides growing organically in India, are you open to inorganic growth opportunities too? Would you be ready to consider acquisition offers arising locally for quicker growth in future?
DJD: I think all of these possibilities are available with us. We are always looking for strategic ways to grow our business. What we as employees want to do, Mexichem Specialty Compounds and the parent company Mexichem have allowed us to do. Our growth has always been driven by intelligent strategies and we thoroughly consider everything which may be on the table. Whatever makes sense for a business – acquisition or organic growth or capital investments – we want to make sure it is a customer-centric long-term solution.
WCI: What are the key strengths of MSC? What advantage do you offer to your customers?
DJD: The kind of investments we are making shows that we are serious about focusing on our customer's needs. One of the key advantages with Mexichem Specialty Compounds is that it is capable of providing a wide variety of compounding solutions that are not limited to just one or two product types. If you are looking for a PVC compound solution, we have a portfolio that is fairly large ranging from low degree of flame retardant to a high degree of flame retardant. If you are looking for a non-halogen solution, we have quite a few products to offer. If you are looking for a rugged but flexible TPE type of material, our product range is quite large. We as a supplier go to our customers, understand their requirements, work with their engineering team, and provide a solution exactly suiting their purpose. With the wide range of polymer systems we offer along with our customer-centric approach to product development, we are able to bring value that is meaningful and inspiring to help our customers meet their growth objectives and in this way we are able to move forward together.