CABLEWIRE 2018, the 8th international conference on cables and wires, was hosted from August 23-24 at New Delhi. The event organized by IEEMA and supported by International Electrotechnical Commission (IEC) discussed many pertinent subjects on latest trends and ongoing innovations in the area of safe and efficient transmission of electricity.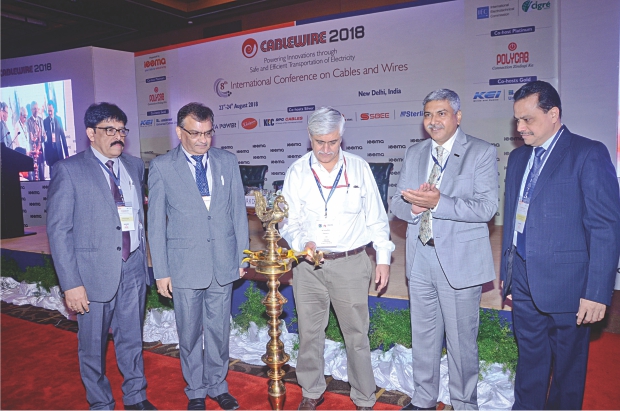 The event CABLEWIRE 2018 in its two-day long discussions on practices and emerging technologies for efficient electricity transportation took up various important topics for deliberation spread over five sessions. The major topics included innovation and emerging technologies, materials, SITC (supply, insulation, testing, commissioning) and standardizations. In two concluding sessions, delegates also discussed at length various case studies underlining major issues encountered and their handling.
Future Looks Good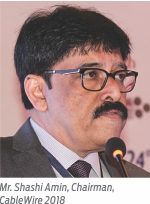 Mr. Shashi Amin, Chairman, CableWire 2018 said, "We have been doing this cable and wire conference from the last 35 years. This is the 8th edition of this international cable and wire conference. The last event happened in Mumbai in 2011. Initially, we planned to have this event every 4 years. But the current edition is happening after a gap of 7 years. We will make sure this may not happen in future. We will try to conduct this event every fourth year. Apart from this, we meet in every three months either in Delhi or in Mumbai before a committee which takes care of the division with the help of the Secretary of IEEMA where various issues are discussed. If there is an emergency, we also do web meetings.
"The cable division is the biggest division of IEEMA. Today we are seeing a size of INR 49,000 Cr of the electrical cable business in India — cables being produced, used, and even exported to the other countries. The power cable segment is 37 percent, control cable segment is 12 percent, HV is around 9 percent, EHV cables are on 4 percent, rubber cables are 3 percent, and light duty cables are contributing to around 35 percent. The data shows that 65 percent of the cables produced are from the organized sector while 35 percent is coming from the unorganized sector. With the implementation of the GST, I am sure the 65 percent in the coming years will increase to around 75 percent.
"The cable and wire market in the last 5 years has grown at around 14-15 percent CAGR. We are expecting it to increase to 15-16 percent CAGR in the next 5 years. Today, we are INR 49,000 Cr market and I am sure in the next 5 years we will be INR 100,000 Cr market in India. The future looks good for the cable industry in India. Of late, the Govt. has done a lot of activities to wear off the concerns of the cable industry. The mantra of Govt. today is power and internet for all. This all can bring a huge business for the cable manufacturers. The Govt. has announced the affordable houses for 20 million households in the next 5 years. With this, our organization will grow up. Then the Govt. has given a nod to one of the biggest project – the Bharatmala project to connect the national highways. There are other programs launched or announced by the Govt. like Deen Dayal Upadhyaya Gram Jyoti Yojana. All this is going to attract business for the cable and wire industry.
The world market is also looking towards India in a different way altogether. There are a lot of exports happening. We have got a huge footprint in the UK, Europe, Australia, and New Zealand. We are supplying a lot of cables from this country."
Cables, Vital in Containing Fire Hazards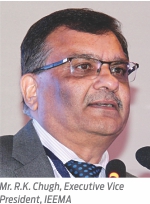 Mr. R.K. Chugh, Executive Vice President, IEEMA said, "The theme of this Cable Wire 2018 is really very catchy – Powering Innovations through Safe and Efficient Transportation of Electricity. With these few words, the organizers have tried to develop everything that is happening today. One good aspect I would like to add is the innovation part. We recently conducted a session on electrical fire and safety in Mumbai. I clearly saw in that conclave that the cable and wire play a vital role in containing the electrical fire. Anything that can save the electrical fire is the cable and wire. The two days session focused largely on innovation, a number of case studies. It is important to learn from other's experiences, testing of cables, and also laying and commissioning practices. Even if you procure a good piece of cable and you don't lay and commission it properly, it can create damage.
"Another associated aspect that I would like to highlight –duplication of electrical devices. Cable and wire are a part of this counterfeiting. We need to spend some more time on how to stop this scam. If we are saying we are quality conscious, it is our collective duty to stop such activities and manufacturers involved in such unfair practices. IEEMA as an association can definitely help you regarding this point. Apart from this normal T&D stuff, which IEEMA used to focus earlier, we are now putting a lot of focus on the non-utility segment. The cable and wire have both utility and non-utility components. The non-utility segment also finds equal priority in our working."
Indian Cables are Now Internationally Competitive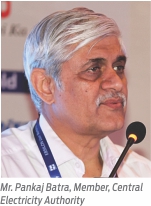 Mr. Pankaj Batra, Member, Central Electricity Authority said, "We have come a long way in the Indian grid sector since the time we started integrating grids. We had different regional grids and even in the regions you had different states operating separately. From states, we reached the regions and through regions to the national level. We had a perpetual shortage of electricity earlier and now we have surplus capacity in generation. So, we have really come a long way. We have put efforts to see that the electricity reaches each and every household by March next year. This is what we are planning. We are exporting power to the neighboring countries like Nepal and Bangladesh and maybe soon to Sri Lanka. So, we have grown to a stage where we do optimize everything and be efficient in everything.
"I am happy to hear that our Indian cable industry is doing so well nationally. Cable is not as simple as it sounds. In fact, nothing is simple when you want to get efficiency and sophistication in any product you make. There were complaints against cables, which have now gone completely as we are getting recognized internationally after we met all the quality parameters. We have now a lot of renewable generation coming. The solar power generation capacity addition is targeted by five times and will reach 100,000 MW by 2022. It could be more. In CEA, where we may find that in future after 2022 we may not need any coal-based plant to come except the ones which are already under construction because the renewable prices have already dropped and become very affordable. The battery storage prices have fallen very substantially.
There is also an effort from our side, the Government of India, to increase the efficiency of solar cells. We are trying to tie up with all the concerned agencies to see solar and wind which are quite unbeatable considering the environment. All this would require a lot of cables for wind and solar. Cables would be required much more now in cities which are already crowded and do not have a place for putting overhead distribution lines or sub-transmission lines. The submarine cable segment is also witnessing an upsurge in growth.
Mr. Sunil Mishra, Director General, IEEMA thanked all the sponsors and delegates for making this conference a success.