LAPP has added several new cables and system products to its range of products for the rail sector.
March 26, 2019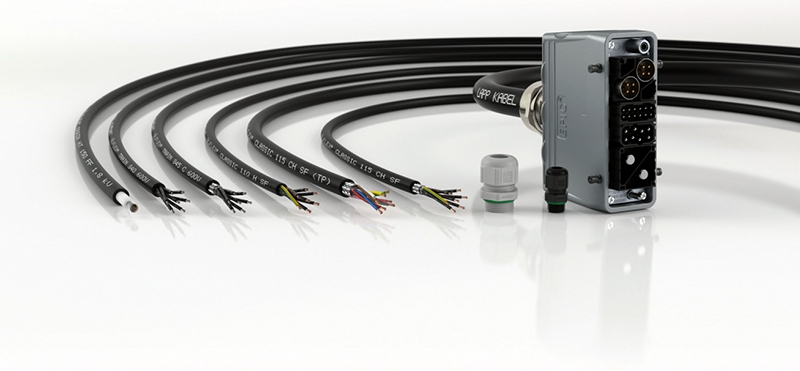 LAPP, the global market leader for integrated connection solutions is currently shaking up the industry with its incredible new logistics set-up. Other providers are only able to produce to order and demand high minimum order quantities. By contrast, LAPP is able to deliver any amount – even small packages – off the shelf. The result is a drastic shortening of delivery times around the world, from up to three months to less than a week. This helps users to reduce inventories and respond to new requirements even faster
LAPP is offering ÖLFLEX CLASSIC 110H SF– this control cable is the workhorse of the LAPP portfolio. After being used successfully in factories in countless variants, the cable is now also available for trains. Here, it can be used to power doors, lighting or air conditioning systems. With its Class 6 conductors, the new variant is extremely flexible, allowing for installation in tight spaces. Further variants include the shielded ÖLFLEX CLASSIC 115 CH SF and ÖLFLEX CLASSIC 115 CH SF (TP). The latter features a twisted-pair design that makes it suitable for entertainment systems or transferring data to a driver's control panel. Just like all of LAPP's cables for the rail industry, the new products meet the requirements for fire protection in rail vehicles as per EN 45545-2.
The other product offered in the range is ÖLFLEX TRAIN HT150, which is a single-core silicon cable and has been designed for use at high temperatures and can withstand up to 150°C. Possible applications include engines or power converters. The cable is rated at Hazard Level 3, the highest hazard level for fire protection. It is also certified to EN 50382-2 for the construction of silicone cables. It is available in cross-sections of 1.5 mm2 to 400 mm2 with 1.8 kV or 3.6 kV. It features a two-layer sheath with silicone insulation, and is also available with a single-layer sheath and Class 6 conductors. This makes it flexible and suitable for installation in positions with tight bending radius.
The ÖLFLEX TRAIN 340 and ÖLFLEX TRAIN 345C are examples how LAPP has significantly expanded its tried-and-tested range of power and control cables to meet the high demands of the rail sector in line with EN 50264-3-2. These cables are now available in cross-sections of 0.5 mm2 to 50 mm2 and with between two and 40 cores. They are suitable for various purposes, including outdoor installation, as their black sheath resists UV light. These products also withstand high temperatures, oil and fuel, and are certified to EN 45545-2.
Power and control cables are not the only products LAPP sells to the rail industry. The company also offers the complete range of data connection technology and is constantly expanding its range of connectors and system products, such as cable glands, cable inlets and cable protection systems as well as labeling solutions and tools.
Also new to the range and approved in line with DIN EN 45545-2 is the SKINTOP ST-HF-M in black with increased UV resistance for outdoor use. In addition to vibration protection, optimum strain relief and oil resistance, which all result from the tried-and-tested high functional safety, the plastic glands in the SKINTOP ST-HF-M series are approved for use in the rail industry in line with EN 45545-2(Hazard Level 3). All materials, including the seals, are also 100% halogen-free. In addition to the light grey design for interior applications, there is now a black version with improved UV resistance for outdoor use.
The brass glands in the SKINTOPMS-HF-M series fulfill the strictest requirements in line with EN 45545-2 (Hazard Level 3) and EN 45545-3 (E30 fire resistance). They are available with a shield contact spring as SKINTOP MS-HF-M SC or with a brush insert as SKINTOP MS-HF-M BRUSH in EMC applications for shielded ÖLFLEX TRAIN cables.
SKINTOP MS-HF-M GRIP is highly suitable where extreme strain relief is also required – the double clamp ensures additional centered strain relief and improved bending protection. Numerous EPIC rectangular connectors are also suitable and approved for the special requirements of the rail industry.
The EPIC MH modular connector system, for example, also fulfils EN 45545-2 requirements, is highly resistant and is very quick to assemble. The fixed frame enables one module after the other to be simply locked in place, so EPIC MH is pluggable, even with standard products on the market. When connecting cables in the EPIC MH system, LAPP relies on crimp contacts, which are highly vibration-proof and thus offer a very important advantage for the rail industry in comparison to screwed contacts. Another special feature of the EPIC MH is the gigabit module for connecting Etherline category 7 cables to facilitate ultra-high-speed data transmission in modern trains.