FUHR, the family-owned German company, develops highly-specialised wire rolling mills for the widest range of industrial applications. The company's scope of delivery includes the entire range from stand-alone, tailor-made rolling lines and equipment to turn-key solutions for producing shaped, flat and round profiles made of ferrous and nonferrous wires, as well as of stainless steels. In India, active since 2008, FUHR has made quite a headway in the domestic market and is currently executing about six high-profile rolling projects.
Wire & Cable India recently interviewed Mr. Volker Gerth, General Manager, FUHR Rolling Mills to know the company's expertise and its activities in India. Here are the excerpts: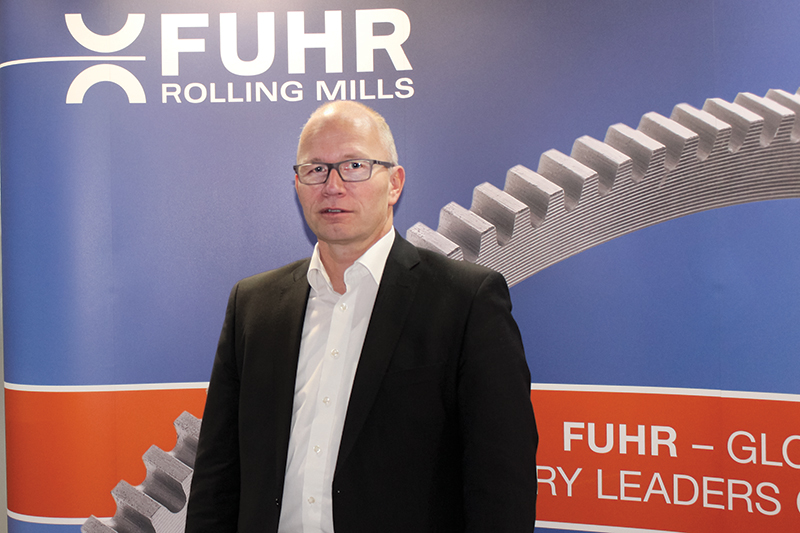 Wire & Cable India: Briefly tell us about the company, and when was it established?
Volker Gerth: Founded in the year 1946, FUHR Rolling Mills is a Germany-based company. FUHR started its operation with machining small parts, and subsequently during the early days of business, we started building rolling machines for ribbed wires and concrete wires. As of today, FUHR Rolling Mills is a 50-employee organization, working in respective domains like engineering, sales, assembling, making parts, and installation of the machines.
WCI: Share some of the major milestones of the company?
VG: Earlier, FUHR was catering to reinforcement bar wires industry, and later shifted to shaped wire applications for any kind of business. One of the major developments that FUHR went through was relocating into its new premises in 2012. The new facility has a plot size of around 10,000 square meters and is well-equipped with latest production technologies, giving us more possibilities for the future.
WCI: Brief us about the product category and the industries you cater to?
VG: FUHR Rolling Mills is a machine-making company. We design and manufacture rolling mill machines for cold and warm forming applications. Our wire rolling machines are being used worldwide in the automotive, electrical, food, textile and building industry to form round wires into shaped wires of any kind. These are the major segments where the products that our machines make are being used, and we are the primary supplier of those machines.
Our scope of delivery encompasses the entire range from stand-alone units to turn-key solutions for producing shaped, flat and round profiles made of ferrous and nonferrous wires, as well as stainless steels.
WCI: Apart from India, where does FUHR Rolling Mills have its client base?
VG: Our export rate is between 60-90 percent, which depends on the volume and size of the orders. We have a worldwide reach, specifically Germany, Austria, Japan, Korea, USA, and some other European nations.
WCI: How long has the company been catering to the Indian market?
VG: Our first approach to the Indian market was in 2008. We came here to exhibit on the occasion of the first wire India show and we have good relations with our Indian clients ever since. Most of the times, I travel to India for business networking. For the last six years, we have been associated with our agent Ronak Industry (SMIT Wire Solutions), with whom we share a constructive and cooperative relation.
WCI: How has been the Indian market in terms of business? What are your expectations from the Indian market?
VG: The machines that we manufacture are quite complex. It is not something that you will get to sell on your first visit. We have to develop the market and build some trust with the customers before they are willing to place an order. We have been successful in attaining a good clientele in India and have executed 5-6 installations that are already in operation.
Also, there are lots of interesting projects going on while few others are under discussion. These are not the kind of machines which can just be bought out of a catalogue. Our machines are investment goods and it takes time for both the clients and seller to finalize and execute the order. Even when the order is placed, it takes approximately one year to design and manufacture the machine, including shipping and final installation at the customer's site.
WCI: How many projects are there in the pipeline?
VG: We are currently negotiating around 3-6 projects in India. These are the cold rolling machines, not the hot rolling machines that everyone has. The machineries we provide are exceptional machines that are used to make some special shaped wires. It is important for our customers to know the kind of product they are looking for and this is where FUHR comes into play by designing a wire rolling machine exactly as per their requirements.
FUHR also provides technical consultancy for the entire process and offers tailor-made solutions to its clients. We provide consulting services that cover the design of all necessary processing steps, the layout of the roll geometry, and eventually perform rolling trials. We also train the customers in appropriate procedures to help them fabricate the particular shape of wire, for example, what the start should look like, what the finished size should be, and other such important tasks.
So that is how the project goes ahead. It is not like you decided to buy a rolling machine one fine day and get it delivered to your doorstep the next day – it is a long process. Our machines do not come from the shelves, where you just pick the one closest to your particular needs; it is a highly-customized equipment that takes time to be designed and manufactured. With over 70 years of experience, we are well acquainted with the knowledge and expertise of how rolling machines should look like to produce certain shaped wires. We therefore do not just sell machines – we also sell the entire process technology that comes along with it.
WCI: If we talk about the companies that have responded on your machines, including six projects currently in process, what kind of companies are those?
VG: The machines from FUHR are quite expensive. Most of the companies we deal with are top-notch companies. I would say they are not SMEs but rather one level beyond. The companies that have interest in our machines believe in technology and understand their products very well. These are the customers who want to add value to their products. When you sell round wires, you get a certain price in the market. When you sell profile wires, they add value to the round wires and are sold with a higher margin by our customers in India.
Our major customer base includes the automobile industry where the precision of the product is very important. There are few customers who sell to the general wire industry along with industries such as food, filtration, pulp and paper, and other. We have customers ranging from semi-finished product fabricators to end-product makers. In the textile industry, customers who used to buy the shaped wires before, now make it by themselves for vertical integration.
WCI: You mentioned that FUHR machines are expensive and not everybody can opt for this high-precision machine. Now when you have been in India for last the ten years, what major challenges did you face while convincing customers about the quality of technology you sell?
VG: India is a price-sensitive market but has changed a lot, lately. As a developing country, a lot of our customers focus more on quality than on price. The need to have quality products for their customers is making our clients invest in latest and advanced machines without contemplating the price tag. In the last five years, the number of enquiries we had for FUHR machineries has catapulted. This indicates that the customers in India are willing to spend more money in quality equipment.
WCI: When you are aware that India is a price sensitive market, what approach do you take to convince customers to invest in your machines?
VG: One thing is that a machine for the Indian market must not be over-specified and over-engineered. Instead of compromising on the quality we rather reduce the productivity a machine can reach. It is better to manufacture a machine in a slightly smaller size, which may not produce the highest volume of the desired products but brings out high-quality products. This differentiates us from the local manufacturers. We can downsize the machines, e.g. let's suppose a particular rolling machine is costing X amount and running at 10 meter per second but the client requirement is different. In such cases, we would reduce the speed to 5 meter per second and lower the price from X to X-Y. We will sacrifice on productivity but not on quality. The machines can be upgraded to have more production capacity at a later stage, but it should provide the quality you need right from the beginning.
WCI: In the last ten years, what kind of changes have you seen in the Indian wire and cable industry in terms of customer approach?
VG: There has been a positive change in the customer approach. India is a rapidly-developing nation and lots of homegrown companies are now focusing on export. The quality requirement is very stringent when they export the material. If the quality requirements are stringent, they will require good machines to process the products. More and more companies send their enquiries to us about the FUHR Rolling Mills.
WCI: What are your views on the growth of the Indian wire and cable industry in next 5 years and your prospects with this growth?
VG: I think the Indian wire and cable industry in the future will have to look out more on the quality of the products that they manufacture. India is entering the global market and selling products to the customers spread across the world.
The quality, which is sometimes good enough for the domestic market, does not meet the standards of the international market. So if India has an inclination for selling the products worldwide, the manufacturers here need to have advanced machines and well-trained professionals in order to be competitive in the international market. With the talent and workforce available, I believe that India has the potential to attain its goals to setup a huge clientele all over the globe.