Built on the lines of LinkedIn and Facebook, Mappes.io is a social networking platform for manufacturing industry which is a highly interactive platform giving users the ability to see the entire value chain of a product with all the relevant information tagged under it. The platform assures users never-seen-before freedom in accessing information about products and companies, interacting with a wide spectrum of stakeholders, and generating authentic leads.
Excerpts of interview with Mr. Ankit Singhal, Co-founder of Mappes.io and Director of SIMCO Materials International Pvt. Ltd.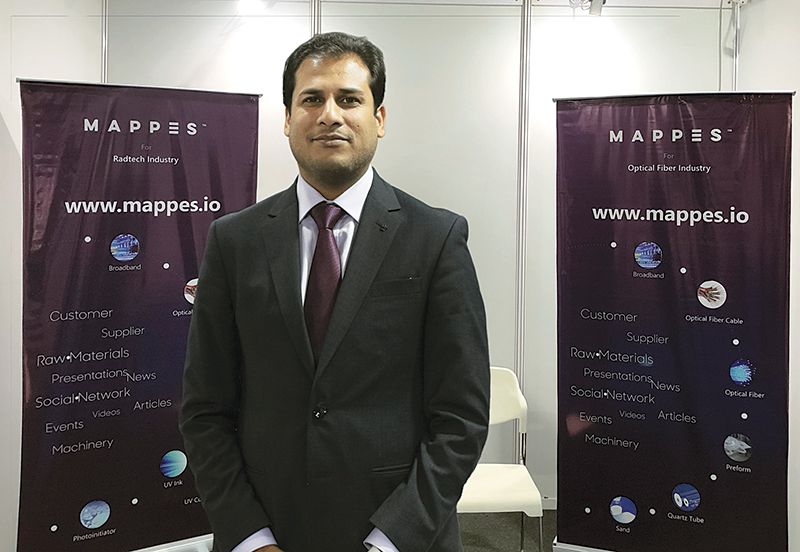 Wire & Cable India: Briefly tell us about the new platform that you have launched recently.
Ankit Singhal: We are working on a platform called Mappes.io which stands for mapping product ecosystem. Mappes.io is a knowledge sharing and networking platform for the manufacturing industry. Think of it like LinkedIn but specifically designed for products. Just like LinkedIn is trying to connect people by mapping their professional network; we are trying to connect manufacturers by mapping their product's network. We are mapping a product's complete ecosystem, through which buyers and suppliers can interact and share knowledge with each other on this platform.
If someone accesses Mappes.io to search for a particular product, for example, single mode optical fiber, he will be able to see the entire value chain of the telecom industry, from sand to broadband, including all the raw material and equipment to finished products, along with a list of associated stakeholders and companies for each product in the value chain.
WCI: How is it different from Alibaba or IndiaMART?
AS: Just like LinkedIn is a network 2.0 version of Naukri or Monster (resume websites), Mappes.io is the network 2.0 version of Alibaba.com and Indiamart.com.
Alibaba or IndiaMART are listing sites and which gives you value in terms of supplier discovery but once you connect a product's network you can also do lead generation, product discovery, knowledge sharing and much more. Imagine, being able to tell the effect of a natural disaster in one country on the telecom industry of another country, because one of the raw materials was coming from that first country.
Also, since products are now coming from different parts of the world, we are global from Day 1.
WCI: Tell us about more about the networking freedom you are giving to the users in Mappes.io.
AS: Users themselves are the manager of their pages here. Whatever products are being manufactured, the industry can keep a track of and can map product applications in their entirety. When a new product is introduced targeting a new industry, the potential customers are not aware about the manufacturer or the product. But if such new products are included in an existing map with an alert notification to all in the network, everyone will know that a new product or a new supplier has arrived on the scene.
Right now, people have to wait for one or two years for an exhibition to find a new product, supplier or customer. Here at Mappes.io, the networking is available 24×7. We are kind of digitizing the exhibition space. The idea is to facilitate the companies to expand their global reach much faster.
WCI: Do you mean you will be eliminating the need to go to an exhibition?
AS: No, not at all, even if people are on Mappes.io, they will still need exhibitions to engage with the industry face to face. On the contrary, we desire to work closely with exhibition organizers and to make them understand all the different products that are relevant to industry so that they can invite the related stakeholders to their exhibitions.
WCI: How do you see the platform financially? What's the revenue model here?
AS: The revenue model is similar to LinkedIn. The buzzword here is "freemium" which we refer for our revenue model. This model allows users to access simple and basic services for free while more advanced or additional features can be accessed at a premium price. As of now, the platform is free to users.
WCI: How long have you been working on this concept and what inspired you to develop Mappes.io?
AS: I conceptualized the idea five years ago though the company got incorporated in November of 2017. Coming from sales and marketing background, I have been representing a lot of global manufacturers in India as their sales agent for the past 10 years. When I started working for these companies, I realized many of my potential customers in India were not even aware about the existence of these innovative products despite the technology being in the market for the last 45 years.
The products that we supplied could change the production process from 2 hours to six seconds. Still, manufacturers in India had no idea about such technologies and products. This is when I realized that there isn't a fast and effective way for manufacturers to find new products and technologies as it was difficult for them to look for new information on any platform when they didn't even know what to search for.
WCI: In which countries have you launched this platform?
AS: Mappes.io is an online platform and is accessible globally. We are not launching Mappes.io in any one particular country but targeting particular industries and since the stakeholders for any industry are present globally we are catering a global audience.
WCI: How is this platform going to help SIMCO?
AS: The reason I created this platform was to help companies like SIMCO, the sales agents. At SIMCO, we are always trying to find potential customers for our suppliers. We constantly need to stay updated with latest technological advancements. So, when our supplier comes with new applications, all we have to do now is to map them on our platform. Once the information on product application is mapped on the platform, list of all the related manufacturers gets visible. Alternatively, when I am looking for new suppliers to promote their products in India, our platform makes it very easy to see how a particular product or company is related to our industry's value chain.
WCI: Have you built a setup and hired workforce for this platform in India?
AS: Yes, our development center is based out of India.
WCI: How do you see this platform doing in coming 3-5 years?
AS: This platform was created out of a need which already exists in the manufacturing industry–a need which I have lived through. I am hopeful that our industrial colleagues will take interest in this platform and would find it useful just the way we have. We have demonstrated our platform to few major companies across the world and have seen great early traction. We have a 99 percent signup rate. In the next 3-5 years we see this platform as one stop shop for the manufacturing industry.
WCI: Have you launched this platform?
AS: Yes! We have done a beta launch. Potential users can log on to www.mappes.io and start discovering new products, suppliers and customers. Early adopters are what we are looking for, who can actually help us shape this platform to their advantage. The platform has been created with a vision to cater to manufacturing industry across varied sectors but in phases. In phase 1, we intend to map the wire & cable and the UV/EB curing industry. Eventually, we will map every product in the world using the algorithms we have built. The platform as of today has thousands of products and companies already listed. People from the industry can start mapping themselves, their products and applications and can start interacting with their peers.
WCI: Any final words on behalf of Mappes.io for the industry?
AS: The industry's growth is not because of one person or one company; it happens when everyone works together to grow as an industry. This platform is trying to bring all the stakeholders in an industry closer to each other to share knowledge in terms of relevant products and their various applications. Mappes.io is trying to bring a much-needed transparency in the industrial sector.