Serving the Indian ferrous and non-ferrous metal working industry for the last 50 years, the US-based pioneering lubricant maker readies itself to meet the growing demand of its products amid briskly growing metal processing industry, especially the non-ferrous copper rod industry which is slated to reach a huge one million tonnes soon. RichardsApex is also planning a warehouse at a central location to stock the wide-ranging lubricants to service its Indian customers.
Excerpts from the joint Interview of Mr. Kyle Craft, Managing Director, RichardsApex and Mr. Ralph Creneti, Manager Technical Services, RichardsApex: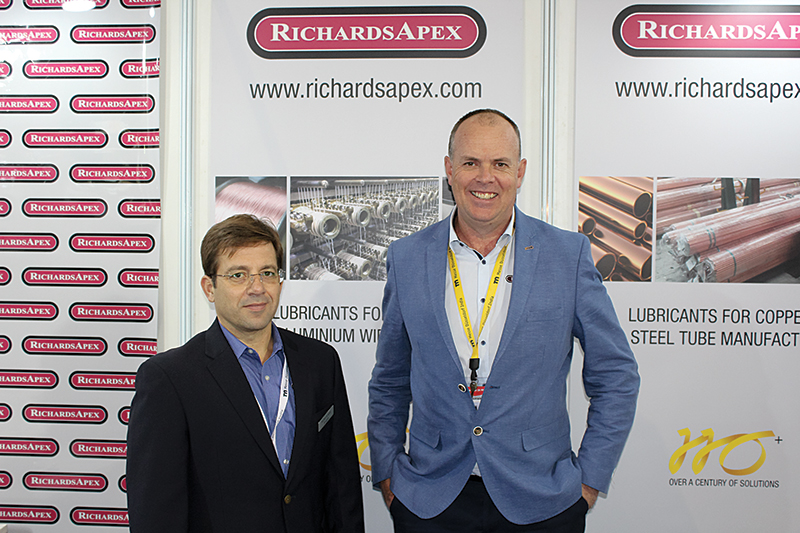 Wire & Cable India: To start with, tell us briefly about RichardsApex?
Ralph Creneti: RichardsApex is a family owned company and has been in the business for over 110 years. We manufacture and sell ferrous and non-ferrous lubricants for the wire drawing and tubing industry. We have a broad range of products and our manufacturing facilities are located in the United States, United Kingdom, Australia, South America, and Mexico. We have our business footprint throughout the world.
WCI: Would you be little specific on your product range with applications your products find in various industries?
RC: One of our biggest sellers is called RA-400 used in the copper wire drawing industry. We use it for drawing and rod breakdown from size 1.2mm to 8 mm. We also use it for intermediate size range, fine wires, and for annealing of wires.
Our SK-40 lubricant is recommended for the hot rolling of copper rod in SCR plants, Properzi plants, and Contirod plants and is used worldwide. We also sell tubing lubricants TKC-3, TKC-25 and these are used in drawing refrigeration tubing for air conditioners. RichardsApex also manufactures aluminum drawing oils to be used in rod breakdown plants for drawing 9.5mm aluminum rod down to 2mm. Our line of oil form drawing lubricants is quite broad and quite deep. We also have a product called AL-S75 which is used for aluminum hot rolling similar to copper hot rolling and is used in continuous casting aluminum into rod.
WCI: Producing such a wide range of lubricants for rolling, wire drawing and tube drawing processes, how much do you think the quality of lubricants affect the final product? What are the parameters to assess if a lubricant is of good quality?
RC: It is very important to have a high quality lubricant. The Wire drawing is a critically significant process in the wire and cable making industry, and lubricants though small are very important part of this process in order to ensure the utmost quality of wire drawn. There are choices to be made amongst the wide range of lubricants, and RichardsApex believe in offering the support to customers for choosing right lubricants for their specific processes. We offer worldwide support where we travel to a customer and provide on-site support. I think one thing we do exceptionally well compared to our competition is actually offering services that meets the customer's expectations.
As for parameters dictating quality of lubricants, there are no universally applicable rules for all lubricants. A lubricant essentially has to fit the customer's needs. Each lubricant is going to be little different as each mill is going to be different. If I have two mill setups coexisting side by side, both will act probably little different even if they are identical; difference will always be there. So, the lubricant itself has to actually match the mills' requirements.
WCI: You said that quality is very important. What does RichardsApex do to ensure quality of its lubricants?
RC: We are an ISO 9001:2015 certified company, which means all products are manufactured and required to meet the standard. We have laboratories in the United States that checks for the quality of the lubricants and makes sure that the lubricant meets certain specifications. We submit certificate of analysis for all of our lubricants stating that our products meet the set quality requirements.
WCI: Anything else you would like to talk about quality, process and the laboratories?
RC: RichardsApex is a family-owned company and we treat our customers as a part of our family. We give personal attention to everyone. We don't just sell products and forget about it; we actually care about what we sell and we stand by and provide support.
I have spent two weeks in India and I believe that the market in India will expand tremendously within the next five years. We received a good number of enquiries in the last couple of days at the wire India 2018 show. There have been great dialogues and discussions and it looks like the Indian market really wants to grow fast.
WCI: If we talk about the market footprint worldwide, what regions are the most important for RichardsApex as of now from the market perspective?
Kyle Craft: The emerging regions are obviously China and India. We focus on developing products that are going to be suitable for the specific regions. With a growth in infrastructure of both China and India moving at a rapid rate, we have to keep up with developing products that are suitable.
WCI: You are thinking of developing specific products for these markets; you must have ample experience in these markets. How long have you been in India or China?
KC: We have been supplying products in India for over 50 years to Sterlite, Hindalco Industries, Vedanta, etc. Now these same companies are developing and expanding their volumes. We know that they are going to produce much higher volumes and we need to ensure that we provide them with the products allowing them to obtain good quality and get the expected volumes.
WCI: The names of the company you mentioned are big companies. What about medium- and small-sized companies and your support to them?
KC: We are absolutely in favor of supporting all the help they need from us and are in constant contact with many small and mid-sized companies. What we have seen is that with these types of businesses, we have had more technical discussions about how to bring their quality up to global standards. Different markets have different views on what their quality is and what the expectations are. It is all about India bringing their rod and wire quality up to the standards to compete with the likes of the UAE, Malaysia, Indonesia and all the surrounding markets, and for them to do that they need to move quite quickly and we need to have the products available to help them do it.
WCI: Are you getting enough enquiries from such smaller companies who are trying to improve the quality?
KC: Yes! The first day of the event, we were having discussions with new companies coming along looking for ways and means as to how they can change from older products to more modern ones along with maintaining quality.
WCI: What is the plan for RichardsApex in the next 3-5 years for India?
KC: We are looking forward to set up warehouses to stock at much larger scale for making products easily available to customers in India. Two years ago, we couldn't do that as different taxations in different states wouldn't allow us to stock for the whole market at a single place. A single tax GST now allows us to be more flexible with maintaining and holding products for the market. This has helped us store products at higher volumes, be more service-oriented, and create more business here in India. It is all about resourcing and stocking quality products and making them available to the customers.
WCI: Does RichardsApex have a warehouse now in India? Have you decided on the location of the proposed warehouse in India?
KC: We don't have a warehouse now but we are in the process of establishing one. This is our immediate goal. Currently, products for the Indian market are manufactured and shipped from Australia. We are focusing on getting the customers to understand why we are stocking and there is a value attached to that. Because when you are warehousing products in- country, you are paying extra duties and taxes in order to make a variety of choices of products available for customers whenever they want. The Indian market has to understand this value addition and pay accordingly.
As for the location, it is probably going to be somewhere between Mumbai and Delhi. We are looking for vicinity closer to the larger plants that we service. We have understanding of whereabouts but the location has not been finalized yet. Potentially, we will come into Mumbai because it's one of the larger ports and from there we can transport our products to warehouses.
WCI: As far as wire and cable industry is concerned, especially the ferrous and non-ferrous metal processing industry, what future outlook you see for their growth?
KC: We had a discussion last night that India is going to have the copper rod capacity close to 1 million tonne by the middle of next year, i.e. 2019. So, there would be a massive increase in volume of copper rods. There are companies which have decided to spend capital to expand their volumes in Indian market.
There are three new plants at the moment and they are all rated at 250,000 tonnes. Also, there is a fourth plant being proposed with about the same capacity. The old plants are producing about 200-300 thousand tonnes in total and the capacity slated to reach by mid-2019 is 1 million tonnes, which is massive.
With this massive addition to copper rod tonnage, there are immense opportunities, along with few challenges not to say. Despite the copper rod shortage in the country, this mammoth increase in volume is a little unsettling. You have been dealing with 200,000 or 300,000 tonnes in India over the last ten years and now, all of a sudden, you have got close to a million tonnes. There are suddenly too many questions popping in the mind: Who is going to process it? Are the adequate infrastructures in place? Are the rod breakdown and wire drawing machine suppliers getting new orders? Is the government supporting the infrastructure to spur enough demand for the added capacity?
In China, the Govt. was proactive to construct buildings and put the infrastructure in as the volumes came online. I don't know what the future will bring, but would be interested to see. India has a large potential for us and others in the non-ferrous industry. There is this great potential here and it's a matter of understanding the market and bringing it up to speed from a quality perspective because from what we have seen in this event is that the quality expectations are much lower here at the moment. If they want to compete in the global market, they have to lift their quality output from an-attention-to-detail perspectives, and that too very quickly.