The German company with an experience of over 150 years in making stranding machines for ferrous and non-ferrous wires and cables has been constantly expanding its range and type of machines to serve a wide spectrum of stranding and other needs of cable making. With a notable global following and a big project in India, SKET gears to tap more of the growing Indian wire and cable industry with its expansive range of high-tech machines.
Excerpts from Wire and Cable India's interview with Mr. Matthias Blumrich, Regional Sales Manager, SKET Verseilmaschinenbau GmbH and Mr. Andreas Gebel, Regional Sales Manager, SKET Verseilmaschinenbau GmbH: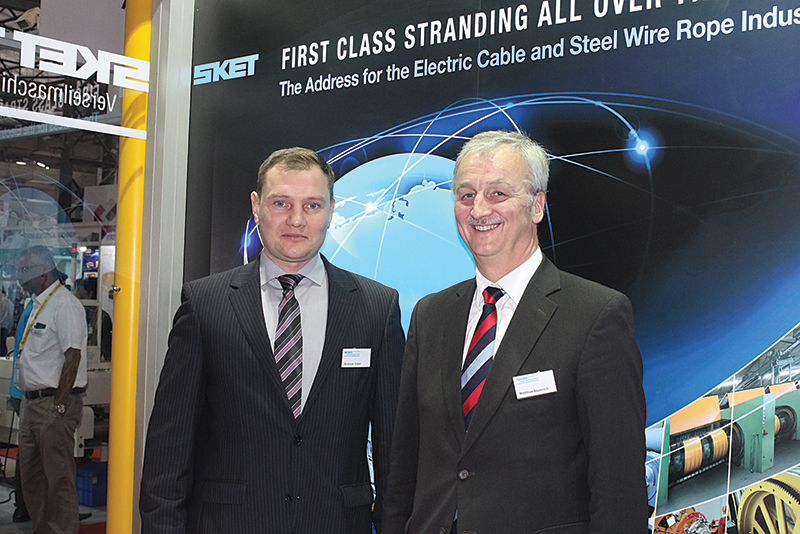 Wire & Cable India: Give us a brief outline on SKET and when was it founded?
Matthias Blumrich: SKET was officially established after World War II. After the German reunification, SKET was acquired by Wilms Group, a family owned company in the year 1997. So, SKET, which was a public company earlier, is now privately held by Wilms Group. The base of the SKET machinery was founded more than 150 years ago in Magdeburg, Germany. We have been making the stranding machines for a long time. SKET manufactures equipment and stranding machines for production of steel wire ropes and non-ferrous cables.
WCI: Did SKET added some new products after privatization, or did it just focused on old product range?
MB: SKET kept manufacturing the existing product line but added new products as well over the period of time. We were producing stranding machines from the beginning and have consistently broadened our machines categories to now include stranding machines for non-ferrous cables (copper and aluminum), power cables, optical fiber cables, and ferrous ropes (steel wire strands and ropes). We are currently manufacturing stranding machines for all class of cables and wires.
WCI: Elaborate a little on the product categories along with applications!
MB: In general, SKET is manufacturing stranding machines for the steel rope and cable business. The steel rope is manufactured in small to large sizes with applications in tyres, fishing, cranes, elevators, bridges, and the machines that are producing them. In the cable machinery field SKET is producing machines for low voltage, high voltage, extra-high voltage power cables, offshore power cables and umbilicals. We are providing required machines for every kind of cables.
WCI: For such an old company, having a vast market experience, there must be quite expansive footprint. Tell us something about your international markets?
MB: We have our presence worldwide. Our main markets are Europe, Russia, China, USA, Saudi Arabia, Southeast Asia, and Asian countries. At the moment China, Russia and USA are some of the most important markets for us. However, it changes from time to time.
Andreas Gebel: India is also one of the potential markets for us. We have our Indian representative, AE Tech and Traders, to support us here in the sales and various business activities. SKET is focusing on the Indian market more now as the country has a huge potential in terms of business and development of infrastructure.
WCI: Coming to the Indian market, how much time SKET has spent here?
MB: SKET attended wire India exhibition for the first time ten years ago. In 2015, we signed a contract with Bharat Wire Ropes Ltd. to deliver four machines for manufacturing steel ropes. This was our biggest project in India until today.
WCI: What are the main challenges that are preventing you from converting the leads or convincing the customers in India?
MB: The challenge is to know the customer and to find out the projects where customer is looking to purchase the machine from European manufacturers like us. We need to get in touch with the customers who are looking for specialized machines that only SKET can deliver. We are looking for customers who have potential to invest for the long-term.
AG: The challenge in India is same as worldwide. With all the contacts which we make in India and offer our services, it will take some time of patience to start continuous business.
WCI: Besides tardy contract negotiations, what other challenges you face when convincing the customers to purchase your machines?
MB: The other challenges are more or less the same in every market. India or even the other markets, you have to convince the customer in terms of technical solutions and price. You have to convince the customer that the price is justified for the solutions they are getting. We always have to make efforts in making customers understand the advantages of our machines and why they should purchase machines from SKET when considering the maintenance cost, services, and other things.
AG: In Germany, there is a proverb with paradoxical sound 'I am too poor to buy cheap goods'. If the customer purchases high quality and price wise reasonable machines, the machines will not only produce high quality products but also will result in good ROI. The point is that we provide a high quality technical support to our customers whenever and wherever it's needed. We have representatives in India, China and other countries to provide on-site support to the customers if needed. We work together with Siemens to provide on-site support for the electronic and control systems in India.
WCI: For the quality of the final product, the quality of the machine is of utmost important. What steps does SKET take to ensure the quality of its machines?
AG: SKET is investing a lot on the research and development. We consider the feedback and needs of our customers as very valuable input in the development of our machines. We continuously work on the feedback from customers and do the needful to make our machines better. Our machine is manufactured on a set of standards but every machine we deliver is also custom-made to the required specifications of our customers. We have experienced engineers who can customize the machines as per the needs of our customers without compromising on the quality.
MB: We have made a close relationship with our customers and are learning from each other to see what can be done to improve the machines and include better technology. We identify the issues that are concerning the customer and think how we can resolve them through our machines. We install the machines in our workshop and test run it to ensure everything is running smoothly. After the test is conducted, we deliver the machines to the customers. We also invite the customers at our facility for the observation and inspection of the machines.
WCI: You have spent ten years in India and signed one big project. What are your targets in coming 3-5 years?
MB: As mentioned earlier, the surge in the infrastructural development in India will propel the production of cables, steel wires, ropes, and rods. Hopefully, the booming infrastructure sector is sure to help us secure more projects in India in the next 3-5 years.
In Germany, the rise in the installation of offshore wind farms for power generation has catapulted the demand for big-length power cables.
WCI: Apart from Infrastructure, what factors do you think will give a push to the demand for the wire and cable in India?
MB: The robust growth in automotive sector will boost the Indian wire and cable market in the coming years. The use of cables, steel wires and cords in automotive industry will influence the wire and cable market in a positive way. We are also manufacturing machines for the automotive industry in Europe and hope to do the same for the Indian market if such opportunity comes.
WCI: Any final words on behalf of SKET to its existing and potential customers?
MB: The philosophy of our company is to provide highly reliable and productive machines. We are here to represent the idea of 'Made in Germany' and expand our presence around the world. We believe in offering reliable after sales support and this is something SKET has made a priority for the last 20-30 years.