Manufactured in accordance to a high mechanical standard, Radyne spring wire lines will be delivered to the automotive industry in India.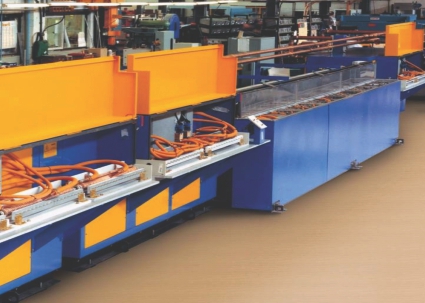 June 1, 2019
To further strengthen its position in the market place, Inductotherm Heating & Welding Limited has secured an order in India for its established Radyne spring wire line.
Working with a global wire manufacturer and aiming for a production start date of late 2019, this specific IT (induction tempered) line will be designed to process 7mm to 14mm spring wire at a production rate of 2t/hr.
The resulting hardened and tempered wire will be predominantly used for cold coiling of automotive suspension springs.
The modern lines offer the efficient and clean technology of induction heating and safe and environmentally clean water quenching systems. The new temper lines produce material to a more consistent specification than the traditional oil tempered (OT) process.
Benefits include:
Very little decarburization due to the extremely short heating times
Minimal grain growth during heating
The ability to heat treat the more exotic alloy steels that require higher hardening temperatures
In some cases, producing material with higher tensile strength while maintaining ductility
High-efficiency environmentally friendly heat treatment process
Radyne spring wire lines are manufactured to a high mechanical standard, using a precision-built modular design for ease of installation, maintenance and operation within the rigors of a wire production facility.
At the heart of the wire line is a PLC/ PC control system that utilizes modern communication techniques to ensure ease of installation and reliable operation by minimizing the number of interconnections that have to be made for the running of the line. The control system allows multiple wire setups to be stored in the PC memory, which are then downloaded to the PLC when required. The PC also operates a monitoring system that continually takes running data from the line and stores it for both immediate viewing and long-term historical review.
The modern lines are designed to produce up to three tonnes of wire per hour and up to 17mm diameter wire. Materials that are processed include carbon steels, chrome silicon and chrome silicon vanadium, such as SAE9254, EN10270/2 (2001), 55CrSi and wire to A229 specification. More recently the lines have been developed to cater for alloys containing nickel additions.
One of the most important aspects of the Radyne line is its ability to run continuously, without slowing or stopping to change feed coil at payoff or to remove a coil at take up. The operator welds the end of the first coil to the beginning of the second coil while the line is still running.