The company aims to reduce the imports of toolings and cross heads and to make its products available in India with the commitment to delivering orders within 24 hours.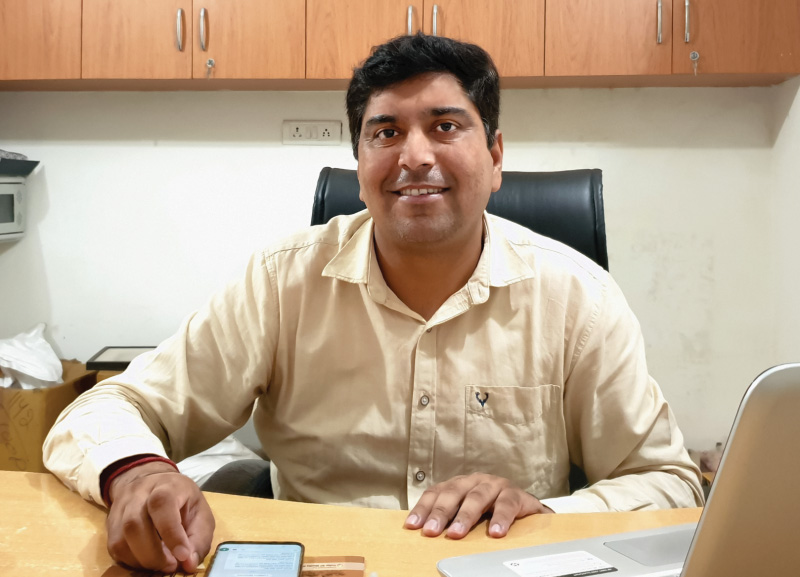 Charan Dagar, Managing Director, Durga Engineering Works, talks about his company, product portfolio, the new machines his company has recently acquired, and his company's order-delivery commitment in an interview given to Wire & Cable India.
Here are some excerpts from the interview.
Wire & Cable India: Can you tell us a little bit about your company and the journey so far?
Charan Dagar: Durga Engineering Works started its operations in 2006. It is a pioneer in the production of sophisticated cross heads, extruder machine, tips and dies, and toolings for wire and cable which were earlier not available in India.
For years, cable machinery manufacturers in India have been importing tooling equipment and cross heads from companies like Unitek, Microdia, E-xHEAD, etc. But now, with the latest technologies in our hand, Durga Engineering Works has started manufacturing toolings equipment and cross heads in India under the 'Make in India' initiative. We have been supplying our products to cable manufacturers such as Polycab, Finolex, RR Kabels, and Havells.
WCI: Can you tell us about your product portfolio? How do you ensure that the precision of your products meets the European quality standards?
CD: Our product range includes cross head spare, extruding machinery components, tips dies toolings and spares. The company produces up to 0.5 sq. mm cable tool for 220kV outer sheathing in dual head, single head and other types of cross heads in India. We use imported raw materials like SKD11 Japanese tool steel, SKD61, and SKD63. We use vacuum heat treatment for treating these materials. In Delhi-NCR, there are only two or three organizations that use vacuum heat treatment for SKD11. Vacuum heat treatment is basically used for auto machinery like pistons and engines. We now use the same process to manufacture tooling. We follow similar methods while manufacturing cross heads. Our technological experts and R&D team work rigorously to develop and deliver world-class products to the clients within 24 hours. Committed to quality and innovation, we always ensure that our products meet the international quality standards.
WCI: What steps are you taking to upgrade your technology and infrastructure?
CD: Our facility has all the latest automation technologies. From analyzing the raw material to finishing the final product, each part of our component is produced with the inclusion of the automated manufacturing process. Automation and the latest European technologies help us maintain consistency in the dimension, accuracy and design of the products.
WCI: Can you tell us about the new machines you have installed in your facility?
CD: From the minimum diameter of 10mm to the maximum diameter of 1000mm, we are manufacturing the components with the CNC turning machine. We don't use conventional machines. We also use 3-axis VMC machines for drilling, profile cutting, and taping. In addition, we have technology for 4-axis VMC machines. For research and development in the area of machines, we have brought in solid CAD/CAM assembly machine modules and have purchased modules for other machines. In the last 6 to 9 months, we have invested around INR 1.5 crores in machine automation. In the coming financial year, our manufacturing unit will have new automation machines.
WCI: Do you have plans to upgrade your manufacturing setup?
CD: Yes. More and more companies outside India are moving towards automation. If Indian companies do not include automation in their operations and processes, it would be difficult for them to survive for long. When we entered the wire and cable segment in 2006, not much technological development had taken place in the industry. For even a single die, the industry was totally dependent on European technologies. However, we now have the technologies to develop tooling products in India. We are currently manufacturing and delivering these products at 1/4th of the cost of the European brands in India.
WCI: Are you planning to invest in upgrading your inventory in order to deliver better service to customers with regard to different tooling products?
CD: In most of the manufacturing units across the world, the total production and delivery cycle time for any type of cross head is around 30 to 90 days. However, we have skipped such strategies in India and are committed to delivering the products within the minimum time period. We have a big area – around 2500 sq. ft – for stocking the inventory. All components are engraved with their part numbers, and the customers now do not need to stock the inventory at their unit. Whenever there is a requirement, we dispatch the order to the client within 24 hours.
To gain maximum client satisfaction, we customize our range of products in accordance with the specifications of our clients. We work as a quality-conscious firm and leave no stone unturned in maintaining the quality of our products. Thanks to our ethical business policies and transparent business dealings, we have been able to attract many reputed companies in India.
WCI: Is there anything else you would like to add?
CD: The wire and cable industry must give more opportunities to indigenous manufacturers. It should discourage the import of materials from China and Europe. With time, the Indian market has evolved and manufacturers here are also producing top-class tooling products.