SACO AEI Polymers provides premium value and innovative polymer solutions in North America, South America, Europe, India, Africa, the Middle East, and Far East Asia. It develops, manufactures and sells a full range of high-performance thermoplastic and thermoset compounds, additives, and catalyst master-batches for wire and cable, pipe and tubing, building and construction, and specialty markets.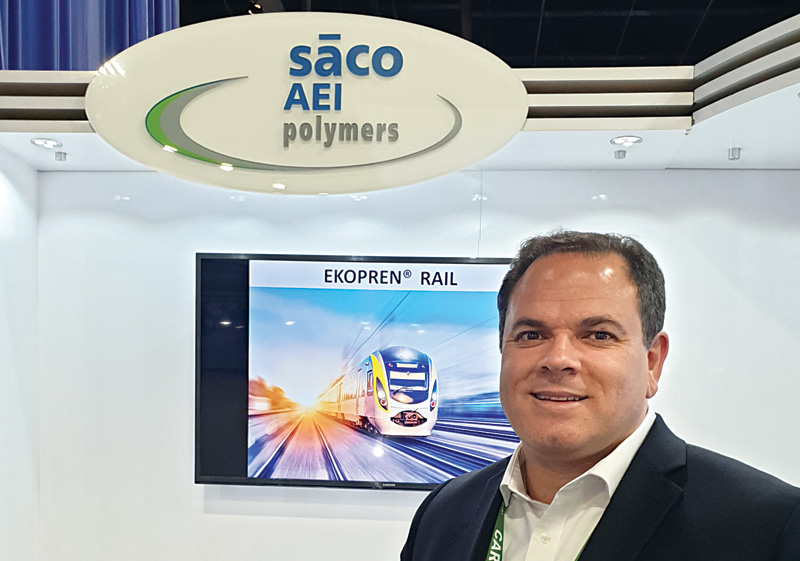 Luca Saggese, Global Commercial Director, Saco AEI Polymers, talks about SACO AEI Polymers and its performance on various markets in an absorbing interview recently given to Wire and Cable India.
Here are some excerpts from the interview.
Wire & Cable India: Can you tell us a little bit about your company?
Luca Saggese: I encourage the customers to reach out to us and get to know SACO AEI Polymers. We have been in business since 1998 and are grounded on four key beliefs: the long-term success of the customer, a spirit of ingenuity, the commitment to deliver and a focus on actions, not just words. We develop, manufacture, and sell specialty resins, compounds, and additives for a variety of markets. We service customers though a global manufacturing footprint with facilities in Europe, North America and the Far East. Our largest successes have come from working together with customers in order to bring new and innovative solutions to the marketplace.
WCI: Can you tell us about your product range?
LS: Our product lines leverage distinct technologies and manufacturing capabilities. We understand reactive extrusion and have been able to bring to market world class resins, compounds, and additives that are functionalized with silane and maleic anhydride. We understand how to manage flame and smoke and, therefore, offer compounds and master batches that are based on halogenated and halogen-free flame retardant technologies. These products have been tailored to the extrusion, compounding and injection molding processes and have allowed us to successfully serve the global needs of customers in markets such as wire & cable, pressure pipe & tubing, film & sheet, building & construction, healthcare, and the compounders that want to enhance filler coupling, impact, and flame and smoke retardancy.
Specific to the wire and cable industry, I want to highlight our portfolio of moisture cross-linkable insulations and jackets that meet a wide variety of UL, British, EIC, and other "specific countries" standards and are offered in halogenated and halogen-free flame-retardant versions.
WCI: What new developments have taken place in your company?
LS: The wire and cable market has been at the forefront of our development efforts. Over the last 12 months alone, we have launched ground-breaking solutions to address needs in segments such as building and construction, photovoltaic (UL & TüV), North America transit, fiber optic and data communication, European CPR halogen-free, and medium voltage. I enjoy highlighting products like our PEXIDAN® HF SX-0651 for building and construction and the transit market, PEXIDAN® HF SX-0650 for the photovoltaic TüV market, and THERMODAN® HF TP-343 for the European CPR market. The customer base has been pulling for such products, and we are seeing a very positive response towards the overall value that these products bring.
WCI: What have you to say for your presence on the market in India?
LS: SACO AEI Polymers sees India as a competitive market and yet a great opportunity to expand its sales of wire and cable solutions for the power, data and automotive segments. We have historically been active in India through our joint venture with the Bihani Group. Today, the two companies are working together to exert an even stronger presence by reviewing warehousing and local manufacturing strategies. We are finding that the global automotive wire and cable segment is demanding our current solutions.
WCI: How are you better than the competition?
LS: Every competitor has its strengths and weaknesses; and when I compare SACO AEI Polymers to others, I believe we excel in the areas of product quality, innovation and technical support. In key parts of the world, we also differentiate ourselves by delivering our stock, which shortens lead times in some cases to 3 days. Ultimately, when customers look for innovative solutions in the marketplace, we want them to see us as their partner. This level of collaboration has been a hallmark of SACO AEI Polymer and has helped us break into new markets and unexplored spaces. We do not have a "one-size-fits-all" mentality, which sometimes can be thought of as a differentiator on the wire and cable market.
WCI: How do you bring innovation to the customer?
LS: Part of the answer here of course requires SACO AEI Polymers to have a strong understanding of the markets, the players, and its strategic advantage. There should be no question around the fact that we are committed to the wire and cable market. We feel that we have the knowledge, capabilities, and technologies to compete and, most of all, be a market-leading innovator. To service this and other focus markets, it is important to note that SACO AEI Polymers has several Technology Centers of Excellence (TCoE) which are strategically positioned around the world. Each center has a high concentration of technical knowledge on particular chemistries, regulations, and manufacturing processes. In most cases, a TCoE is activated by our commercial team in order to properly capture the customer's requirements. Through the right prioritizations, approvals, and technical screenings the right technology is identified and coupled with the right compounding equipment. Once a solution is scaled for sampling, we work hand in hand with the customer to ensure both parties are doing everything possible to validate it. The goal is always to create a win-win, and in some cases, we have done exclusive agreements where we offered our technology on a limited basis.