A global platform for technology, product and sharing of knowledge among the key stakeholders in the electrical and power ecosystem, ELECRAMA boosts professional and peer networking across the globe and helps industry players in exploring investment opportunities in the Indian electrical and power industry. The 14th edition of ELECRAMA, a five-day event, will be held at Greater Noida Expo Mart from January 18, 2020, to January 22, 2020.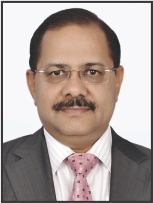 In an interview given to Wire & Cable India, Anil Saboo, Chairman, ELECRAMA 2020, gives an insight into ELECRAMA 2020.
Here are a few excerpts from the interview.
Wire & Cable India: Could you tell us a little bit about ELECRAMA 2020? How will it be different from the previous editions?
Anil Saboo: ELECRAMA 2020 will include major concurrent events like World Utility Summit, ETechnxt, RBSM and DBSM, etc., where exhibitors from more than 60 countries and visitors from more than 120 countries will join. ELECRAMA will provide more noticeable growth, increased exports in addition to new segments specially connecting our MSME units to global value chains.
In this edition, we will be focusing on the entire energy spectrum along with renewable energy, energy storage, automation, digitalization, Industry 4.0, IoT, AI and electric transportation opportunities to expose the electrical industry to new technology innovations and disruptions with information to manage the transformation.
This year, we will also focus on women empowerment in the electrical sector. As per study, in all developed countries, women contribute more than 50 percent of the overall work force. In order to increase the role of women in energy and power sectors, we will provide a platform for them to share their experiences with one another and learn from the experiences of others.
WCI: Could you tell us about some of the new and emerging challenges for the grid?
AS: Grid expansion over the next few years will be driven by the government's ambitious plan to scale up renewable energy to 175 GW by 2022. To develop associated power evacuation infrastructure, Power Grid Corporation of India Limited and state utilities are carrying out the Green Energy Corridor project.
The major emerging challenges for the grid include adoption of smart technology, investment in technology to make grids more reliable, automation in substations, innovative tower design, digitization, technology evolution and up-gradation in infrastructure.
WCI: What new or emerging technologies would be most relevant to meeting future grid requirements?
AS: The most promising and emerging technologies that can meet future grid requirements are Artificial Intelligence, Blockchain, Industry 4.0, and IoT. Increasing grid reliability is important. New technologies, evolving customer preferences and the changing competitive landscape are leading many power companies to explore new business models. Some models may help utilities to further enable the energy transition.
WCI: What is your outlook for the power sector in the next few years?
AS: The power sector is one of the most critical components of infrastructure. It is crucial for the economic growth and welfare of nations. The power sector wants export to grow by 400 percent in the next five years to reach the 5 trillion dollar economy by 2024.
With the installed power generating capacity of 365048 MW as of October 2019, India has emerged as the world's third-largest electricity producer and consumer.
India's SME sector has been one of the primary drivers for the economy. The sector's contribution to the country's GDP is expected to increase to 22 percent in 2020. As per World Energy Council, 50 percent investment in energy will be done in Asia till 2030.
India has potential to increase exports of electrical equipment on the world market and to innovate new technologies for energy transition in the next five to ten years.