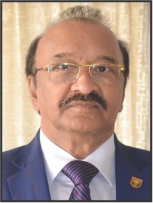 In an interview recently given to Wire & Cable India, Dilip Dev, CMD, HD Wires Private Limited, and Chairman, Steel Wire Manufacturers Association of India, talks about his company and the future trends of the wire and cable industry.
Excerpts:
Wire & Cable India: Could you tell us a little bit about HD Wires and the major milestones it has reached so far?
Dilip Dev: As a business idea and entity, HD Wires was incubated and incorporated in 1988. Commercial production began in July 1994, and we are celebrating the 25th anniversary of our operations this year.
WCI: Could you tell us about your product range and the applications of your products in various industries?
DD: HD Wires initially manufactured binding wires for the construction industry and HB hard drawn wires, which are raw material for wire products like nails and fasteners. During the 25 years of our business journey, we have forward integrated into manufacturing black and galvanized wires ranging from low to high carbon chemistry for general engineering purposes as well as agriculture, cable armor, stay and ACSR wires for the expanding power sector in India, fencing solutions like solar fencing, barbed and chain link mesh, and concrete reinforcement using weld mesh for irrigation pipelines and RCC slabs in low-cost housing and hardware products focusing on B2B- stitching wires, fasteners and welding electrodes.
WCI: Could you tell us about your company's capacity and actual production?
DD: We started production with an achievable capacity of 300 TPM. And the journey to the current level of 165 TPA has been long and rewarding. The key to this success has been our ongoing investment in technology. With our two new products – cable armor tape and PC Wire – our monthly production touched 6500 tons in May 2019.
WCI: What is your plan for ramping up infrastructure for capacity expansion? What steps are you taking to accomplish this task?
DD: Capacity expansion is going to take place at the same location and facility where Greenfield project development is in progress for the same. Our vision for the wire division was to have a single point facility. We currently have about 140000 sq. ft. of constructed area at the facility. Around 22000 sq. ft. of extra area has been constructed for the new shed under the expansion plan.
WCI: Could you tell us about the markets you supply your products to?
DD: As of now, the major part of our supplies goes to Maharashtra, Gujarat, Jharkhand, West Bengal, Odisha, Uttar Pradesh, Rajasthan and Madhya Pradesh. But our products are present in all the states because of our diversified product portfolio.
The international exports market continues to be rather volatile, especially for countries like India. At times the export market is overwhelming, and there are times when it is absolutely unpromising. For example, the Turkish currency recently got devaluated, due to which Turkey's pricing dropped around 150 USD PMT.
We have been exporting our products to Nepal for the past 10 years. We stepped into the Middle East and South Asian markets a couple of years ago.
WCI: What are the future growth trends of the steel wire industry?
DD: We are expecting a huge demand growth in the next couple of years. The growth in power, infrastructure, and other sectors is sure to give the steel wire industry a big boost. Growth in the economy and infrastructure will push the steel industry's market. Major industry players know that the consumption of steel is increasing, and they are well-equipped to meet the rising demand. The per capita steel consumption of India is one-third (69 kg) of the world's average (214 kg), and the country has yet to reach its optimum potential in terms of steel consumption.
WCI: What are your future targets?
DD: We are looking forward to doubling our capacity in less than two years. At present, we are producing 5000 TPM. HD Wires is expecting to touch 6500 TPM within six months.
We are all geared up. Many products will enter the market soon. In less than one-and-a-half years, we will hopefully touch our 10000 TPM target. We will be working with all the sectors that will require our steel wire products. HD Wires has also acquired 35 to 40 acres of new land, which will see construction in the next 1 to 2 years.
WCI: Is there anything else you would like to add?
DD: As Chairman of the association, I wish a good business year for all the members of the steel wire industry. I hope, in the coming years, the industry would find adequate raw materials to meet the growing demand.