"Our goal is to be a debt-free company in the next two years – a goal we are confident of achieving," says Sidharth Agrawal, Managing Director, Systematic Group, in an interview given to Wire & Cable India.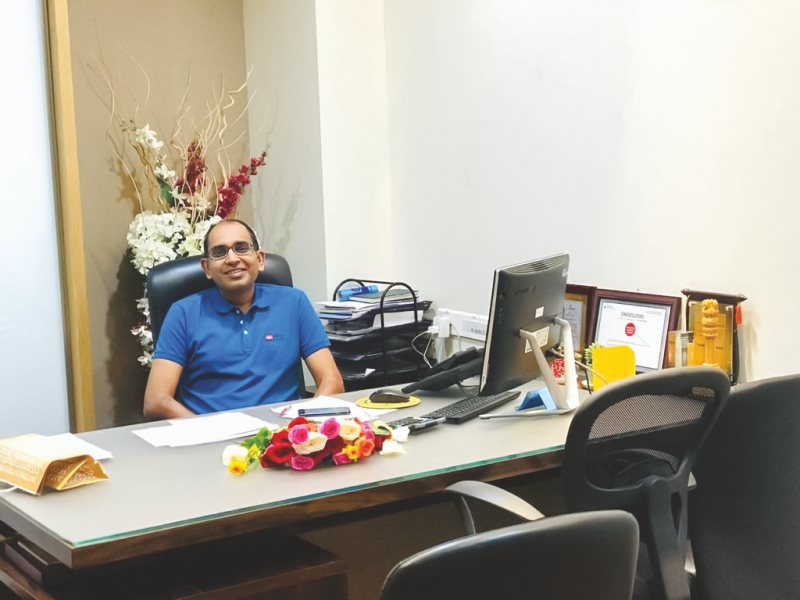 Wire & Cable India: Could you tell us a little bit about your company and business journey?
Sidharth Agrawal: Systematic started its operations in the year 2001 with a modest capacity of 300 MT per month. Today, we have scaled up to 12,000 MT per month in multiple products, industries and geographies. Systematic Group has managed to scale not just vertically with our extensive product solutions in the steel wires space but also horizontally, with increasing reach across continents.
We started our business journey in the steel wire manufacturing space with the purchase of a few secondhand drawing blocks. The company gradually grew into five manufacturing plants, mainly because of the positive relationship we had established with our customers. Systematic is not about the number game. We never looked at the MT we were producing every month. We were mainly interested in serving our customers in the best way possible. Winning the trust of our customers was of paramount importance to us.
WCI: Could you tell us about your product portfolio? Are you going for capacity expansion/product launch in the near future?
SA: We are into producing galvanized wires, wires for power industry, high carbon and low carbon steel wires, welded wire mesh, stay wire and other wire products. Our steel wires are engineered for highly specialized applications in the power and transmission industry, infrastructure, auto ancillary industry, agriculture and allied engineering industries. Our products are used not just in India but across South East Asia, Africa, Europe and the Middle East. With a very active R&D team working closely with the sales team, Systematic launches two to three products regularly. Our latest product launches are Galvanized Steel Tape and PVC Coated Wire.
WCI: Could you tell us about the quality assurance and R&D practices undertaken at Systematic?
SA: Our goal is to make wires suitable for everyday application. We are one of the few companies in India to have an in-house R&D cell which focuses on improving the technical properties of steel wires and coatings. Our R&D team is committed to developing processes that would provide customers with quality products and cost savings.
We strongly believe that innovation is the key to Systematic's long-term sustainability. It is only through constant innovation that we have been able to sustain and remain relevant in this business for generations. We strive to persistently raise the bar in quality standards by deploying cutting-edge manufacturing processes for both galvanized and non-galvanized wire products.
One such recent result of our extensive R&D efforts has been the development of a unique galvanizing technology which results in 25 percent greater resistance to corrosion than conventional galvanizing processes. We are surely one of the leaders in India in manufacturing environmentally friendly (lead and acid free) galvanizing processes.
WCI: What has enabled Systematic to be at the forefront of the industry?
SA: We at Systematic believe that in today's changing times, a wire company needs to focus on three areas: Innovation, Human Resources and Environmental Sustainability. We work relentlessly to improve our processes and product quality. We have remained relevant in vastly changing times by constantly discontinuing older products and introducing newer product lines.
Talking about human resource practices, our industry fails to attract young talent because young aspirants do not see growth and a conducive work environment in our industry, which they do in other industries. Very few companies in the wire and cable industry get the opportunity to nurture fresh talent. I strongly believe that the sustainability of a company is directly proportional to how well it implements its HR policies and systems. Skill matrix, not experience, should be the yardstick for growth. Also, continuous training of the entire workforce is required to fully enable it to cope with changing business requirements. We at Systematic continuously invest in robust HR policies and extensive training programs. We have a dedicated cell that focuses only on growth plans for individuals.
Environment sustainability is extremely important in our times. In the wire and cable industry, a lot of effluent is generated (in the traditional process), and unfortunately, people do not take it seriously while setting up their plants. I personally know so many factories that have been impacted by the pollution control board or nearby villages due to negligence in this area. It requires investment and a strong will to stay true to this cause. I am afraid, if we as an industry don't deal with environment-related issues seriously, then not many companies will survive the next decade. I know a lot of customers who refrain from entering this business because of this reason. The cost of treating pollution is not factored in; as a result, most people undersell their product, landing themselves in graver problems. We at Systematic take this issue very seriously. We have invested in ETPs and undertake rain water harvest, solar energy and tree plantation. Today, 10 percent of our electricity demand is met through solar, which we expect to grow more and more. We want to make Systematic a carbon-positive company.
WCI: Is there anything else you would like to add?
SA: Our mission is to provide our customers with the best service experience, our employees with excellent growth opportunities and our stakeholders with sustainable returns. Our strength lies in the sheer brilliance of our technology, which allows for the steel wires to undergo extreme customization to match the exact specifications of our customers and provides surface-treatment solutions for steel products.