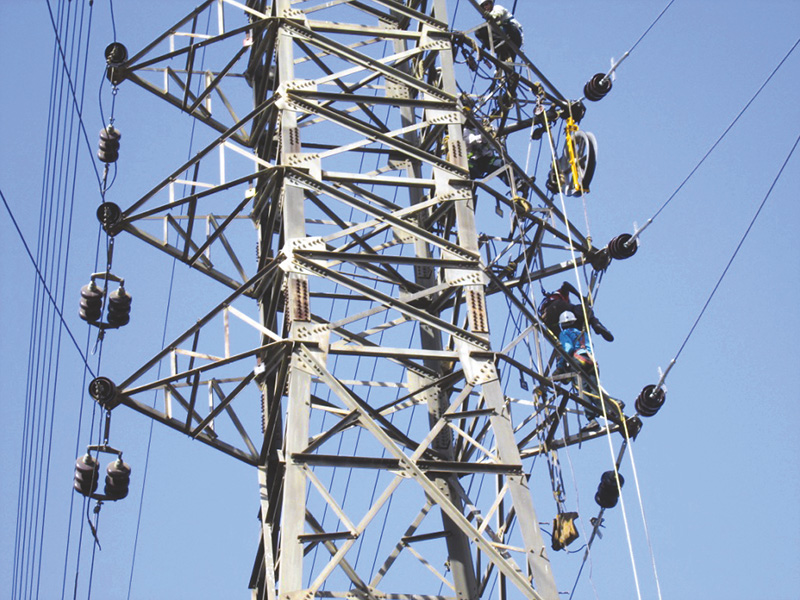 Upgrades the 22 kV IIT Powai-Saki transmission line crossing over a thickly populated slum area comprising closely spaced hutments and hilly terrain – one of the toughest terrains for specialised stringing.
Sterlite Technologies Limited announced that it has completed installation and commissioning of a challenging project in the heart of Mumbai requiring significant upgradation in the power carrying capacity for a critical line of Tata Power. Sterlite executed this turnkey project for Tata Power – a leading T&D utility in India. The project involved rendering of services like design, supply and installation of high capacity, high strength carbon composite core conductors on an existing critical arterial 22 kV line delivering power to a number of industrial customers and a local college. This unique solution has resulted in an exponential increase in the power transmission capacity of the existing IIT Powai to Saki transmission line that criss-crossed over a thickly populated slum area comprising closely spaced hutments and hilly terrain.
"The lines on which ACCC conductors have been installed are very old lines traversing through populated areas," says Mr. MV Deodhar, Assistant Engineer-Projects, Tata Power. "The idea was to go for lightweight conductor so that we can retain our existing structures and augment the line capacity. Further, lightweight conductor was mandatory in order to improve ground profile as well as maintain existing clearances. These three factors were considered while selecting the conductor," Deodhar adds.
Tata Power introduced Sterlite's Carbon Composite Core with Trapezoidal Annealed wires technology to replace the old ACSR conductors with the vision to double the power transmission capability over the same tower line and conditions. The complete re-conductoring exercise was supervised by Sterlite and carried out using specialised equipment like Tensioner and Pullers to eliminate any possibility of winding force between the carbon core and the trapezoidal annealed wire conductors manufactured at Sterlite's Haridwar facility. "Until now the conductor has been loaded up to 480 Amperes and so far its performance has been satisfactory. We have been observing the performance/behaviour of the conductor under faults, and so far the conductor is not subjected to fault condition," affirms Deodhar. The line would realise its promised throughput as soon as the substation upgradation gets completed.
Carbon Composite Core technology with fully annealed trapezoidal wire conductors are known to reduce line losses up to 40% compared to conventional conductors of the same diameter and weight owing to 28% more aluminum and better compactness which greatly increases capacity, reduces losses as well as providing cooler operating temperatures. The core is 25% stronger and 60% lighter compared to steel cores used in traditional conductors and have significantly lower coefficient of thermal expansion, which leads to less sag at higher temperatures. The technology of composite carbon core production, which is a critical part of the overall conductor solution, is patented by CTC Global, USA, and is licensed to Sterlite Technologies.
"In India, re-conductoring is a technically and economically viable alternative, as transmission operators face increasing opposition while seeking new rights-of-way. The proposed Carbon Composite Core Conductor solution offers conductivity and resistance to thermal sag, thereby allowing it to carry very high levels of current at higher operating temperatures during peak demand or emergency conditions. Completion of this installation is a vital step in moving forward with our utility customer engagements. It is important to illustrate our conductor's ease of installation to customers as we prepare for commercial projects over the coming months," says Mr. KS Rao, COO-Telecom & Power Conductors, Sterlite Technologies Limited.
"We are confident of our solution backed by our application engineering strengths, Master Installer programmes and flexible offers customised to specific utility requirements will make significant contribution to the capacity and reliability of the Transmission as well as Sub-Transmission Grids in India. Moreover, higher capacity, reduced sag and lighter weight also translate into lower project costs. These attributes provide economic advantages when upgrading an existing line with minimal structural modifications or installing a new line with fewer or shorter structures – definitely a vital step towards our utility customer engagements," Rao adds.