The Journey So Far
AkshOptifibre Limited (AKSH), founded in 1986 with a modest beginning as a copper cable manufacturing company, with continuous innovations and backward integration, has grown steadily to become a technology leader and a global player in the Optical Fibre (OF), Optical Fibre Cables (OFC) and FRP rods manufacturing.
The company in the year 1994 decided to diversify into manufacturing of optical fibre and set up a plant at Bhiwadi Industrial Area, Rajasthan; and in the year 1999, the company divested its PVC division. As a step towards backward integration, the company took over the manufacturing facility of FRP Rods at Ringus in Rajasthan. During 1999-2000, the company acquired an ongoing OFC plant of another company situated at Bhiwadi.
The company is known for being the pioneer in manufacturing raw materials for OFCs and is globally known for its high-quality Optical Fibre (OF), Fibre Reinforced Plastic (FRP) rods, Aramid Reinforced Plastic (ARP) rods and water blocking yarn that gives the best reinforcement and strength to OFCs.
Developing unique products such as interconnecting cables, ceramic armoured cables for Solar and Windmill operations and Air blown FTTH cables for FTTH solution has paved the way for Aksh becoming "Star Export House" with export turnover in excess of 70 per cent to 60 countries across 6 continents like Japan, China, USA, etc., making the company a unique Indian company to do so.
After successful relentless backward integration, the company moved its step towards forward integration. In 2002, Aksh started its first FTTH in Jaipur and later collaborated with MTNL and BSNL in 2010 to launch its first FTTH project in Jaipur. Similar projects have been started in Delhi and Mumbai in collaboration with MTNL and in Ajmer, Faridabad and Gurgaon in collaboration with BSNL.
In the year 2007, to further enhance its presence, AKSH integrated and diversified its business operations in the telecommunication sector, with an objective to move ahead into forward integration of Next Generation Networks Deployment and Broadband content service provider. The company was the first to start IPTV services in the name of iControl in alliance with MTNL and BSNL. With a seamless coverage, wide range of television channels and disruption-free services, iControl embraces the largest brand name of IPTV services.
AKSH an ISO 9001:2000 company certified by Underwriters Laboratories Inc., USA, has been mainly in three business segments:
• Manufacturing Business – manufacturing of OFC with backward integration for manufacture of OF and FRP rods the two key raw materials for manufacturing of OFC,
• Services Business – Comprising of Internet Protocol Television (IPTV) and E Emitra Services and
• FTTH Projects (FTTH)
Company's Performance
Speaking about the company's financial performance, Mr. Chetan Choudhari, Managing Director, Aksh Optifibre Limited, said, "The financial year 2012-13 closed with revenue of Rs 23,925.53 lacs, with EBITDA of Rs 4,011.31 lacs and PAT of Rs 2,593.73 lacs. The manufacturing business earned revenues of Rs. 21,615.50 lacs at an EBITDA margin of 19.29 per cent. During the year, the company introduced certain new products and added new markets to its manufacturing business. The company continues to be recognized globally for high-quality FRP rods and OFCs."
Globally, demand for FRP is expected to increase by about 20 per cent in the financial year 2013-14. Currently, Aksh has approximately 16-18 per cent share in the global demand for FRP, which is set to surge ahead. The domestic FRP demand is expected to grow by 70 per cent in the financial year 2013-14 with NOFN and other government tenders."
Ahead of the Competition
The two key raw materials, optical fibre and FRP rod, constituting 70 per cent of cost of OFCs, are manufactured in-house. This makes AKSH one of the most cost-effective OFC manufacturers. AKSH is now the largest FRP rod producer, supplying to all OFC manufacturers in 60 countries across six continents.
Commenting on the company's corporate success, Mr. Choudhari said, "AKSH , being one of the largest manufacturers of FRP rods in the world, is at the forefront of technology and product innovation in this sector. Besides, AKSH being an integrated manufacturer of optical fibre, OFC and FRP rods, is the largest consumer of FRP rods and can maintain strict delivery timelines due to the reduced TAT of procuring raw materials."
Spirit of Innovation
Innovation, the key strength of AKSH makes the company pioneers in FTTH, Internet Protocol Television (IPTV) and VoIP services.
On the domestic front, the company expects the demand to grow robustly as in the telecom field voice revenue moves to data revenue and wireless connectivity to fibre connectivity. Moreover, the increased usage of smartphones, Tablet PCs and proliferation of high bandwidth devices will necessitate OFC deployment. Speaking about the business opportunities that the company sees on FTTH and IPTV markets, Mr. Choudhari said, "This new era and usage of high-speed Internet facilities push towards FTTH. FTTH allows much larger bandwidth and faster delivery speeds, which are essential for modern "triple-play" services in which access providers offer video, data and telephony services. It enables the delivery of multimedia applications in very good quality, such as video and photo-sharing, telemedicine, tele-commuting, distant learning and video monitoring. The company is focusing on products for FTTH on a long-term basis and catering to the immediate needs of market demand. Each type of application has a unique bandwidth requirement.
AKSH has received contract from BTL Mauritius to supply and install FTTH triple play equipment. AKSH has already installed 1,500 km of OFC, and the FTTH services have started with a modest customer base of 2,500."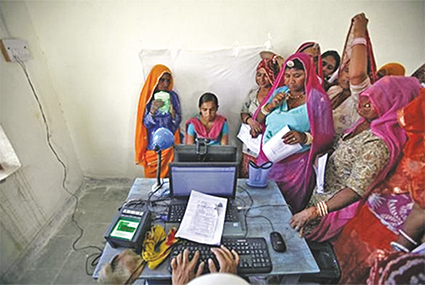 Industry Structure and Developments
Focusing on the Indian industry scenario, Mr. Choudhari said, "India finally gets on track in deploying nationwide broadband network, with the government announcing its ambitious national optical fibre network to provide connectivity to all the 2,50,000 Gram Panchayats to ensure broadband connectivity with adequate bandwidth. If the last decade was wireless, the next decade will be Optical Fibre with government initiative to connect villages.
"Furthermore, the Indian railways and Indian defence are also deploying their own optical fibre cable network. The deployment of 4G network and an increase in FTTH deployments have given a boost to the demand for OFC in India.
"During the past fiscal year, the Indian domestic optical fibre market has grown tremendously and it is expected to be a $290.8 Mn market by 2018, registering a growth at a CAGR of 12.5 per cent. The demand for OFCs is poised to ride an upward growth curve with the emergence of next-generation technologies and government initiatives under the National Telecom Policy 2012.
"Data growth in the Indian telecom market has reduced the prominence of traditional wireline broadband technologies such as digital subscriber line and cable modem. These technologies are not efficient enough to meet the customers' demand for high-bandwidth applications such as high-speed Internet access, Video on Demand (VoD), high definition TV, IPTV and online gaming. In this scenario, FTTH technology, which offers advantages like high bandwidth capacity and the delivery of high-speed, high-quality and multiplay services (data, voice and video) through a single channel, presents a strong business opportunity for telecom operators.
"FTTH network's ability to deliver high bandwidth has made investments in this infrastructure very important for operators. They are increasingly deploying FTTH technology to complement their wireless networks. Spectrum crunch is another major factor that has led operators to look for viable alternative mediums. Also, to achieve the broadband targets set by the government under the National Telecom Policy, it will be important to drive FTTH growth along with other technologies.
"IPTV is widely adopted and accepted as a viable solution to deliver HDTV, VoD and time-shifted TV making the entire experience more interactive and personalised. The major benefit of IPTV is to enjoy non-linear TV viewing (TSTV) – the next gen way of consuming video entertainment or edutainment or infotainment at one's own leisure.
"FTTH has now emerged as a mainstream business preposition with tremendous growth potential, as users are increasingly looking for high-speed broadband, high-definition videos, unlimited anywhere telephony and real-time."
Future Outlook
Speaking on Aksh Optifibre's business plans for 2014-15, Mr. Choudhari said, "This year we are enhancing our optical fibre cable manufacturing capacity by 25 per cent. Aksh is also planning to execute at least two international turnkey projects this year after completing its ADSS 2600 Km Bhutan Power Corporation Limited's Turnkey Project this year, which is funded by the Indian Government."
Commenting on future business trends in wire and cable business, Mr. Choudhari said, "With the world acknowledging the importance of FTTH as a new emerging business opportunity and South East Asian countries gearing up to make themselves FTTH compliant, there is a huge opportunity for increasing OFC business across the globe. In the Indian context, the National Optical Fibre Network (NOFN) project envisaged by the government and the laying of OFCs by the Indian defense and railways will also give a fillip to the demand for OFCs on Indian markets. Also, increase in data bandwidth demand and data consumption with the emerging 4G technology, increase use of smart phones and data convergence will compel the telcos to upgrade themselves to meet the rise in demand and that would, in turn, fuel the demand for OFCs."