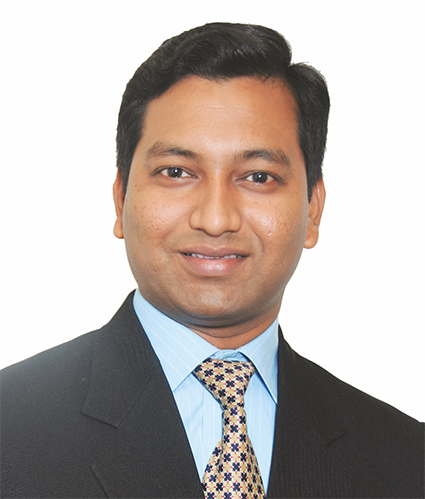 On a regular afternoon on 21st June 2012, a fire broke out at Mantralaya, the government headquarters of Maharashtra, filling the top floors with fire and smoke. Soon, the fire spread and flames could be seen from the busy thoroughfare that leads in and out of the central business district of Nariman Point.
The top floors of the State building were destroyed along with the offices of the Chief Minister and the Deputy Chief Minister of Maharashtra. Images of flames jutting out of the Mantralaya, served as a burning reminder of the simple fact that fire is a great leveller and respects no one, however high or mighty.
Shock & disbelief
An initial sense of shock and disbelief that this was happening to one of the most well protected buildings was soon replaced with an all too familiar story, once the facts started emerging. It has now come to surface that the headquarters of Maharashtra did not have a robust fire safety system in place. The cause of fire is considered to be an electric wire short circuit.
In fact, reports pouring out in the media gave a bleak picture of the manner in which safety is often overlooked in many important establishments in our country. For instance, the Mumbai Municipal Corporation, our civic body that operates finances and manages Mumbai's fire brigade had files, cabinets and other hurdles littered through some exits at its headquarters building. These were promptly cleared two days after pictures of the fire traps emerged in the aftermath of the fire at Mantralaya.
One newspaper even formed a group of experts to survey key buildings and found many of them to be veritable fire traps. The finding was clear: Fire detection and Fire fighting systems are either non-existent or often poorly maintained in many important establishments and institutions. This is compounded by a callous approach to safety.
A growing concern
Apart from the landmark buildings that have come under the spotlight, official data unearthed after the blaze at the government headquarters showed that 75% of the fires are started by short circuits in the electrical system. Often, unsafe or non-standard wiring is the cause of the initial spark that goes on to fuel a fully fledged fire.
In the last three years, as many as 13,185 fires were reported in Mumbai alone, of which 9,711 or almost 75 per cent were caused by what is officially termed "defective electric circuits."
The data mirrors the concerns raised earlier, which reflected on the rising cases of short circuit related fires. It said: "Safety in electrical installations is critical and demands special attention, given the fact that we see a large number of electrical faults and short circuits leading to fires." The International Copper Association India (ICAI) has repeatedly advocated safe wiring practices to minimise fire hazards resulting from electrical accidents. [See Box1]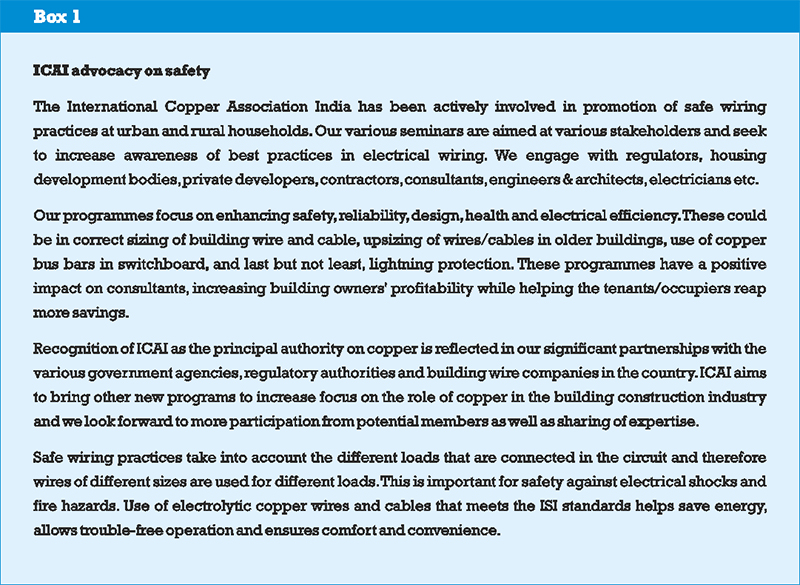 Use of safe and standardised copper wiring is a critical component of a robust electrical system. Substandard wires, which can find their way when large work contracts are awarded and executed on the basis of the lowest bids received, increase the chances of short circuits and fires. It is therefore imperative that strict standards are mandated for wiring, and care is taken to ensure that copper wires of the prescribed gauge are used.
At ICAI, we highlight the importance of the maintaining the economic efficiency of the energy systems so that society is aware that copper is an excellent conductor of electricity and increases the efficiency of electrical products. This in turn translates into lower operating cost, increased reliability, longer lifespan, and lower risk of brownouts, increased safety and more capital for business investments.
Proper installation to prescribed standards is the first step to a safe and robust system. At the same time, we should be aware that old installations demand periodical inspection to ensure the health of installation. A complete absence of regular inspections in the Indian context exposes society to serious danger from fire. Proper installation and periodic checkups need to be addressed with all diligence at multiple levels in a spirit of shared responsibility rather than passing the buck or citing lack of human or material resources to delay or avoid inspection.
It was to correct a general sense of apathy and callousness towards fire hazards that the State passed the Maharashtra Fire Prevention and Life Safety Measures Act in 2007. The Act brought more effective provisions for fire prevention and life safety measures in various types of buildings in different areas in the State of Maharashtra. [See Box2].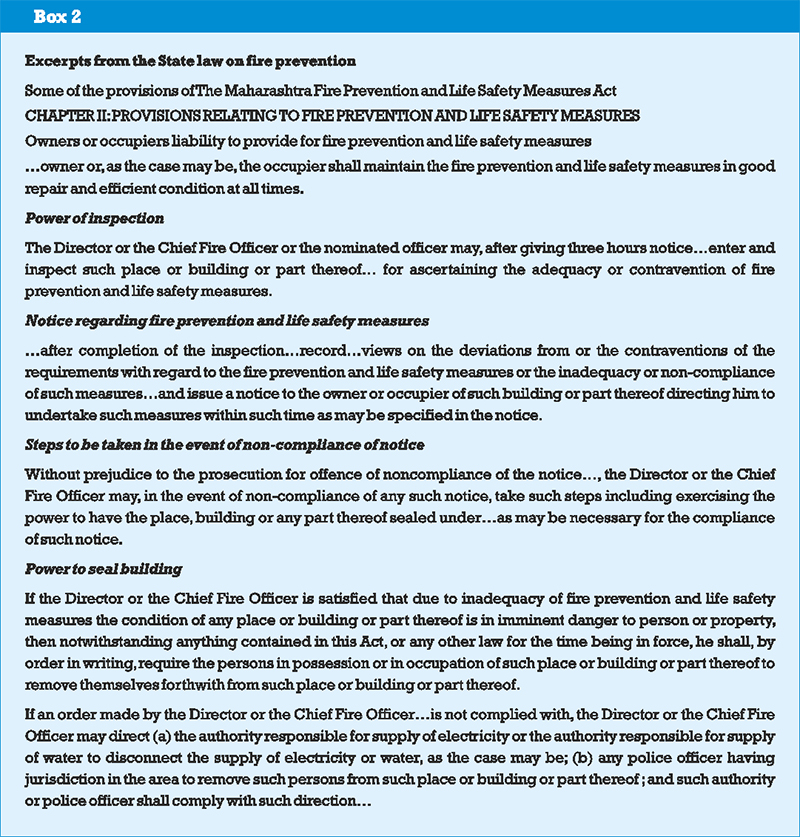 Some of the provisions are stringent, but implementation remains lax. As pointed out by a Fire Official. The Act allows fire officers to disconnect water and power supply of buildings where fire safety measures are not in place but such a provision remains difficult to implement.
Although Mantralaya is back to work. But the lessons of the fire will not be learned till we as a nation take serious note of the potential of fire hazards and linkages to unsafe electrical wiring, poor procedures and workmanship and an attitude that does not prioritise safety.
This article is authored by Amol Kalsekar, Chief Manager Building Wire, International Copper Association India