With the largest and the fifth largest Indian market share for electricity meters and LED lamps respectively in 2015, HPL is ready to take big strides in the wires and cables too with the commissioning of its huge and cutting-edge Gharuanda facility in Haryana.
HPL Electric & Power Limited has grown fast, both in terms of revenue and product basket, since its incorporation in 1992. Today, operating in four verticals of electrical utilities, the company has become a conspicuous force to reckon with in both domestic and industrial supplies. Being one of the most coveted manufacturers for the metering solutions and switchgears, the company has of late become a prominent player in LED lamps in India.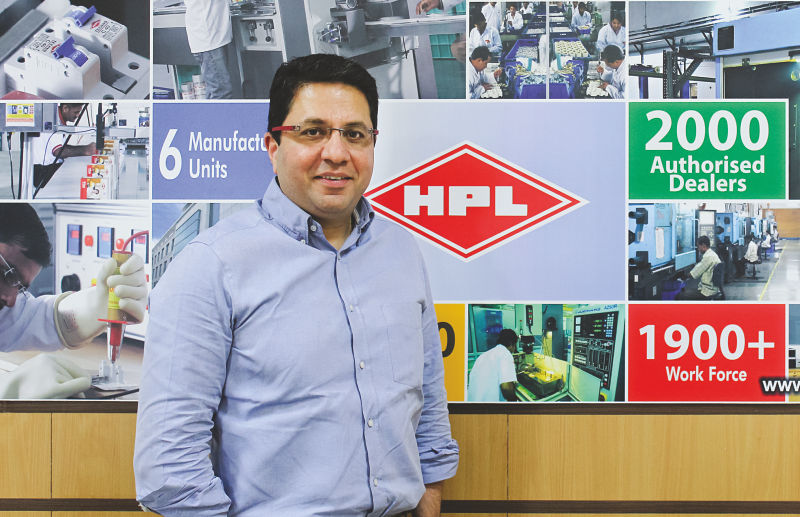 In 2014, it commissioned its Gharaunda facility solely dedicated to manufacturing wires and cables with a huge capacity and latest technology and is now ready to play big in the wire and cable segment also; it has launched a wide range of specialty cables aimed at various segments. Wire & Cable India recently had a long conversation with Mr. Gautam Seth, Jt. Managing Director, HPL Electric & Power Limited. Excerpts:
Wire & Cable India: Starting in 1992 with the production, you are today a multi-product electric equipment company. Tell us about this swift evolution of the company and what prompted you to foray into different verticals, one by one starting from Metering Solutions, Switchgears, Lighting Equipment and Wires & Cables.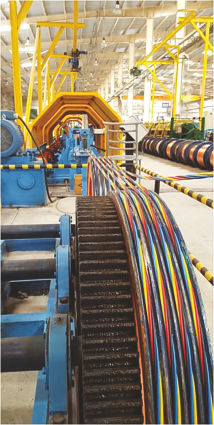 Gautam Seth: Our roots go back a long way before 1992. Actually, the group started off in 1956 primarily dealing with switchgears and metering solutions at that point of time. Our flagship company HPL Electric and Power Limited was incorporated in 1992 and we have been swiftly expanding our manufacturing portfolio during over last three decades, covering four verticals that we operate in today. The transition from one vertical to another has been planned and logical.
We were basically into switchgears with the conventional switchgear range. Since Mr. Lalit Seth, our Chairman and MD, prior to the inception of HPL, was dealing in metering, it was but logical to jump onto this vertical at the first opportunity. The opportunity came when he could clearly perceive the transition happening from electromechanical meters to electronic one, around 1995-96. He then decided to take up the metering, which in my opinion was a very visionary move at a very right time.
So, that's how we entered into metering in 1996 and have gone into complete backward integration of our manufacturing to have complete tool rooms and electronically controlled manufacturing. We have two factories for metering with an R&D center approved by the Ministry of Science & Technology and we produce an entire range of metering solutions possible today – from single phase, 3-phase, and trivector meters to smart and prepaid meters. In switchgears too, the product addition has been continuous and today we have an entire gamut of products, right from ACBs, MCCBs, and controlgears to switches.
The idea of becoming a multi-product was to reach out to a large customer base with inter-related product verticals falling within the range of electrical utilities. In this logical progression, next opportunity came in the form of CFL, which was quite an in thing at that point of time and we decided to manufacture it; that's how we entered our third vertical viz. lighting. Later on, we expanded our lighting portfolio into consumer, commercial and outdoor luminaires. Like metering, in lighting too, there was a big leap when the industry started switching to energy-efficient LEDs; and again we didn't let go of that opportunity and have become a serious player in lighting. The lighting vertical was more consumer-centric in nature and paved the way for us to transform ourselves from an industrial product company to a consumer product company.
Subsequently, from the trade, there was increasing persuasion that we came out with wires and cables to complete the loop as the demand was to be generated with the same customer base using the products of other verticals. In time, we started manufacturing wires and cables and stand today as one of the few notable players in domestic wire segment. We extended the range from time to time to include other niche and specialty cables. That's the story how we made transitions from product to product.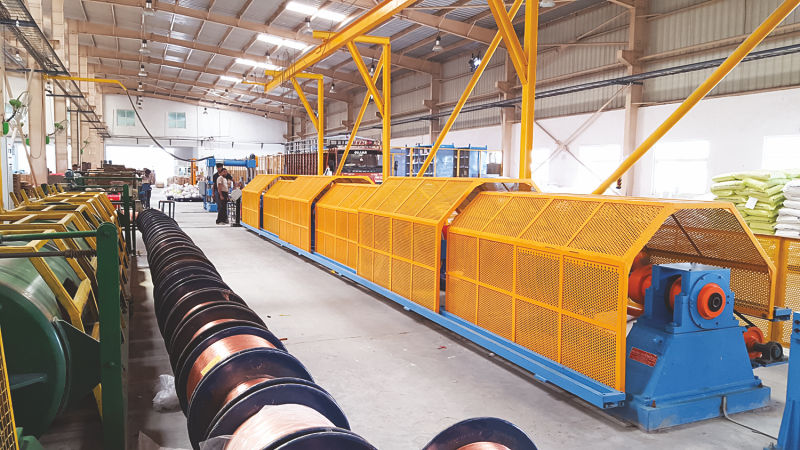 WCI: Today, your command in the market for each of the vertical is conspicuous even when there are other companies specialized and focused at one vertical only. How do you strike a balance among verticals and fare the competition from those specialized companies?
GS: Being a multi-product company has its own paradox i.e. it may be an opportunity or may be a quandary. We can leverage our brand and our marketing network on the same customer base; and can get more products to reach them; this is opportunity part. However, it may become a quandary when you are not able to focus equally and independently on each of the vertical with respect to manufacturing, quality procedures, branding, sales and marketing – which practically is a complex task. I find very few companies in the market who are able to focus on various verticals independently.
Being a successful multi-product electrical utility company, it's apparent that we have been able to resolve this paradox. HPL envisions that when anybody looks at any of its verticals, viz. switchgears, metering, lighting, and wire and cable, he should be able to perceive or discern an independent identity for each of these in terms of systems established separately for each from production and R&D to sales. This also has been our vision that each of these verticals stand-alone should be able to compete with a company focused on that vertical alone; all our verticals have been pretty successful in that respect.
Being a multi-product company may also mean getting trapped in some sort of inertia over one product and today customers are well aware to punish the company for that. In other words, if one really wants to move up in sales for a product, it's not possible to do so without focusing on this product individually and independently as there is fierce competition out there.
HPL has always been quite resolute that whatever vertical we enter we should have end-to-end capabilities in terms of manufacturing, R&D, network, technicians, sales and marketing people. We always had in mind to build a complete back-end so before foraying into a product.
WCI: How is your wire and cable vertical doing, both among your other verticals and out there in the market?
GS: If you see the manufacturing set-up what we have put up, it's simply cutting-edge and one of the best out there. We currently have two fine wire drawing machines from Niehoff with other machines and tools acquired from the top suppliers of the world. Overall factory, its layout and machines we use here are all world class. HPL Cables is an independent company within a company and we can compete with anybody in this category.
WCI: Does Gharaunda plant mark the beginning of HPL producing wires and cables, or does it go before that?
GS: In fact, we started first in a plant in Rai, Haryana. However, very quickly, within 3 months to be precise, we realized that the capacity was not adequate. So, we added another factory at nearby Badh Malak, which we operated for one and a half years. But, our ultimate vision was to have a very large integrated factory. So, in the mean time, we bought the land and continued the production at Badh Malak. Finally, in 2014, the factory located at our Gharaunda Facility in Haryana was commissioned and commenced the production of wires and cables. In terms of capacity, we can go even go up to 700 tonnes a month of copper.
As I said earlier, the technology we have adopted at Gharaunda plant is simply world class. We have fine wire drawing machines from Niehoff; then bunching machines, some from Niehoff and some from other reputed companies; and we have over eight extruders along with other machineries and equipments required to make the facility fully integrated. The way the plant has been structured, we can easily increase our capacity, even double it up.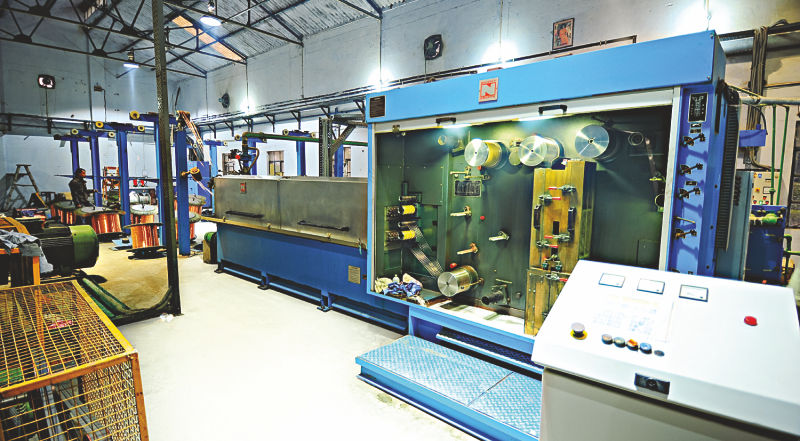 WCI: How much is the capacity utilization at this plant as of now? Any plan for future expansion?
GS: Since it's a newly built facility, we don't intend for any immediate capacity expansion. In the planning phase itself, we had this view that the facility should be built in such a way so as to take care of the growth happening in next 3-5 years. Currently, we are at about 50 percent of the capacity utilization, which we expect to reach at 100 percent in the next two years with our sales growing very fast.
However, as I said, the infrastructure has been built to support a much larger capacity; we would need to add just few machines. We therefore are in ready mode to go for capacity expansion, if need be, after we have utilized the existing capacity fully.
However, with regards to product range, we are looking at coming out with certain new products; and in that direction, we have already launched a certain range of specialty cables and wires.
WCI: Kindly elaborate more on the specialty cables that HPL has started manufacturing. What did make you foray into specialty cable segment?
GS: As you know, we were always making a range of domestic and industrial cables with a critical focus on fire-retardant and zero halogen. Going for a set of specialized cables was a logical extension of our already existing product portfolio. HPL has begun manufacturing of specialty cables after instilling proper technical setup at our facility especially for the purpose. These specialty cables, apart from being weather-, gas-, oil-, and water-resistant, would have the feature to perform at temperatures ranging from minus 40 degree Celsius to plus 750 degree Celsius. Many specialty cables are designed to provide solutions for distortion free signaling and special bending radii.
To be more specific, HPL's specialty cables portfolio now comprise of oil resistant battery cables, flat elevator cable, DC solar cables, UV resistant cable, wind power cable, instrumentation cable, fire alarm cable, LAN cable, fire survival cable, speaker cable, and CCTV cables. Our specialty cables target a host of industries and applications, right from automotive, realty, and non-conventional energy to control-instrumentation, data networking and domestic.
As for the factor that led us to specialty cable, we were already in touch with those sectors (which we intend to serve through our specialized cables) through our other verticals such as switchgears and metering. We can, for instance, consider elevator cable, which is now increasingly required by the realty sector and even by individual customers for domestic purposes. Our meters, switchgears, and other wires and cables were already used by panel builders and OEMs of elevators; these people persuaded us to manufacture elevator cables. The same goes for other specialty cables, which were launched after assessing true demand and feasibility in the market.
WCI: Among the sub-segments of HPL wires & cables, which one is the most profitable? Realty is a bit slow in generating enough demands for wires and cables as of now, what do you say?
GS: From the sales perspective, domestic wire has the largest share. However, from the profitability angle, specialty cables are much more profitable segment. But then, it requires a different way of marketing; it's a more niche selling. Working with customers and knowing their requirements may take a few more months, but in long term it has a recurring business.
Yes, real estate sector has been pretty sluggish for part few years. I feel that things should start picking up by the end of this year.
WCI: Tell us about your R&D centre with over 100 engineers for designing & developing modern products.
GS: See, the USP what HPL has been constantly following over the years is quality, which is impossible without a committed focus on R&D. Our chairman Mr. Lalit Seth has always considered the technology as something which you can't do without. And, the case remains same now as was 20 years back. We are very clear that each of the verticals needs to have separate focus on innovation to stay relevant in time and which is manifest by a sizeable investment from our revenue into R&D efforts for innovating new products or enhancing the quality of our existing products.
We have established two in-house research and development centers, the Kundli R&D Centre and the Gurgaon R&D Centre. Within these centers, there are two tool rooms for in-house component designing and tool designing facilities.
WCI: Give us some details of quality checks and quality parameters that you follow. Do you think certifications are true test for the quality, or a manufacturer need to go beyond that?
GS: We follow a stringent quality check routine right from the raw material stage, or even from before that, to say. We have a process called 'vendor approval', which is nothing but the due care taken before approving a vendor, whereby a dedicated team would visit the vendor, check his credentials, and test a sample of his product. Based on the report prepared, we go for vendor approval. This is just one step for ensuring the quality of the final product. After the material comes in, there are many quality processes which are run mid- and post-manufacturing. Moreover, for wires and cables, we have certain machines which do not run on sub-standard material and simply reject them, for example, the high speed wire drawing machine from Niehoff; so that's again a quality check. Then, of course, there are final testing and testing done at third laboratories if need be.
Moreover, all our manufacturing facilities have been accredited with management system certificates for compliance with ISO 9001 requirements. Further, certain of our products are also certified to be compliant with various national and international quality standards, including the ISI mark issued by the BIS, the CE mark and KEMA certification for conformity with requisite European quality standards.
As to the second part of your question, a manufacturer certainly needs to go beyond certifications and accreditations. These certifications though are essential, compliance to the parameters laid out there are more essential and necessary. It's a structured way to ensure a standard and stable quality of products as there are so many players in the market. That is why the government through these certifications like BIS and others has defined certain parameters. Although the set of parameters are pretty comprehensive, a manufacturing need to go beyond that. We are exactly doing that!
As now we are reaching out to various export markets, the testing requirements there are very different and we get our cable tested to ascertain whether the cable suits their purpose. In India too, many customers have their own testing parameter which we satisfy in our in-house testing labs. We are even open to having a joint testing exercise with the technical people of our customers.
WCI: How many countries are you exporting to as of now? Tell us the verticals you are exporting in including wires and cables.
GS: We are exporting to several countries in all the verticals. As for wires and cables, we are exporting to few countries such as the Middle East and Africa, but that's something not to feel satisfied at; the export potential for our wires and cables is yet to be explored.
We currently export our products from India solely on receipt of confirmed orders. We seek to enter new international markets, primarily in the Middle East, Africa and the south-east Asian region. Towards this objective, we intend to focus on building an authorized dealer network in such markets with focus on both domestic and industrial electric equipment. We also propose to undertake promotional activities for our products, aimed primarily at panel builders, to increase acceptability for our products and for strengthening our brand in these markets.
WCI: With regards to the wire and cable industry, what challenges and issues do you see as affecting the growth of the industry?
GS: To me, compliance is a big issue here. When we talk to customers and people in trade, we feel that overall as country we should go in for much higher specifications for cables and there needs to be a better compliance with the standards. Today, in some projects, we find that certain people are quoting the kind of prices, which only hurts the industry instead of helping it. In such scenario of unhealthy price competition, quality slides down further in the priority list.
Moreover, the dynamics of technology is also affecting us a lot. Technology changes quite fast and adaptation to the pace of change in technology is a necessity and is quite costly. For example, there used to be ordinary PVC wires earlier, which now has graduated to fire-retardant with a lot of variations in itself such as fire-retardant low smoke, etc. Accordingly, specifications are also changing and going up. As and when specifications go up, the consumer remains the ultimate beneficiary.
Although the cost might go up marginally due to investment in technology and adaption to changes, the benefits are manifold and that needs to happen. Despite of standards being there, compliances could be weak sometimes – that's needs to be corrected.
WCI: In the prevailing economic scenario, your expectations from govt. in terms of initiatives for reducing the cost of doing business and increasing the ease of doing it.
GS: We find a positive movement from the Govt. in last few months in terms of investments. However, what the Govt. needs to do is to get the private investments moving. The private investments may be motivated based on two-three things. First, the interest rates need to come down drastically that would help kick-start the economy. Second, there are no direct benefits on the investments from last couple of years unlike the case earlier when there were tax free zones – these zones have proved to be very helpful for industries to invest in new projects.
Currently, the Govt. is talking a lot on ease of doing business; yet if that can be coupled with some direct incentives for specific industries, investments would start pouring in. I am sure the processes what are happening today would bring positive results over period of time, but incentivizing the investments would yield immediate results.
Coming back on positive developments, the Govt.'s initiatives on the front of power, housing, infrastructure, and digitization are sure to pay dividends to all the industries. Housing for all, power for all, and internet for all mean a lot of business for the wire and cable industry in coming times.
The Govt.'s emphasis on non-conventional sources of energy like solar and wind is also a positive for us as we see a lot of DC-based products coming in to especially serve these segments. By the time these trends translate into on-the-field investments, the demand for the needed electrical would already be there. It's a very positive outlook for the industry.
WCI: How much feasibility do you see for the non-conventional sources like solar in times to come? Will this be significant contributors to all our energy requirements?
GS: There is big scope for solar power in India. On feasibility, I would only say that India is a power deficit country and any addition to our power composition is always a good thing, a thing to welcome. The kind of thrust the Govt. is giving to solar, it's sure going to grow big in India. There are big tickets investments happening including the ones by various state governments, for instance, the Haryana Govt. has announced many incentives for households and industries to put up rooftop solar panels. We have also seen various bilateral partnerships happening to harness solar energy in India. Seeing all this convinces me that solar energy is going to be a substantial thing in future.
WCI: It has come to our knowledge that HPL has recently approached markets regulator Sebi to raise Rs. 450 crore through an initial public offering (IPO). Where would you be utilizing the proceeds?
GS: In the last five years, we have invested about Rs. 200 Cr. in our new factory and into capacity expansions. The proceeds raised through the said IPO would primarily go into repayment of certain term loans. The part of the proceeds would also be utilized into brand building activities and for working capital requirements.
WCI: Would you like to add something before we conclude?
GS: If we look at the demand view-point, there are lots of unorganized players in the wire and cable industry hurting our demands and overall quality image of the industry. There are plenty of compromises on the compliance to the specifications and that is bad for the entire industry. This is a serious concern which needs to be addressed through strong regulatory mechanism by the Govt. and better customers' awareness through magazines like yours. There must be awareness of the fact that wire and cable industry is a highly technical industry and a huge amount of technology goes into plants and facilities that make wires and cables.