With a diverse product mix and a rich mix of clients, Bharat Wire Ropes intends to significantly increase its domestic and export presence with the start-up of its new Rs. 507 Cr. Chalisgaon facility.Now a now a multimillion USD enterprise, Bharat Wire Ropes Ltd. was established in 1986 in Mumbai, Maharashtra as a speciality wire ropes manufacturing company. The company manufactures strands, wire ropes and slings for use in a range of applications/industries, viz. general engineering, fishing, elevators, cranes, material handling, onshore/offshore oil exploration, ports and shipping and mining.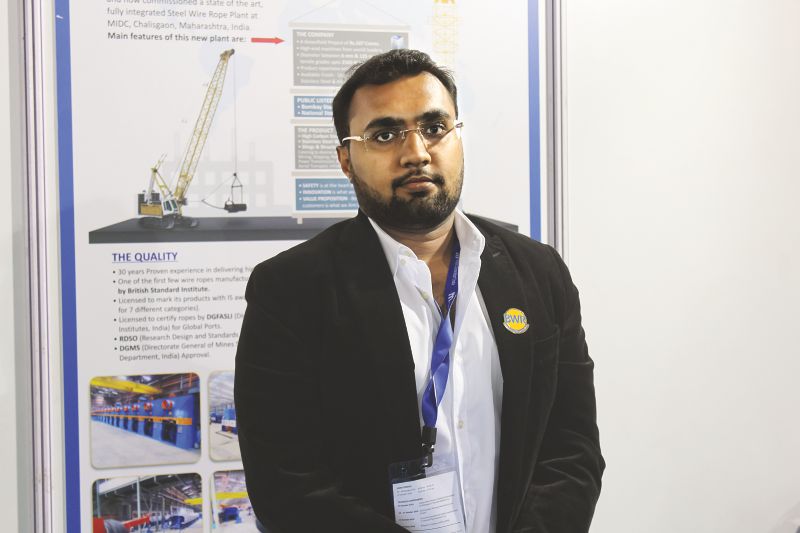 With a new facility at Chalisgaon (Maharashtra) with a capacity around 66,000 metric tonne per annum, the company is set to start its first dispatch by the 15th October. The company is eying big on export front, wherein it intends to export 50 percent of all its production and sees the new facility as a big contributor in realizing that target. Wire & Cable India recently had a brief chat with Mr. Mayank Mittal, Director, Bharat Wire Ropes Ltd. to know more on the new developments at the company and the market on the sidelines of Mumbai wire show. Excerpts:
Wire & Cable India: Tell us about some of the recent developments at Bharat Wire Ropes.
Mayank Mittal: We have started a new facility at Chalisgaon whose production capacity will be around 66,000 tonne per annum. By the 15th October, we will start our first dispatch and this will be one of the largest facilities under one roof. We will start with wire rods, will make wires then, and would end up with wire ropes finally. So, this is the latest development happening at Bharat Wires.
WCI: Any recent addition in product portfolio that is aiming at some new applications.
MM: As I said, we were into making wire rope which was almost 10,000 tonne per annum; the challenge now would to be able to do 66,000 tonne. The range will also vary from 76mm to 125mm; this will add lots of power to our product portfolio.
WCI: Tell us something more about the range of wires that you will be manufacturing at the new facility.
MM: In our old facility, we used to make wire ropes from 6mm to 76mm. But, with the new facility, we would be able to do from 6mm to 125mm of wire ropes, going up to tensile strength of 2160 mm per unit.
WCI: What is your take on the recent policy changes?
MM: Basically, wire rope is a value-added product and not a part of commodity market, wherein the pricing of wire rod will not impact the wire rope to a huge extent. I mean it will affect, but not that much. So, with an investment of Rs. 507 Crore in Chalisgaon, we proposed a major growth at Bharat Wire Ropes.
WCI: What all areas are you thinking to cater with this new facility?
MM: We would be catering to all the major industries across the globe – right from cranes to elevators, to off-shore, to onshore/offshore applications, and more.
WCI: Tell us the status of your export market and how much will this new facility affect your export portfolio?
MM: See we are targeting almost 50 percent of our products being exported. The new facility will constitute a major share in our total product portfolio.
WCI: What all are the countries you are aiming to export? Which are the countries you are exporting to as of now?
MM: Our primary focus is going to be Europe and America. Africa, the Middle East, and Nepal are the few countries we are currently exporting to.
WCI: In case of exports, I would like to ask what kind of competition do you feel when you export outside India?
MM: I think we as a country have very good potential to export wire ropes because India doesn't have any significant share in wire rope market. With this new facility, I think India would have big opportunity to contribute to the export market.
WCI: In the domestic supply market, what are your major clientele?
MM: We are supplying to almost all the big companies in India, right from Reliance, TATA to almost all big companies of wire ropes. Apart from this, utility companies, ONGC, and other oil & gas companies are our clients. Then, we also supply our products to SAIL. We have a contract with Shipping Corporation of India.
WCI: Technology is has been a major issue with the steel wire sector. So, can you tell us something about the induction of technology that is global in nature in Indian industry to make the products competitive in global market?
MM: Basically, with the new facility, we have incorporated a lot of cutting-edge technologies. As you know about the Internet of Things (IoT), we have incorporated it in our new facility, wherein we will be able to trace the entire thing; so the traceability will be built up in the system. All this will really help us to keep track of all the processes, the productivity, and everything else that matters to a production facility.
WCI: That means your new facility is fully automated. Can you name few technologies that you have adapted at the new facility?
MM: Yes, it is automated to a large extent, though I can't say 100 percent, but surely to a large extent. There are a lot of things; I would cumulatively term them as Internet of Things (IoT) – a lot of sensors, lots of QR codes and biometric sensors.
WCI: Have you procured the machinery for your new facility domestically or from outside? Can you tell the name of the companies and machines bought?
MM: Majority of the machinery is from Germany as that is the country we have targeted for machinery. Others have been sourced from South Korea and the Middle East. From Germany we have SKET from South Korea we have bought the machine from Lee & Lee and from India we have bought from ECM.
WCI: Your comment on coming trends in the steel wire sector including the wire rope.
MM: What I feel is that, in India, we have to improve a lot on the productiveness if we desire to compete globally. Since China is crashing prices across the globe, it would be very difficult for us to compete unless we don't focus on productivity. So, we as Indian manufacturers need to focus on enhancing our productivity.
WCI: Do you think what China is dumping in India is affecting steel wire business here?
MM: Luckily, for us, wire rope is a critical product wherein human life is at stake; so lots of the wire rope buyers are not very comfortable in buying Chinese wire ropes. In that way, we as an industry are fairly protected from Chinese products, but then everyone in the industry is feeling the heat and, with government policies coming in, I think the government is doing the right job in protecting the industry.
WCI: Don't you think that, while making the policy of import duty on wire rods, govt. sort of has overlooked the concern of steel wire industry?
MM: It would be difficult to say whether the govt. has overlooked or not, but we are trying our best in whatever means we can to protect ourselves from China.
WCI: What are your projections for the growth of the Indian wire or steel wire rope sector in India in coming times?
MM: I think with the Govt. initiative on infrastructure growth, wire rope is a very critical element for the growth to happen. Right from bridges and elevators to cranes, everything uses wire ropes. So, what we feel is, with the government emphasizing on the infrastructure now, there would be a major upswing in wire rope consumption in the country and we are ready for that growth.
WCI: Do you have anything to say particularly on Smart City Project and your company's role in the same?
MM: Infrastructure-wise, as I mentioned, cranes uses wire ropes, all the infrastructure companies use wire ropes; so I can say we are directly related to infrastructure growth. A smart city concept is basically related to technological advancements and infrastructural robustness of cities in India. If I would have been a Wi-Fi manufacturer, then, yes, it would have helped me directly. But being a wire rope manufacturer, what would concern me are the skyscrapers being built in Mumbai, or a 3-floor building built in some other city, where everything will use a wire rope; so we cover that entire spectrum.
WCI: What major companies do you see competing with you on the global scale and what difference do you find in their product and your product?
MM: I would like to answer this question in another way. The wire rope that is available in India is at par with any wire rope manufacturer across the globe. We have bought machinery from Germany which any world-class manufacturer can buy. The only difference or the only benefit that I am going to have is the labor cost. I can manufacture same quality of wire rope that a German manufacturer can, but my labor cost is significantly lower than that of a German manufacturer. This I think is a very big benefit that we as a company have when I look at competitors across the globe. This surely affects my final cost of product and I can pass on that value proposition to my clients.
WCI: Anything else that you want to add to this interview?
MM: I would like to add that as a company we have invested a lot of money and with kind of value proposition that we can give to our clients is going to be the best-in-class, right from domestic to global clients. Lastly, I would like to add that we have an excellent facility which is truly world-class.