Viraj is one of the largest manufacturers and exporters of stainless steel long products in the world. With turnover of USD 1.5 Billion, the company is exporting its stainless steel products (wire rods, wires, flanges, fasteners, right bars, and profiles) to more than 90 countries across 6 continents. The company has recently commissioned Material Tracking System across its plants, which is first of its kind in India.
June 9, 2017
The core competency of Viraj lies in its integrated manufacturing facilities, wherein finished goods from one plant are treated as raw material for another plant and so on. It is this strong vertically integrated process which enables Viraj to meet customer specific requirements. Viraj's recently installed Material Tracking System across its plant is quite an innovative and unique move for a company based in India. In addition to material tracking, this system also tracks production recording/quality confirmation/Invoice generation and dispatch through the same system.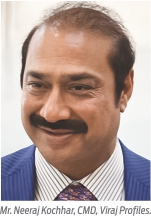 Mr. Neeraj Kochhar, CMD, Viraj Profiles says, "In 2014, we encountered some critical issues on the shop floor, which was deterrent to our vision of becoming the Global leader in stainless steel long products. Back then, the manufacturing process was mostly controlled using SAP but couple of years down the lane the company started facing some of the issues like delay in updating the movement of raw material from one plant to another, lack of correct data about real time availability of raw material in plant, information about the raw material being used in the shop floor etc."
These issues seemed small but their impact on the production loss was something which no one would like to see in his company. Realizing the urgency of the situation, the management decided to pull up their socks and dig deeper to find out the actual reason behind these problems. Soon a core team was formed comprising of senior officials from varied backgrounds inter alia production, quality, sales and IT. After closely watching the whole situation for more than 3 months and after sifting and analyzing through heaps of data, it was identified that the root causes of the problem were several like Production Confirmation in SAP happening long after the actual production, the batch of semi-finished goods was not traceable to the raw material batch and finished goods batch, human intervention throughout the process caused a lot of errors, inventory data was not same between shop floor and system.
Mr. Suman Basu, CIO, Viraj Profiles and head of the core team says, "After making Root – Cause analysis, we understood that unless we equip our shop floor members to record the happenings during production/quality check /packing dispatch, it will not be possible for us to capture the delay and avoid human errors. We therefore thought of a solution where we could eliminate manual reporting by shop floor member altogether. We planned to identify each product from steel melting shop to different downstream plants like fastener/wires/bars with bar code stickers and RF ID. We also thought of using handheld devices for scanning the sticker and enter different data which are needed for SAP recording, and communicating to Central Servers over Radio Frequency Network."
Saying was easy but execution was nothing less than a nightmare. Mr. Basu also mentions about the challenges faced in this journey, "Our 8 Plants are spread over a geographical area of 10 Kms and the location of these plants are in remote area of Maharashtra, where Infra-structure is still not well developed and we deploy 6000+ people on our shop floors. Moreover, all these units are in different excise zone and therefore all material movement is subject to successful creation of Excise Duty Gate Pass and right weight of the material. Considering these constraints, this was definitely a challenging proposition. But we had made up our mind to take up the challenge head on."
Given below are a few schematic diagrams to explain how the system works and what it comprises of.

Flow of raw material after MTS installation –
Truck with raw material plant 1 enters the plant 2 after the entry is done in MTS
MTS sends the details to SAP and SAP updates the status as "Material Reached at plant 2"
Upon unloading the material, the receipt officer scans the material and validates the data against the data of material dispatched from plant 1
MTS then sends intimation to SAP for processing GRN (Goods Receipt Note)
Post this the SAP officer confirms receipt of the material in SAP and GRN is sent to MTS
In some cases wherein raw material is rejected then the code of the material is updated in MTS and as soon as the rejected material is brought on shop floor for use in production, MTS shows error
For this purpose the entire storage area has been divided into small grids of 2 mtr X 2 mtr and exact location of any material kept on the floor can be traced including its date of production, point of origin, its composition etc.
Talking about the advantages of installing MTS, Mr. Neeraj Kochhar proudly mentions, "Now at any given point of time, I can pin point raw material batch used, by scanning the finished goods, I can find out the origin date and composition of the raw material. Moreover, MTS has also helped us a lot in planning our production process as per the availability of the material. In past couple of months since its installation, we have received less complaints of production loss or wrong dispatch of material from one plant to another. So to us MTS has proved to be a boon and I would like to thank my team members who left no stone unturned to make this humongous job possible."
Some of the key benefits of the MTS Viraj has seen are:
The production entries are done through bar code scanners and not in SAP GUI. So, manual entries are eliminated and thus the chances of wrong movement/allocation of material is eliminated
Better visibility of the inventories amongst all plants leading to better production planning
Viraj now knows from which "Heat" which product is made and therefore resolution of customer complaints is better
The quality confirmation is being done through MTS, which ensures that the rejection/rework is clearly identified and is not used anywhere across all plants in the production process
Confusion between departments regarding stock is a thing of past as all the details are available online on real time basis and all the departments know about the availability of their material and at what stage of production the material is.
Talking about the infrastructure requirements to complete the process, Mr. Basu adds, "Important hardware like hand held terminal (HHT Scanner), bar code printer, RF ID tags, labels of different quality were sourced from different companies. Whereas SAP custom development and interface design & solution development was done by our in-house IT team. This was a large project involving a large number of users, vendors but with some hidden uncertainties too. There were some days when the entire team was brainstorming about various roadblocks in executing the project and the limitations which were staring right into their faces but one thing which was common amongst all was the will to succeed. The company management also extended unconditional support to them by all means to make this vision a reality."
Talking about the cost benefits associated with the task, Mr. Kochhar happily shares, "It is slightly pre-mature to state the cost benefits associated with MTS as of now. We have just completed the task in all major plants but we still need to stabilize the system over a period of time to calculate the savings incurred and realization of ROI, and we hope to report further as it progresses." Although the project was conceived for simple material tracking, today it has become a major supply chain management exercise and the company is now developing centralized planning, product costing around the same.