Viraj Profiles Ltd., the largest manufacturer of stainless steel long products in India, has embarked on a new journey of technological upgradation. The company has planned to revamp its communications and collaborations capability.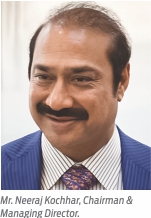 Last month Viraj has signed an agreement with CISCO, a world class supplier for network and communication equipment, on areas of networking revamp, introducing enhanced video collaboration capability and securing its Email communication. The years ahead will be an interesting mix of retaining basics with renovating the outer structures via digitization. New technologies will replace many traditional work practices. The digital transformation nowadays is an ongoing journey with companies putting visible efforts in improving the customer experience. Viraj Profile Limited has already joined the trend with a long list of initiatives for embracing technologies to optimize its processes and enhance the customer satisfaction.
According to Mr. Neeraj Kochhar, Chairman & Managing Director, Viraj Profiles Ltd., "Because of rapid inorganic growth we had since 1992, Viraj really did not have the luxury of design and structure of network equipment and in so many years we ended up using various technologies provides by different service partners. Although individually they all were great choices, as an enterprise-wide network we did not fare well. Numerous complaints in IT infrastructure, particularly in video conferencing, SAP performance and email speed always haunted our IT support team. We realized that when we are planning to work more from remote locations and also to introduce IoT, the network backbone should be more robust compared to what we have today."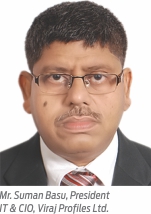 Mr. Suman Basu, President IT & CIO, Viraj Profiles Ltd. says, "We have now planned to have proper three layer network architecture where the head office data center will have two core switch of latest technology ( CISCO 9500 Series ) in high availability with all remote offices having dedicated distribution switch to create different VLANs for segregating the network traffic and decide QoS ( Quality of Service) for different applications along with a constant load balancing between different incoming internet connections.
"In Data Centre, we are also adding two firewalls in high availability mode and all plant endpoints are getting connected with dedicated access switch. We expect that these major revamps of network to be over in a five-month from now so that the response time reduces considerably. Also, firewalls will add an important security layer."
Mrs. Pooja Mehra, Executive Director, Viraj Profiles Ltd. says, "Diverse location of its plants and accessibility to its India and overseas offices are few major challenges. Our plants which are spread over a distance of 10 KM, connected through public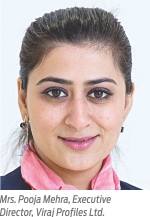 roads, do not have internal voice communication networks. We sometimes faced complete communication blackout causing serious business loss when the mobile networks are not available. Dependence on mobile networks is also not favorable for long hours meeting. We are now switching to IP telephony where the communication is linked to own fiber or radio frequency, independent of mobile networks.
"For selected users, the provision of video chat is also being made possible. With the technology, the company can easily connect to its offices in Delhi, Mumbai, Netherlands and Dubai. With the application like CISCO Jabber, offices would be able to connect to international and domestic mobile phones, even during International roaming. We expect our communication will be at ease and less expensive than the medium being used currently. Fax machines can also be connected to this infrastructure."
Talking about the new video conferencing infrastructure, Mr. Basu shared, "CISCO DX unit is a TV fitted with video conference capability to be available with our core team offices for them to get connected with a video unit anywhere in plant and on travel with the help of laptops and smartphones. In addition, we are introducing MX700 and MX 200 which are mobile large TV and VC equipment to be used in different office locations. We are also improving video conferencing facility at our port office.
In addition to this, Viraj is also procuring CISCO Webex license for organizing multiple conference calls with video facility and for convening customer and vendor meets online. Overall, the entire IT infrastructure at Viraj Profiles Ltd is undergoing a significant transformation, the results to be visible soon.