LAPP celebrates 20 years in India, manufacturing some of the widest ranges of cables, connectors, and accessories. While LAPP Group is busy unifying the brand globally for simplified customer connect with its colossal 40,000 item product basket, the company in India is gearing to leverage its technological excellence and product quality to corner a sizeable pie of low voltage cables and wires.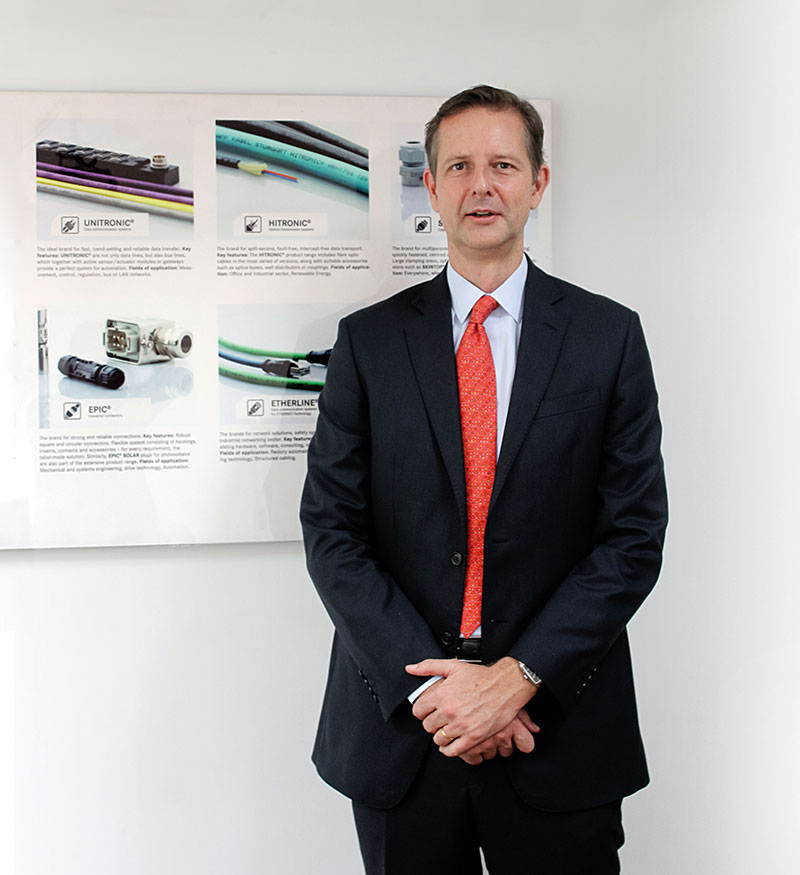 LAPP in India, a 100 percent subsidiary of the LAPP Group, set up its first factory in Bangalore in 1996 which sells about 200,000 km per year of power, control, instrumentation, and data cables along with connectors, accessories and customized solutions to service over 7000 customers pan India. In 2012, LAPP India completed phase one of its second manufacturing plant in Pilukedi, Bhopal which has manufacturing capacity of more than 216,000 Km of single core cables per annum, catering mainly to the building cable segment. The production area at Jigani was also doubled in 2014 and a new multi core line was commissioned in Bhopal with a total investment of over 5 Million Euros.
Wire & Cable India recently had an interaction with Mr. Marc Jarrault, Managing Director (India Region), LAPP. Excerpts:
Wire & Cable India: First, WCI congratulates you on completing 20 years in India. Tell us some of your experiences and how the journey has been so far!
Marc Jarrault: This year, LAPP celebrates its 20 years in the country and the journey so far is recipe for a great success story. (LAPP started in India in 1996 as a trading agent and the first factory was set up at Jigani, Bangalore in 1998) From the very beginning, LAPP understood the importance of being in India and manufacturing products within the country. In a way, we envisioned 'Make-in-India' way back and committed ourselves to continued investments in the country, resulting in another cutting-edge plant in Pilukedi, Bhopal in the year 2012. The goal has always been to continue participating in the development of India in various forms.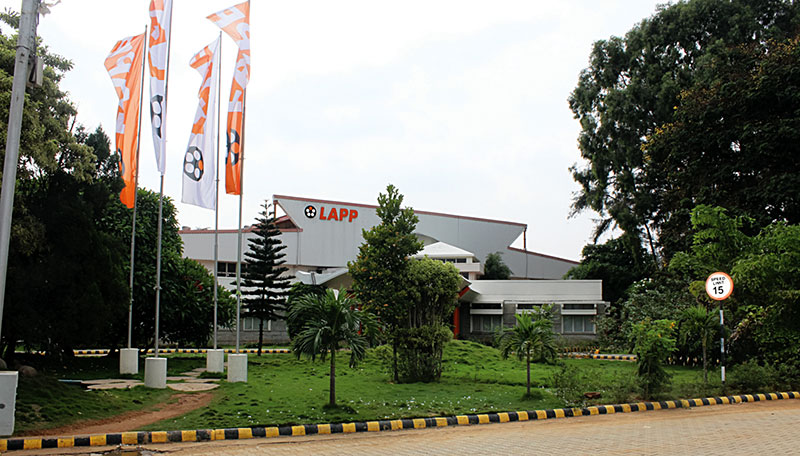 Back in 1998, our core market was OEM and we catered to machine tool makers, textile, photovoltaic, robotics, and automotive industry. Meanwhile, the infrastructure segment in India witnessed swift growth with new process industries and projects starting every month. LAPP saw a significant business opportunity here and, apart from OEM business, started catering to the plant engineering segment. In the span of two decades, we have developed many activities for the Indian market, for instance, we started providing our solutions to new factories or Brownfield expansion projects. LAPP has now developed a strong project business in India. We are also a preferred partner for cable and connectivity solutions at the major metro projects currently in eight cities and slated to expand to 20 cities by 2025.
This is our success story so far, and we have been growing at more than 15 percent in the past four years with an estimated growth of 20 percent for the current year. We are very positive for India and LAPP in India.
LAPP's Planning Optimization Increases Productivity by 30 Percent
LAPP's operational strategy is a benchmark for any manufacturing enterprise and has been developed in tune with its overall business strategy.

Display showing real-time progress at a given point of time in various manufacturing activities at the factory at Bangalore.
The strategy is essentially centered at customer-driven approach and an exhaustive quality management system besides continuously investing in the development of core competencies and optimizing productivity. In the heart of all this lies a strong planning of all the activities going under the roof of the company, from manufacturing and quality checks to entire supply-chain.
In keeping with this overall operational strategy, LAPP underwent an expensive SAP upgrade, i.e. APO (Advance Planning Optimization). Without adding a single piece of machinery to the Bangalore plant, LAPP has driven the productivity by 30 percent in the last two years thanks to the better shop floor execution using lean principles and later implementation of SAP-APO. This significant growth feat was attained by a combination of planning, the tool itself, the capability of the planner, and the excellent shop-floor execution done by the plant head. Another significant advantage of the APO planning system is the real time material availability dates, based on real-time capacity of the plant, which allows sales to commit delivery dates to our customers, who, in turn can plan their projects better. This in turn helps in setting correct customer expectations which is in tune with company's core philosophy of 'customer first'.
WCI: Completing 20 years in India, especially in manufacturing, is feat for a foreign group (when other companies tried but not succeeded). What made you click in the Indian market?
MJ: For LAPP, it is never like touch-and-go, neither for India nor for anyplace else. This attitude is an essential prerequisite if you wish to stay rooted for long. Our commitment for long-term investment has been the key success factor in India. There of course have been ups and downs but we remained committed to the country. LAPP invests and prefers staying for good. Besides, we are a family-owned company and a substantial number of our customers belong to the family-owned companies – forming a good match.
We are very innovative and have brought some leading cutting-edge technology to India in the field of cables. The market in India is quite competitive and price sensitive – one of the reasons why we invested to manufacture here in India. LAPP today stands uniquely among its Indian peers with significant capacity and excellent manufacturing setup catering to a wide range of cabling needs, from standard to custom-built for the Indian customers. We have also invested heavily in the most equipped laboratory within the group to undertake innovations and do various standard tests on the cables manufactured.
Another crucial factor is our huge range of products – about 40,000, and we are a one-stop shop for these 40,000 products. This package was made to serve the value and cost proposition to varied segments of the industry as here in India, most of the industries are cyclic in nature. If one industry swings down, we can cater to the other industry. That's one reason why we have maintained this consistent growth from the past 20 years.
Centers of Excellence: LAPP's Way to Build an Innovation Culture
LAPP's COEs have been created to foster and support the very spirit of knowledge creation, insight, implementation, and imparting a thought leadership.

LAPP in India is a pioneer in promoting industry-academia collaboration to enable multi-disciplinary research involving various institutions in the industry relevant and internationally challenging areas related to cables. The company entered first such tie-up with PSG College of Technology, Coimbatore over a decade ago. This collaboration since then has involved PSG academics, LAPP experts, and companies from other industries to focus on the projects of product innovation and research on new trends of cables. Besides, the goal also was to enhance practical understanding and technology know-how of the students and lecturers on the cabling and connection industry.
The next tie-up was with RV College of Engineering, Bengaluru to create a Centre of Excellence, which in time has proved prolific for both the institution and the company by providing newer dimensions on product design and development in tune with the latest trends and future prototypes. Sprawling over an area of 1225 sq. ft., the COE consists of a laboratory facility with end-to-end cable research and testing requirements, thus giving scope for students to develop sustainable and inclusive cabling technology solutions. Apart from COE, LAPP has sponsored their Hybrid car under the Ashwa Racing Foundation by providing them cables for designing the car. This year, RV College won 2nd position at Formula Hybrid car race at US.
The latest in the chain of COEs is Symbiosis University of Applied Sciences , where the company has signed up the Memorandum of Understanding (MoU) and is in process of collaborating on the curriculum of the students, providing assistance as knowledge partner, supporting joint research projects and providing internship/on-the-job training for greater understanding of the cable and connectivity solutions. All these initiatives would focus on the practice-oriented research which in turn would have high impact on future product design and development.
WCI: What are some of the challenges you faced during these years and how did you address them in order to keep going?
MJ: LAPP did not encounter any challenge on technology front as it's the main driver of our product excellence. While in Germany we are investing heavily on fundamental research in order to tackle the new trends in the cable industry, we are developing more on the application side in India. India is quite a price sensitive market and demands utmost quality at affordable pricing. To meet this challenge, LAPP started manufacturing an exhaustive range of products here in India, with the exception of few specialized products.
The key challenges for us however are more on logistics and infrastructure fronts, which are critical in ensuring timely delivery of our products and solutions. Beside the products quality, we have invested heavily in our supply-chain to move our heavy-duty goods from the factory to customer based in various part of the country. LAPP's investment is considerable in creating a network of strategically located warehouses for fast moving articles for source to destination within 48 hours. Post-GST, the inter-state movement has become easier and our investments in supply-chain have proved fruitful with conspicuous acceleration in the delivery-time. We have overcome most of the logistical challenges by being proactive.
We have also invested in our SAP system with some special measures. We have a basket of 40,000 products. You will find these articles in each of the five warehouses across India. We have to make sure that we have desired stocks. The availability of a broad product basket across the network has also facilitated our reach to customers in terms of meeting their demands optimally.
WCI: LAPP has an attractive and comprehensive portfolio. Tell us briefly about it. If we compare the global portfolio of LAPP with the Indian portfolio, what is the difference?
LAPP's Quality Control: An Industry Benchmark
A highly vigilant quality control system of LAPP ensures every stage of process is monitored and measured assuring defect free product to its customers. Laced with expensive tools and equipment, the lab not only ensures product quality but also fully supports innovation at LAPP.

LAPP India Quality Systems is certified for ISO 9001:2015 and is built on strong base of experienced and qualified technical staff, state-of-the-art testing facilities and detailed inspection process of each and every material/cable prior to being dispatched to the customers. LAPP quality control, apart from following the standard's requirements as laid in BIS/ BS EN/IEC/VDE, etc., follows stringent internal work norms for all its raw material and cable specification inspection.
LAPP's manufacturing facility in both Bangalore and Bhopal, have advanced testing facilities.  Bangalore quality lab is certified under IS/IEC 17025 (NABL Accreditation). The test facility is categorized into sub segments for conducting endurance, mechanical, thermal, ageing, electrical, chemical and flame related tests with qualified personnel.
Test lab is equipped with the latest Software Integrated Vision Measurement System, Tensile Testing Machine, Conductor Resistance Tester, Smoke Density and Flame Propagation Testers to name a few, enabling minimum human intervention in testing process. At LAPP, all raw materials are subjected to rigorous approval process and every incoming raw material batch is subjected to type tests. This assures zero field failure and lower process rejections.
MJ: Let me clear this first that our customers enjoy the same basket of products everywhere in the world. We have in India an engineering and innovation center where we test all the products, manufactured here or brought from our other subsidiaries, as per the Indian standard.
Now coming to the products, if you look at the cable market, most of the market is commodity based. We have segregated all our products into different categories, each of which we call a brand.
LAPP is the first cable manufacturer to have developed strong product brands worldwide. LAPP brands are ÖLFLEX®, UNITRONIC®, ETHERLINE®, HITRONIC®, EPIC®, SKINTOP®, SILVYN®, and FLEXIMARK®. The industry instantly recognizes these brand names and associated features, for instance, when we say ÖLFLEX®, it stands for oil resistant flexible cables. And, if we look at particular segments of machine builders, they recognize ÖLFLEX® as much as LAPP.
Our identity is very clear in terms of brand names when it goes into each of these segments. LAPP is known for cables, but since the portfolio is very wide, we have these brand names which signify them. For example, we have UNITRONIC®, which is low-frequency data communication. We have EPIC® which stands for Environmentally Protected Industrial Connectors. Then we have SILVYN® which is used for conduits and chains. We have these varieties of brand names which signify our connection with the industry and they are quite popular in the market. When customers order, they don't order a cable, they order ÖLFLEX®. If they want data connectivity, they order ETHERLINE®. That is how significantly our products are being identified. Furthermore, the Group has recently undergone a brand unification process across the globe because customers are looking for LAPP and its strong brands which stand for high quality and reliability worldwide.
Plug & Play: Lapp's Cutting-Edge
With its comprehensive inventory of cables, connectors and accessories, LAPP provides customized assembled cable solution – from the design phase to the creation of the prototype, right through to production and quality control.

LAPP's ÖLFLEX® CONNECT facility at Bangalore factory.
Apart from its comprehensive cable manufacturing activity, Lapp's Plug & Play solutions from a very distinctive business segment, which is dedicated to create custom-built, state-of-the-art cable assemblies that can be connected straightaway. Branded as ÖLFLEX® CONNECT, LAPP's systems solutions offers custom cable assemblies, servo cable assemblies for motion application and populated cable chains, all of which greatly reduces the labor of machine manufacturers by saving time and resources consumed in shortening the cable, attaching connectors and creating complete power chains. LAPP today has 5 service points for ÖLFLEX® CONNECT with a different set of employees, engineers and tools to create these custom-built assemblies – from the design phase to the creation of the prototype, right through to production and quality control.
1. Highly flexible cables      2. Cutting and crimping
3. Cable marking                   4. Industrial connectors
5. Servo cables                      6. Pneumatic hoses
7. Hydraulic hoses                8. Protective conduits
9. Drag chains & accessories
WCI: What was the main idea behind unifying LAPP as a global brand?
MJ: We are now one company, one brand, and one logo. We are same wherever the customer is in terms of our product brands as I said above. So, it was pertinent to simplify the principle brand, i.e. the company's name as a single one, which covers all the common product brands. So, it's now just 'LAPP' with above mentioned product brands under a single logo. We want to simplify it on the corporate basis. All prefixes and suffixes that previously stood alongside the name LAPP have now been removed.
Moreover, LAPP has traditionally been for cables. The company was known as LAPP Kabel, even in Germany. However, the company is now a world market leader for connectors and integrated connection solutions and has an extensive range of products and services, beyond cables. Hence, the unification of brand also looked at extending the name to an entire range of offering and not just limiting it to cables. It is not just LAPP Kabel or LAPP Group; it is the brand name LAPP which stands for all the products and services.
WCI: As you said above, the lab in Germany is primarily devoted to fundamental research to tackle new trends. Brief us about some of the work being done there.
MJ: There are a number of issues and emerging trends which are being tackled or researched at our lab in Germany. Few of these trends are trends towards DC replacing AC, trend towards system solutions, connectors instead of direct wiring, intensified networking and miniaturisation, etc. We are working on each of these in our own way in close cooperation with research institutes and universities to explore innovative solutions.
For instance, trends towards DC power generation, transmission, and distribution has become strong and DC may replace AC in times to come. Currently, there are significant conversion losses in transmitting the DC power as it's using the AC transmission lines. India is leading an international research in DC transmission lines. China is doing that already for extra high-voltage DC lines. Of course, bringing about the paradigm shift is not as easy as it may sound. Conventional switches and connectors are not suitable for DC voltage because the polarity of the voltage does not change and there is no arc breakage when switching off – this is hazardous. We also would have to work on new compounding solutions as insulation on the cables under AC and DC does not react the same way. We are working on all these aspects. Likewise we are also working on other trends and developing solutions to meet the future needs of our customers.

WCI: Is there any new investments coming up, either for capacity expansion or plant upgrade?
MJ: We are investing a considerable sum in our Bhopal factory in some cutting-edge technology and equipment to be commissioned by November this year. We understand that mechanical equipment is important, but investment in people is the most crucial aspect for operational success. Getting right talent pool and skill set with investing in continuous human resource development has been the company's priority from the onset. The company has about 300 employees and we spend sufficient time in training for each of our employees. With 40,000 products to muster, it is not that easy to work. It takes about 2-3 years to be able to muster the company's products technically and be able to sell them in the market.
There is a lot of focus on people's development. This is one of the success factors we have being an MNC. We are an expert of India and the Indian market, but we also benefit from standard practices and trends outside.
WCI: The mission to develop 100 smart cities across the country is a crucial development. What is LAPP doing to offer solutions for smart cities' requirements?
MJ: We have a good focus on developing solutions for the infrastructure segment. One of the key things we started doing four years back was to develop solutions for buildings, the ones having all the power and control systems. We took a step ahead of time and entered into halogen-free products which are really good for the environment as well as life and safety of people. We are the first one in the country to introduce halogen-free products into this market. Though in India there is no standard for halogen-free wires and cables, the trend is fast catching up and getting standardized by the day. All the new constructions are adopting these kinds of technologies. Even our competitors are following this trend.
Most of the buildings are being smart in terms of asset management, resource optimization, security system, access management, etc. We have a complete solution portfolio for smart buildings. The smart buildings are also connected to a smart grid in the smart city area to facilitate collection and exchange of data related to sewage treatment, surveillance, traffic and transportation systems, power plants, water supply networks, waste management, law enforcement, etc. This creates a scenario where everything is getting governed under a controlled platform. LAPP is really a pioneer when it comes to control cables, which is a critical component for measuring, control or regulation in the field of process automation in smart city concept. We have long been educating our Indian customers to differentiate cables for their specific application. This is how we are building our solution for smart cities.
WCI: How is LAPP planning to cater to the growing solar segment?
MJ: We established our solar business 5-7 years ago and intend to remain competitive in the segment by reinventing ourselves as and when required. Solar power business however promising is passing through a challenging phase where some projects are becoming unviable because of low per unit price of solar energy. This situation is transient and the industry would surely find some ways to make it sustainable very soon again.
ÖLFLEX® brand of solar cables (SOLAR AL FLEX) has been launched not a long ago and is aluminum based instead of being copper based. We are also in the process of developing some solar solutions in association with our sister companies. The land is getting costlier and the land acquisition is becoming a problem, so there are floating solar farms which require kinds of cables which can be maintained under water for a long time. We have developed these waterproof solar cables. LAPP is executing a project with the waterproof solar cables in Bangladesh. The testing requirements for these cables are different from the solar exposed cables. There is a special compound required to ensure cables stay intact without absorbing moisture. The cable has been rigorously tested under-water for one year and is now certified after confirming to all the required standards.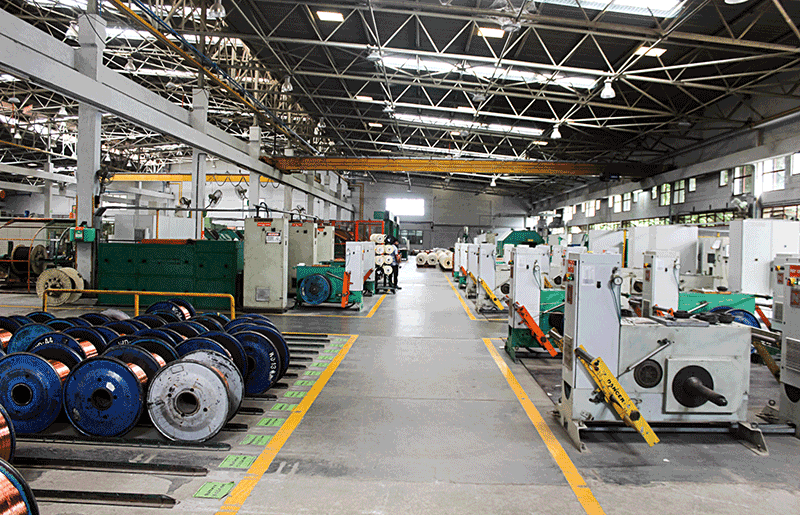 WCI: The strategy of LAPP in coming 5-10 years!
MJ: Of course, we will continue contributing to the sustainable development of India as per our commitment. With growth rate of 10 percent, low voltage cable and wires are estimated to be around Rs. 24000 Cr. We are hoping to capitalize maximum on this share of market by providing the best solutions to our customers under the flagship name LAPP. We should reach a key milestone of INR 600 Cr this year and intend to double sales within next 3 to 5 years.
We are today serving about 7000 customers across India. We want to more than double this number by delivering our products within 48 hrs anywhere. Also, we are the first cable makers to launch an e-shop. With this e-shop, we want to extend our reach to all over India. LAPP desires to maintain its high growth rate in all the relevant segments. On the human resource front, we will continue to hire and further develop the best people in our industry.