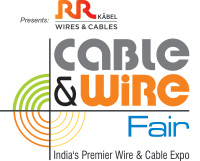 The most illustrious wire and cable manufacturers, wire and cable machinery manufacturers and suppliers of materials for the wire and cable industry take pride in exhibiting their products and services at Cable & Wire Fair, which has undisputedly become India's leading trade fair for the wire and cable industry – thanks to the trust and goodwill it has built in the industry over the years. Use this special platform to encourage awareness of your brands and new-product launches in a high-profile environment.
Cable & Wire Fair 2017, which saw 10,800 visitors, 164 exhibitors, over 300 conference delegates and representations from 19 countries, had spectacular success in providing the participating wire and cable companies with a platform for advertising and networking.
Like the Cable & Wire Fair held in 2017, this year's fair aims to give players from various segments of the wire and cable industry a good opportunity to network and to exhibit their products. It will make real business happen – something that will eventually push up economic growth. Approximately 200 exhibitors from around 25 countries will showcase their products and services at this important event. Valuable knowledge and information will be shared at the event's collocated conference and CEO conclave.
Pragati Maidan, Delhi, provides the venue for this year's Cable & Wire Fair. Delhi is India's top venue for prestigious events, mainly because it is the country's capital territory and all policy initiatives are launched here.
Growth Drivers
According to Institute for Energy Economics and Financial Analysis (IEEFA), India's gross domestic product (GDP) will double over the next 10 years, growing at a rate of 7 per cent per annum. Over this period, the demand for electricity is expected to nearly double. This growth rate augurs well for the development of the wire and cable industry in India, which has already crossed Rs 60,000 crore.
The wire and cable market in India, which comprises nearly 40 per cent of the electrical industry, is growing at a CAGR of 15 per cent – thanks to the growth of the power and infrastructure sectors. The recent policy and regulatory initiatives and government schemes like Ujwal Discom Assurance Yojana (UDAY), Deen Dayal Upadhyaya Gram Jyoti Yojana (DDUGJY), Integrated Power Development Scheme (IPDS) and Pradhan Mantri Sahaj Bijli Har Ghar Yojana have given the market a major boost. It may be mentioned that under DDUGJY, the government has envisaged the electrification of all villages. Besides, the Indian Railways' action plan to electrify 38,000 km route in five years from 2017-18 will further whip up demand for wires and cables.
With the outlay of Rs. 2.6 lakh crore announced by the government for the five-year period ending FY2022, the Transmission and Distribution sector is all set to remain in focus for quite some time. There is also a greater focus on high voltage transmission lines along with the government's aims to provide 24×7 power, which is creating excellent opportunities in the sector. The DISCOMS that have joined the UDAY scheme are expected to improve their Transmission and Distribution (T&D) infrastructure through renewed investments. The government's target of generation of 100 GW of solar energy by 2022 and measures like excise duty exemption for Ferro Silicon Magnesium used for manufacturing components of wind-operated electric power generators have also increased the demand for electrical wires and cables.
In addition, the government's 'Smart City' project is expected to promote large-scale growth in infrastructure, telecom, power generation, T&D, engineering and automotive sectors. This is good news for the wire and cable industry because growth of the industry is directly linked to the growth and development taking place in other sectors.
Global investors now consider India as a potential market for high voltage (HV) and extra high voltage (EHV) cables. These investors increase their investments in the Indian cable market through technical collaboration with Indian cable manufacturers for production of EHV cables up to 400 kV. With increasing focus on renewables, the industry is now looking forward to supplying cables for solar and wind power applications in addition to oil and gas, railways and other specialized segments. As per Indian Electrical and Electronics Manufacturers Association (IEEMA), Indian power cable manufacturers have attained maturity in terms of technology for HV cable up to 220 kV and have been found competitive in the global scenario, despite having higher local costs, as well as local taxes and duties being paid on their products.
In addition, electric vehicles (EV) are expected to drive growth for cables and wires firms in a big way. There will be an increased demand for wires and cables when the acceptability of EV picks up. Some amount of wire will also be required to set up EV charging infrastructure.
The Government's impetus on infrastructure sectors such as power, railways, roads and petrochemicals will in turn spur demand for more power, and hence more power cables. Growing market potential, increased adaption of new technologies by the utilities, growing importance of services that may be linked to digital technologies have widened the scope for the growth of the wire and cable industry in India.
The wire and cable industry expects a spurt in manufacturing activity and capacity expansion in sectors like steel, cement, pharma, etc. Also, in line with Supreme Court's directive to reduce emissions as per BS-VI norms, petrochemical companies are expected to invest in plant modernization and expansion. This move will further stimulate the demand for cables.
To put it briefly, the highly attractive market for wires and cables in India has grown exponentially and is bound to expand in the future. Wire and cable companies, therefore, need to be prepared to respond quickly to changing levels of demand. They need to focus not only on branding but also on networking.
Cable & Wire 2019 will give exhibitors an excellent opportunity to showcase their offerings and a platform for establishing a mutually beneficial relationship with other business people and potential clients.
Speakers at Cable & Wire Fair 2017