With its expansion project in Ruwais, Abu Dhabi, Borouge has become the proud possessor of world's largest integrated polyolefins complex. Borouge's total production capacity is now expected to touch 5 million tonnes by 2021.
In an interview given to Wire & Cable India, Jong Susilo William, Vice President, Energy, Borouge, talks about Borouge and India's wire and cable industry. Here are a few excerpts from the interview.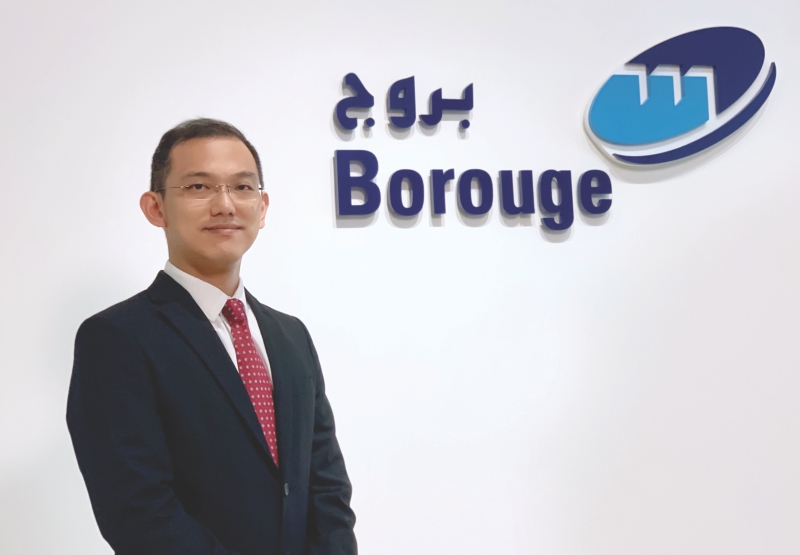 Wire & Cable India: Can you tell us a little bit about Borouge's business journey, production capacity, manufacturing operations, and product range?
Jong Susilo William: Borouge has been in operations for the last 20 years, which is also as long as we have been operating in India. We own and manage what is currently the world's largest integrated polyolefins complex, which is located in Ruwais, Abu Dhabi. The expansion plans for Ruwais include the building of a fifth polypropylene unit PP5, which has an annual output of 480,000 tonnes and will raise our total polyolefins production capacity to 5 million tonnes by 2021, and a fourth cracker, which will be the world's largest mixed-feed cracker with an annual ethylene output of 18 million tonnes. India is a one of the most important growth markets for Borouge – our customers there are some of the country's most successful companies in the energy, infrastructure, packaging and agriculture sectors. In addition to supporting the Indian government's national development initiatives by providing high-quality solutions that address key areas such as food safety, energy security, power reliability and crop efficiency, Borouge also collaborates closely with the local value chains and supports them with the development of value-creating end-to-end solutions.
WCI: What are the recent milestones for your energy business?
JSW: We remain proactive in strengthening our position as reliable partners to the wire and cable industry. The Borouge 3 expansion in Ruwais in 2016 saw the introduction of new high-pressure new low density polyethylene (LDPE) and cross-linked polyethylene (XLPE) plants, a move that allowed us to produce high voltage (HV), medium voltage (MV) and low voltage (LV) solutions directly in the UAE. With this, customers in all our markets can be assured of supply security and consistent products of the same high quality as supplied by Borouge since its inception.
WCI: What are your thoughts on the current trends in India's wire and cable industry and the challenges facing the industry?
JSW: India presently faces the challenge of providing energy security to both the country's rural population in remote areas and its urban population living in fast-growing, densely packed cities. As such, the government is shifting its focus to cleaner and more sustainable power sources, such as solar and wind. The process of harnessing such energy cannot be conducted through overhead lines due to safety and environmental concerns, requiring a reliable power grid connecting subsea and underground cable networks. We remain committed to providing time-trusted and proven solutions for cable insulation and protection systems. Insulation systems from Borouge and Borealis form the backbone of many of the world's high performance transmission and distribution systems and are based on a 50-year track record in development and delivery of advanced XLPE cable solutions.
WCI: In what ways has Borouge brought value to the wire and cable industries in the regions where it operates?
JSW: Our leading propriety technologies bring value to our customers and partners across the value chain through high-quality solutions that enhance productivity, reduce overhead costs and enable the production of reliable end products with a long operating life. For instance, producers can leverage on the enhanced scorch resistant properties of our Borlink™ technology-based XLPE solutions to run longer production campaigns, reduce scrap and enjoy higher asset utilization. In 2018, our Borlink™ XLPE solution was used by one of China's top cable producers in the world's longest single-extrusion campaign, which saw the production of a seamless HVDC subsea cable over a non-stop 25-day production period. In Saudi Arabia, we are working closely with partners across different value chain segments to raise the country's regulatory standards for power distribution cables. We do this by demonstrating the viability of durable, safe and sustainable polyethylene (PE) solutions over traditional materials such as PVC for the production of cable jackets, and help cable designers in optimizing their product designs for a reduced whole-life cost.
WCI: What are the benefits of the Visico™ range from Borouge and Borealis?
JSW: Our Visico™ solutions for LV insulation and protection applications bring significant benefits to both producers and end users. Being a reactor-based crosslinked polyethylene (XLPE) compound, Visico™ has greater material consistency as compared to blended or compounded products; it also helps to streamline the material-handling process as it comprises only two components as compared to the multiple component systems of standard LVPE solutions. Visico's most defining property is its enhanced scorch performance, which enables extended production runs for higher outputs and reduced scrap. Furthermore, PE materials like Visico™ are also a viable alternative to PVC for cable protection systems because they enhance the durability and hence, longevity of underground cables. They also have a strong resistance to abrasion, impact and moisture penetration.
WCI: How do your energy solutions drive sustainability?
JSW: Borouge and Borealis have some of the best propriety technologies on the market, allowing us to develop solutions that are sustainable or which support sustainability. For instance, insulation solutions developed on our closed-loop Borlink™ technology platform have very high levels of cleanliness that help to minimize the generation of oxidized contaminants during production. This drives durability and long-term reliability in the finished cable, making them ideal for HVDC applications where longer distance transmission with minimal electric losses is key. Other Borlink™ based solutions, such as Visico™, are free of environmentally harmful additives like tin or lead and possess an ambient curing system which omits the need for forced curing through steam or hot water baths, thus resulting in lower energy costs and a reduced carbon footprint.
WCI: Can you tell us about the efforts made by Borouge in the areas of environmental protection and corporate social responsibility?
JSW: The key tenets of the Borouge sustainability strategy are ensuring the sustainability of our operations and supply chain, advancing the development of sustainable plastics solutions and promoting a circular economy, increasing the positive social impact in the communities where we operate and cultivating a sustainability performance culture across the organization.
Plastics recycling and the establishment of a sustainable after-use plastics market is a critical aspect of the circular economy, and Borouge is committed to doing our part to support plastics recycling through the development of new resin technologies and material formulations for more durable and lighter products. We also work closely with industry partners to develop and introduce disruptive packaging solutions, packaging designs with improved recyclability, high-performance packaging materials integrated with recyclates for both the global e-commerce market and the enablement of more effective zero-waste processes such as after-use plastics collection and recycling.
Borouge and Borealis have also founded programmes which focus on addressing global water challenges and environmental pollution. They include Water for the World™, which seeks to improve safe water and sanitation access through local projects, preserve water resources via enhanced best practices in sustainable water management and raise awareness in communities and across the value chain through knowledge sharing, and Project Stop Ocean Plastics (STOP), a programme we co-founded with Systemiq which aims to prevent the leakage of plastics waste into the environment, create circular systems to generate greater value from waste and provide socio-economic benefits to local communities through the creation of new jobs in waste management and a reduction in the impact of waste mismanagement on public health, tourism and fisheries.
WCI: Can you highlight the impact of the developments taking place in Asia's wire and cable industry on Borouge's energy business?
JSW: The ongoing global shift towards renewables will have a positive impact on our business. We hope to replicate the success of our Borlink™ low-scorch XLPE solutions in the Chinese offshore wind segment across the underground power cable segment in China and India, where growing demand for long-distance, large-scale power transmission networks has seen the governments of both countries ramping up the development of AC and DC grids with voltages as high as 1100kV. This move will subsequently effect a growth in the market for ultra- high voltage insulation systems for which Borouge and Borealis have already developed a 625kV HVDC insulation system.
In view of factors such as climate change and finite oil reserves, many countries in the Middle East are working to reduce their dependency on fossil fuels by decarbonising energy production. We are well poised to support the growth potential of the region's renewables sector with our comprehensive range of HVDC XLPE and photovoltaic solutions for solar and wind applications.
We are also seeing mounting challenges in the running of aboveground or overhead power lines with increasing urbanization and the growth of densely packed megacities. One solution is compact underground cables, which have a lower installation footprint and cost. Borouge has a specific range of XLPE solutions catering to such applications; these solutions have been designed to address both rated voltages and operational stress levels, giving cable producers the flexibility to develop thinner walled yet durable cables complete with robust PE jackets.