Meet your business partners at the world's most important trade fair for the wire and cable industry: 30 March – 03 April 2020. Business is conducted here; valuable contacts are made and cultivated here; and here you will also see the global innovations that everyone will be talking about tomorrow. Those who are of importance, and those who would like to be, are at wire. You should be there, too.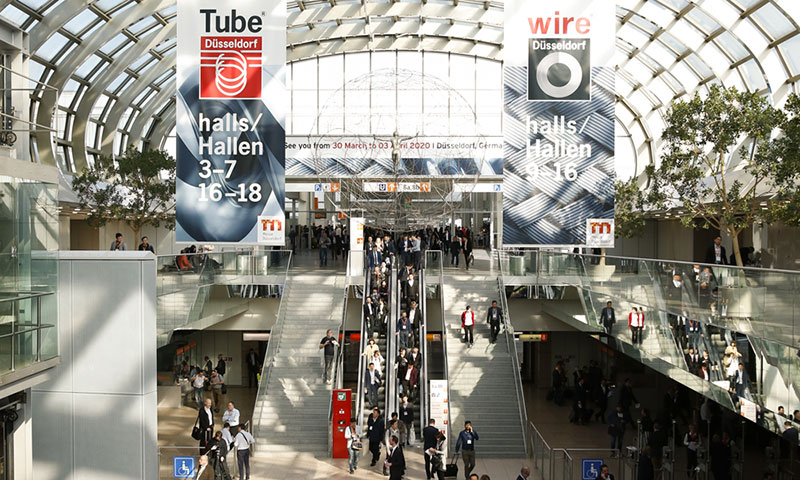 Ranges of wire 2020
In 2020 wire will be presented in Halls 9 to 12 and 14 to 17. On show will be machinery and equipment for wire manufacturing and wire processing, process engineering tools and auxiliaries, materials, fibre optic technologies, special wires and cable as well as innovations from the area of measuring, control and automation technology.
In addition to wire and cable machinery manufacturers, wire and cable products, and dealers in Halls 9 to 12 and 14 to 17, mesh welding machines will be exhibited in Hall 15. They face logistics with demanding challenges since this heavy machinery requires especially thick cables in the supply ducts to be installed and connected to supply the power needed for operation.
In Hall 13 Chinese exhibitors will again be showcasing their wire and cable solutions under the heading meet China´s expertise.
A premiere in Halls 16 and 17: for the first time the complete value chain for fasteners and springs will be presented here. Alongside raw materials, machinery and equipment the finished products – fasteners, connectors and industrial springs – will be on show. This means that wire Düsseldorf will be the new information and order platform for manufacturers, distributors and buyers of screws, fasteners, construction and fitting components, all types of springs and bent wire parts from 2020.
The new date for you is: 30 March to 03 April 2020. Where? Of course in Düsseldorf.