Known for producing wires and cables, electric fans, lighting and luminaries, switches and switchgears, solar products, conduits and accessories, Polycab is striving to achieve a sustainable growth rate.
In an exclusive interview given to Wire & Cable India, Mr. Inder T. Jaisinghani, Chairman and Managing Director, Polycab India Limited, talks about the new developments that took place at Polycab during the last year and the company's future targets.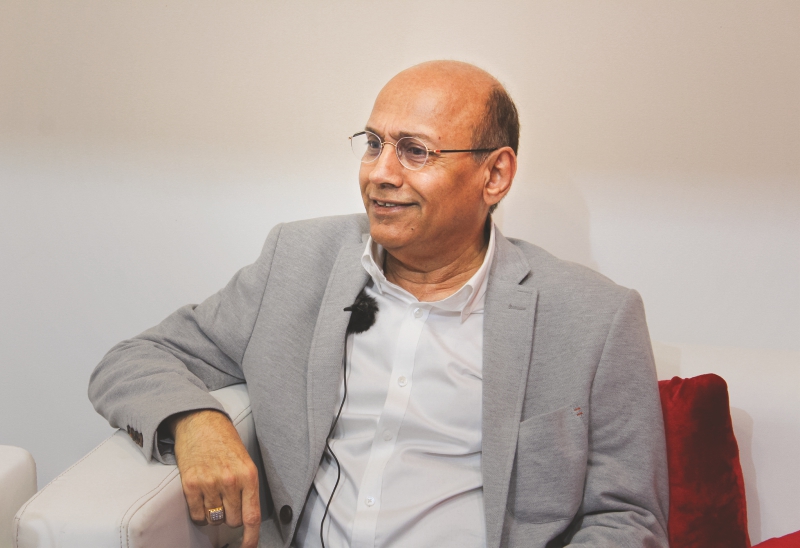 Excerpts.
Wire & Cable India: What new developments took place at Polycab during the last year?
ITJ: Although the market was not very lively last year, we had a good market share. We currently have quite a few pending orders. The company continues to perform well.
WCI: What are you targets for the year 2020?
ITJ: It's hard for me to speak on it, as I don't know exactly what the future has in store for us. All I can say is that we will try to grow more. The market is not lively, and the GDP growth rate is sluggish at the moment. Well, we can't change the market conditions. But we at Polycab are striving to achieve sustainable growth.
WCI: Do you think market conditions will improve in the next, let's say, couple of years?
ITJ: The market will pick up in the coming two to three years. We are trying to expand our network to reach out to new markets. We are working on it.
WCI: Could you tell us a little bit about the cables you make?
ITJ: We are the only company in India which makes the full range of cables – right from house wiring cables to mining cables and railway cables. We make all kinds of cables.Today, the solar sector is growing by leaps and bounds. So, we are in the solar line as well.
WCI: What is the basic philosophy that underlies manufacturing in your company?
ITJ: We are looking for projects where we can get the maximum share of the profit. Currently, we are into manufacturing complete range of cables which we offer as total solutions in any of the projects. More and more people want full solutions. So we are looking for full solutions with an eye on quality, power-saving and service. See, supply is not the only important part of our business. Product features such as durability and power conservation are equally important. The bottom line is that people want full quality solutions. And we provide such solutions for them.
We are also looking into stuff like how to lay the cable and how to connect cable so that power consumption is as less as possible. Not many people know how to connect a cable securely. They just shove the wire in and tighten the nut. This creates sparking, which consequently causes fire. So we are trying to educate our customers on how to connect cables securely. We are also trying to make cables that are safer and more durable.
WCI: There has been a spurt in fire accidents in the recent past. Short-circuits are the prime cause behind fire accidents. What have you to say for this issue?
ITJ: You see, when it comes to buying cables, people usually go for very cheap cables. They don't realize that quality matters the most. It is the quality of the raw material on which the overall quality of a cable depends. Quality also depends on how you process the materials. In brief, you should know how to make cables. To improve the quality of our cables, we have gone for backward integration. We are nowadays making our own copper, our own polymers. We have gone for it because we know that the younger generation wants to buy only quality products. And they will ask for immediate supply and quality service. Of course, quality raw materials and efficient processes call for a greater investment. Right now customers need to be educated on the importance of quality. They should be told that cheap and inferior-quality products are neither safe nor durable.
WCI: How will you recommend the best solution to the customer?
ITJ: We have started a new division called Solution Provider which will enable us to perform this task. We are taking young electrical engineers for this purpose. We will train them. See, this is a long journey, and we have made a beginning. We have hired only seventy people now in this area. But we will hire many more. They will educate the customers at the district level on various aspects of cables. Their job is to tell the customers why they should buy a specific cable. They will educate them on safety factors. They will visit builders, interior decorators, electric consultants, utilities, etc. You see, a cable's life is around 30 to 40 years. If you buy a cable that lasts for just 2 to 3 years, you are making a mistake. Cable is basically a technical product. A lot depends on its quality and the processes that were employed for its production. Many people are not aware of such things. That is not their mistake because nobody ever educated them on the finer aspects of cables. So, we have made a positive beginning in this area; and within five years from now, we will educate people in every nook and corner on cables.
WCI: Could you tell us a little bit about the high-voltage cable segment?
ITJ: With rising urbanization, the demand of power will increase. And we will need a huge amount of EHV cables to transmit power. In the coming 10 to 15 years, demand in the EHV segment will increase because of infrastructure development. There is good business potential in extra high voltage (EHV) cables. Currently, we produce power cables up to 220kV. We may consider 400kV in future.
WCI: Is there anything else you would like to add?
ITJ: Today, the market is slow because of low GDP growth. But we need to think.We need not worry because we've got a young population in the country and demand for our products is going to pick up. Many countries are now looking at India because our Prime Minister has been able to establish good relations with them. These countries are going to invest in India. So, India's future is bright.