With this Editorial Feature on Fire Safe Cables, Team Wire & Cable India interacted with the key industry players to glean some pertinent insights on the indispensable role of fire safe cable technology, new product development, challenges and opportunities. Also, through this article, we try to understand the compliance certifications and what can be done in the future to enhance fire-safety using reliable and safe cables.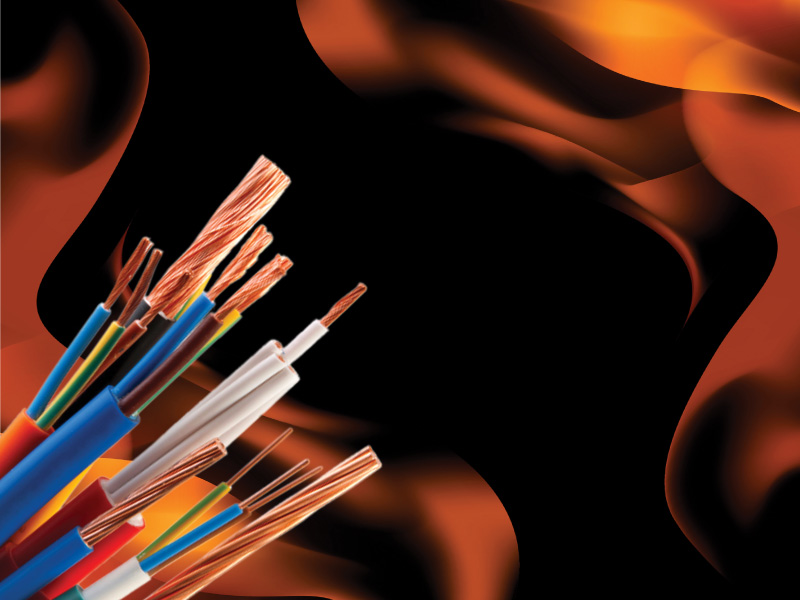 The worldwide statistics on fire accidents and its resultant losses are quite insurmountable, and it can be stated that the accidents related to fire have been a scourge for our society, both in terms of its – human and economic impact. It should be pointed out that although cables make up only about inconsequential of the total cost of a new building, they nevertheless play a critical role in safety, as exemplified by many incidents in the past.

On account of their proximity to electrical systems and the accompanying potential heat and spark sources, wires and cables used in enclosed spaces are particularly required to have fire-safety characteristics as described in various building codes and standards.

Growing Urbanization Necessitates Diligent Consideration of Fire Safety

Fire-safety involves more than meeting the requirement for safe cables, as it is about bringing intelligently designed fire-safe cable products that combine conceptual objectives, and are also efficient in maintaining the circuit integrity. Driven largely by environmental issues as well as safety concerns, there has been a gradual, noticeable shift from wiring that contain normal PVC insulation or sheathing materials to HRFR, FRLS-H or Halogen free flame retardant (HFFR) compounds.

In times of growing urbanization, the importance of fire safety in urban spaces must be well taken care of, Mr. Arvind Agrawal, Vice President, Havells India affirms, "as per statistics available on fire accidents in buildings, 40% of these accidents are attributed to electrical issues. With urbanization set to expand and embrace wider areas and more people in its fold, the issues of safety and efficiency need to be addressed both in old buildings as well as in upcoming housing enclaves."

Halogen Free flame retardant (HFFR) insulated wires, also approved by the Bureau of Indian Standards (BIS), do not emit hazardous gases and emit clear smoke. The low-smoke HFFR is more effective during fire outbreaks as it reduces the amount and density of the smoke, which makes exiting a space easier and increases the safety of firefighting operations.

Applications

The applications requiring flame retardant wire and cable includes: building wire, control cables, portable power cables including elevator cables, mining cables and welding cables, industrial power distribution cables, robotic cables, and so on. In addition, these cables also find applications in – factory automation, automotive and material handling, marine-transit cables such as – military, commercial vessels, and cables for tunnels.

Both by types and applications, the fire-safety standards are highly diverse and complex. Some standards tend to focus primarily on preventing ignition and flame spread, while others put additional emphasis on reducing smoke generation and toxic/corrosive by-products from burning wires and cables. In general, wire and cable standards define fire performance requirements for reducing flame propagation of cables, smoke generation, corrosivity of combustion gases, and maintaining circuit integrity.

Since the fire-safe cable market includes both organized and unorganized sectors, the leading players in the segment are facing challenges from the unorganized sector that offers inexpensive products because at times, the unorganized sector compromises on the quality and safety-related aspects.

Future Prospects of the Segment

The wire and cable industry is continually striving to develop more cost-effective and efficient cable constructions to enable the replacement of more expensive materials with less expensive ones. In some cases, OEMs, cable manufacturers, and material suppliers are working to pass new standards that allow for substitution of new designs.

A number of trends are also having a significant influence on the direction of material selection. These include a slow but steady increase in the driver for green chemistry and sustainability, end-of-life issues such as disposal and recycling, reduction in reliance on toxic or hazardous chemicals, and adoption of the lowest cost technology and manufacturing while still maintaining high quality and longevity of installed wires and cables.

For phasing out PVC cables, the Indian wire and cable industry has in cooperation with Bureau of Indian Standards (BIS) implemented a new standard IS 17048:2018 for halogen free flame retardant (HFFR) cables for working voltages up to and including 1100 volts.

Outlining the cost-efficiency of the fire-safe cables and the recent move made by the company, Mr. Munishwar Gaur, Group President, CMI Limited informs, "with the advancements in the development of compounds over the last few years, the fire-safe cables are becoming increasingly pocket-friendly. As a matter of fact, CMI has completely ruled out the production of normal PVC insulated house wires. Our 100% of the wires produced for industrial as well as household requirements are now at least Flame Retardant (FR)."