"The cable market is approximately 20 percent of the medical equipment industry, and we see 'healthcare & medical equipment' as one of the fastest emerging market segments for the coming months"
LAPP India is a one-stop solution provider for cable and connection technology. The company designs and manufactures wires, cables, connectors, and glands. It started its operations in 1996 by setting up a state-of-the-art manufacturing unit at Jigani, Bangalore, and has pan India presence. Wire & Cable India recently interviewed Mr. Gary Bateman, Managing Director – LAPP India, wherein he dives into the product portfolio catering to the medical technology and discusses the importance of cables in telehealth and remote patient monitoring facilities in the advent of COVID-19.
Wire & Cable India: LAPP India makes cables suitable for medical technology. Please shed some light on the cables used the healthcare segment. How are they different from normal cables?
Gary Bateman: LAPP is one of the earliest cable manufacturing companies that identified India's potential in the sector and set up operations close to 23 years ago. Today, LAPP is the largest company in the APAC region and second largest in the LAPP Group, with two manufacturing facilities (one in Bangalore and one in Bhopal) servicing over 9000 customers.
LAPP India is catering to cable and connection technology requirements across infrastructure, renewable energy, metro, ports, railways, metals and mining, automotive, and automation power plants (nuclear and thermal).
In the last year due to the pandemic, the healthcare industry has grown and there is a lot of focus on improving the health infrastructure.
Cables used for medical applications have to be reliable and extremely safe to use. Medical devices are used in different environments due to which the cables must be of high-quality standards, adaptable, and meet the high requirements of efficacy and quality standards.
Fiber optic cables and advanced network Ethernet cables are crucial to all operations at a medical facility – from record-keeping to medical devices. These cables also need to carry larger data because medical procedures like x-rays and radiology imaging collect complex information. They need to ensure high speed and real-time data transfer.
Hence, cables used at medical labs and hospitals need high bandwidth and the ability to transfer data within seconds. Most importantly, because healthcare operates 24×7, the cables need to be reliable and dependable.
WCI: Tell us about the product portfolio specific to the healthcare system. Also outline the key strengths.
GB: LAPP is a leading supplier of integrated solutions and branded products in the field of cable and connection technology. Our products range from power and control cables, industrial connectors, and high-speed data transmission cables to conduits, glands, and cable markers.
In the healthcare segment, we mostly see LAPP power and control cables and high-speed data transmission cables being used. ÖLFLEX UNIPLUS , LiYY, LiYCY, UNITRONIC LiHCH (TP) UL MTW Single & Multi-Cores, OLFLEX CLASSIC 110, OLFLEX CLASSIC 110 CY,OLFLEX CLASSIC FD 810 CY are some of the commonly used cables along with ring lugs glands, conduits, spiral cables.
The cables are used in ventilators, x-ray machines, patient monitoring systems (PMS), respiratory units, oxygen concentrators, bio kilns, bioreactors, dental equipment, robotic surgery equipment, cath lab, and radiotherapy for cancer treatment.
All our cables are quick to assemble, flame retardant, and ensure safe and precise data transmission. They are tough and resistant to hot and cold temperatures, corrosion, and acids. They have a wide clamping range, are halogen-free, have optimum strain relief, and are torsion-resistant. They are also reliable, robust and include copper screening that complies with EMC requirements and protects against electromagnetic interference.
WCI: Are you planning any new addition to your product range in the near future?
GB: LAPP India is constantly innovating to meet industry challenges and customer requirements. Innovation is a key guiding principle at LAPP.
While right now, we are providing cables as a component to medical devices, we are also exploring opportunities to provide complex harness solutions for the medical ecosystem.
WCI: Could you please define the global presence of LAPP's medical cables?
GB: LAPP has been catering to the medical segment globally. In India, one of the largest healthcare equipment manufacturers purchases 90 percent of their cable requirement from LAPP India. We also cater to the maintenance market as and when required.
As this segment grows, LAPP presence in this segment will also grow.
"LAPP India is constantly innovating to meet industry challenges and customer requirements"
WCI: What is the market potential of medical cables in India?
GB: With the COVID-19 pandemic, the medical industry has undergone a transformation. There are a lot of opportunities for the Indian health care system especially with the growing demand for improved infrastructure and better healthcare delivery. In the past year, there has been an increased focus on developing telehealth and remote patient monitoring facilities. With the third wave of COVID-19 to peak in October-November, we are seeing an increased thrust to new and improved medical devices, for both on-site and remote patient care and diagnosis.
Currently, the cable market is approximately 20 percent of the medical equipment industry; and for the coming months, we see 'healthcare & medical equipment' as one of the fastest emerging market segments.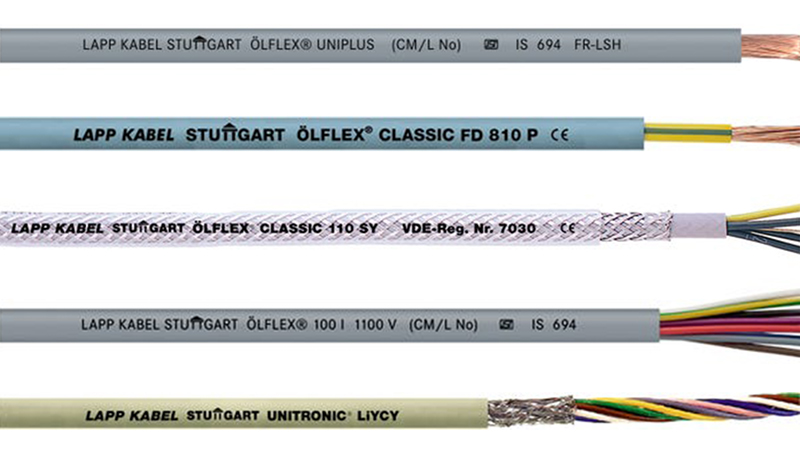 WCI: What has been the impact of the pandemic on your business?
GB: With the lockdowns and curfews, we faced a slowdown in 2020, but have bounced back this year. New business opportunities have emerged for us to explore as a cable & connection technology manufacturer. Apart from growing our footprint in healthcare, we have expansion plans in building wire and solar products as well. Post lockdowns, India's investments in infrastructure have increased, especially with the 'Make in India' boom. India is the 3rd largest construction industry in the world and presents a huge untapped market.
WCI: Elaborate on your future plans and the technology initiatives that are driving the company ahead.
GB: India's insulated wire and cable market is forecast to grow at a CAGR of 10.3 percent through 2023, predominantly on account of growing government investments towards infrastructure development projects. Industries including transportation, food & beverage, oil and gas, and industrial communication will be some of the biggest business drivers for the wire and cable industry.
We are also focusing on new initiatives across territories including e-mobility, medical equipment and the pharmaceutical industry.
We also see immense potential in solar power. Lapp has been innovating and developing cabling and connectivity solutions for photovoltaic systems for over a decade and our growth strategy continues to focus on localizing solar products for India with price advantage for the customer.