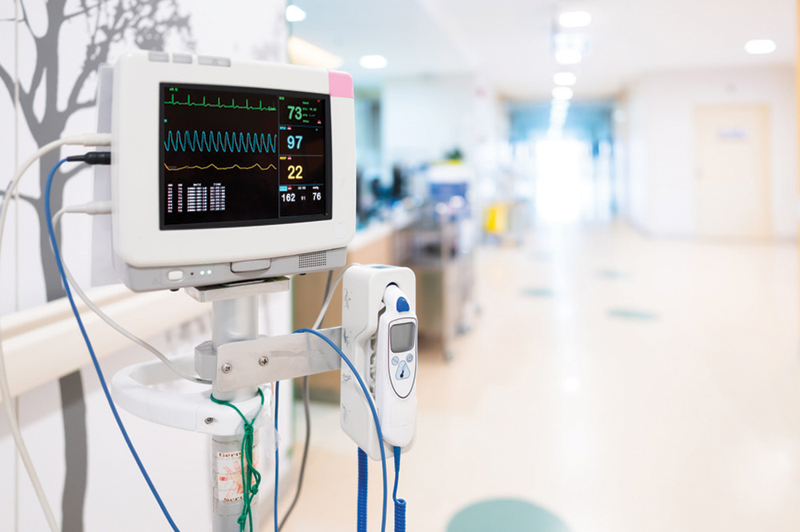 The healthcare sector is currently under huge pressure due to COVID- 19. In the last year, the central and state governments walked hand-in-hand and undertook robust response plans to tackle the pandemic. Hospitals and isolation centres dedicated to coronavirus patients were set up within days. Fully equipped control rooms with facilities like 24/7 control and command centre, tech-enabled mapping of cases, virtual training and video conferencing, daily media bulletins, and data management of contact tracing quarantine were constructed for crisis management. As digital connectivity and networking technologies played a pivotal role in every step; all of these would not have been possible without cables.
The role of wire and cable in the healthcare sector is rarely talked about. While the importance of cables in hospitals is obvious, it may not always be visible. However, upon further reflection, we realize that everything in a hospital, from basic operations to critical care, is possible only through reliable and secure cable networks. Ventilator, dialysis machine, pacemaker, cardiopulmonary bypass (CPB), almost everything runs on wires and cables and at times, a patient's life depends on it.
Power availability and reliability
A hospital is a place that needs an uninterrupted power supply. As there is a higher concentration of oxygen in operation theatres, and Intensive Care Units, extra measures should be taken during the wiring of hospitals. Talking about the types of wires that should be used in hospitals, Mr. Shreegopal Kabra, Managing Director & Group President, RR Global said, "Given the outbreak of the COVID-19 pandemic in the country, the hospitals are overworked and they should focus on electrical safety in these circumstances. A lot of hospitals still use PVC wires, instead, they should be using Low Smoke Zero Halogen (LS0H) wires. In case of a fire accident, PVC wires emit toxic smoke whereas LS0H wires do not emit toxic smoke. Switching from PVC to LS0H wires will ensure safety in the long run as well."
Mr. Deepak Chhabria, Executive Chairman, Finolex Cables Ltd. mentions his company's product portfolio to meet such specific demands of the medical industry. "The critical nature of care being provided at healthcare facilities demands reliable electrical distribution systems. Finolex Cables manufactures Flame retardant low smoke (FRLS) and halogen-free wires (HFFR) that are supplied to the medical industry to help curb the spread of fire instantly and not release any potentially harmful toxic fumes," he informed.
"The medical devices industry is one of the most highly regulated sectors with effective quality systems and product requirements. Hence, the cables and other electrical products must also be reliable and meet the highest safety standards and requirements. As the different competencies of diagnostic, therapeutic, and monitoring devices begin to merge, Finolex has risen to the challenge by engaging in increasingly complex and differentiated supply chains while remaining compliant with diverse Governmental and Industry Standards. Our organization and all our Plants across the Country are ISO 9001 certified, meeting the highest quality standards required in the medical field. With sophisticated ERP like SAP, we ensure traceability right from stages of procurement of raw materials, manufacturing, finished products and sale to customers as per FDA requirements. We use only the highest-grade virgin raw materials and state-of-the-art manufacturing technology to ensure our products meet all the safety parameters, thereby ensuring the safety of patients and healthcare staff," he added.
Mr. Shashi Amin, Executive President & Chief Business Officer – HDC, Polycab India Ltd. shares that fire burns are not the primary cause of deaths during hospital fires as against the common belief. It is excessive smoke inhalation and asphyxiation that lead up to fatality. "It becomes extremely important that safe wiring and cabling practices are adhered to. Use of safe and quality approved cables, wires, and accessories will help us steer clear of fire accidents. As an electrical solutions manufacturer, we consider it our responsibility to drive attention to this issue and also work in the direction of coming up with solutions to counter concerns arising around the topic of fire safety. We, as a brand, have made significant progress in utilizing cutting-edge technology to develop fire-resistant products. One such product in our portfolio is the Fire Survival Cable. These cables are packed with capabilities against a fire breakout and are one of the very few ones in the country to be LPCB certified which is the most reputed international certification for fire safety. Our FS Cables maintain circuit integrity of emergency systems up to 3 hours even at 950 degree C, which gives a pretty wide window for evacuation. The oxygen index is 34-36 percent as compared to 29-32 percent in the case of FR/FRLS cables, which goes to show that these cables don't catch fire easily. Additionally, the toxicity index is 0.5 percent compared to less than 20 percent in the case of FR/FRLS cables. Smoke causes the visibility to reduce but our FS Cables exhibit high visibility index of 95 percent or above," he said.
Mr. Arvind Agrawal, Vice President, Havells India also sheds light on the importance of using the right kind of wires in the healthcare industry. "Healthcare industry has been tirelessly operating in the pandemic and focusing only on the treatment of patients. Owing to the current circumstances, it is apparent that there is an additional electrical load in hospitals with minimum to no attention paid to the underlying quality of electrical systems. It is imperative to note that any electrical short circuits in ICUs, operation theatres with high oxygen concentrators could lead to life-threatening accidents. Due to lack of attention or awareness, if hospital authorities use low-grade wires, which results in overheating, and to add to this PVC used in cables creates a lot of smoke in case of a fire incident. In most cases of electrical fires, if polyvinyl chloride had not been present, the fires either would not have started, would not have emitted life-threatening gases and chemicals, or would not have spread at such a rapid rate," he indicated.
"Cognizant of the fact that wire and cables are the 'veins and arteries' of buildings, architects and real estate builders need to take note of the safer and sustainable option like halogen-free flame retardant (HFFR) cables. HFFR insulated wires, also approved by the Bureau of Indian Standards (BIS), do not emit hazardous gases and emit clear smoke. The low-smoke HFFR is more effective during fire outbreaks since it reduces the amount and density of the smoke, which makes exiting a space easier for occupants as well as increases the safety of fire fighting operations. Poor quality cables could lead to a serious fire incident at a hospital. All the hard work, sacrifice, and care in saving the lives of COVID patients cannot be at stake of an increased risk of electrical fire from underlying electrical causes that are fully preventable," he added.
Powering the healthcare industry
The role of wires and cables in the healthcare sector is more than just the transmission of electricity. X-ray, MRI, CT scan, ultrasound, PET, EEG, ECG – all these play significant roles in the diagnosis process and treatment of patients. It is due to reliable wiring and connections, that the image/information is transmitted by these machines accurately. While explaining the role of the wire and cable industry in aiding the medical devices, Mr. Gautam Seth, Joint Managing Director, HPL Electric and Power Ltd. said, "In the present time of the pandemic, the wire and cable sector is playing a vital role in serving the healthcare sector. As we know that in the medical sector there is no place for failure, medical devices must operate correctly at all times. In these Covid-19 times, the healthcare sector is playing a major role, hence, the wire and cable industry has to work efficiently too. For that, cables must be functional and accurate in the frantic environments like the emergency rooms where somehow the malfunctioning of cable can impact the ability of medical professionals to conduct proper treatment."
According to a report published by Market Research.com, global cables and leads for the medical equipment market are predicted to reach USD 6 billion by 2027. Meanwhile, the growth in the ECG segment is projected to reach USD 2.7 billion recording a 4.7 percent CAGR and the EEG segment is estimated to be 3.4 percent CAGR for the next 7-year period.
Mentioning the pacemaker segment, the report stated that the United States, Canada, Japan, China, and Europe will drive the 2.5 percent CAGR. These regional markets accounting for a combined market size of USD 641.2 million in the year 2020 will reach a projected size of USD 760.8 million. China will remain among the fastest-growing in this cluster of regional markets. Led by countries such as Australia, India, and South Korea, the market in Asia-Pacific is forecast to reach USD 848.5 million by the year 2027.
According to a report released by Niti Aayog, the size of the Indian medical devices market is estimated at USD 11 billion and is expected to grow to USD 50 billion by 2025. The medical devices sector has been growing steadily at a CAGR of 15 percent over the last 3 years. India's diagnostics market is currently valued at USD 4 billion. The share of the organized sector in this segment is almost 25 percent (15 percent in labs and 10 percent in radiology) and the diagnostics market is expected to grow at a CAGR of 20.4 percent to reach USD 32 billion by 2022.
Talking about the various applications of wires and cables in the healthcare sector, Mr. Seth added, "There are various products which wire and cable industry is developing-that includes medical diagnostic and imaging equipment, laboratory equipment, treatment units, surgical lights, surgical robots, electronically adjustable hospital beds, etc. The wire and cable industry is playing an essential role in this difficult time when the healthcare sector is in major demand. So typically in the healthcare sector, the ideal cabling framework is needed which should be of superior quality and robust. With growing concerns on transmission and infection control, medical centers are choosing to utilize disposable medical equipment which is increasing the demand for wire and cable industry in the healthcare sector."
COVID 19 has witnessed the growing demand for single-patient-use ECG leads. Before the pandemic, the sales of disposable ECG leads were expected to grow at a CAGR of 25 percent and exceed USD 1 billion by 2024. However, as coronavirus is contagious, and single-patient-use ECG leads can be a simple way to help reduce cross-contamination, the market is now expected to reach USD 2 billion. Various companies such as Covidien's Kendall-LTP Division, 3M, Cardinal Health, Cables and Sensors, Philips Healthcare, Curbell Medical, Uni-Med, and Vyaire Medical are into the manufacturing of single-patient-use cables and lead wires. While these cables and lead wires might currently not be very popular in India, the possibility of adopting this technology in the near future cannot be ruled out as the world gears up to reduce the transmission of the virus.
Cables are used in surgical lasers, LASIK equipment, and medical infusion pumps. The operation tables and hospital beds are equipped with wire and cable arrays to ensure the right positioning of the patient during procedures. These cables are flexible so that they can operate when bent by the bed's movement. Besides table and bed orientation, surgical lights also require durable wire and cable assemblies that can withstand temperature fluctuations and high power levels. With its application in CCTV and fire alarms, the cable is crucial in hospital security and fire safety systems as well.
Wires and cables play silent but significant roles in equipment monitoring, communications networks, and patient information systems. They are used in nursing stations, call systems, intercom systems, food services, admissions procedures, and coordination-of-care databases.
New ideas, new solutions, and a better tomorrow…
As the healthcare sector moves towards new innovations, the wire and cable segment is set to play an interesting role in the near future. Thanks to broadband connectivity, telehealth, and telemedicine services have already become the new normal amid the pandemic. It has reduced the risk of virus transmission as the doctors are able to give consultations and treat patients without the need for an in-person visit.
"Due to the Covid-19 pandemic, virtual medicine has already gained momentum. With 5G knocking on our doors, the medical industry is poised to churn a huge amount of data that our Fibre optic cables can handle. The Healthcare industry will be using 5G and Optical Fibre cables for preventive care, telemedicine, and robotic surgeries in the near future," said Mr. Chhabria, adding "Our LAN and category cables provide the highest speed for data transmission and bandwidth, ensuring that hospital networks are running without any downtime and allow real-time data flow, i.e., voice, images, and other data, between various machines and computer networks without any interruptions. We continue to grow, develop, and innovate to create technologically advanced products that will help in saving lives in the future."
Virtual Reality (VR) has already been introduced in the healthcare segment to allow physicians and surgeons to take a 'tour' of patient's anatomy in 3D and simulate surgery. This technology has helped doctors to feel more in control and better prepared before major surgery and procedure.
The increasing advancement and transformation in technology is a key factor boosting the virtual reality in the healthcare market, says Fortune Business Insights in a report. The global virtual reality in the healthcare market size stood at USD 1.56 billion in 2018 is expected to reach USD 30.40 billion by 2026, exhibiting a CAGR of 42.4 percent.
Surgical robots are also taking over the healthcare industry. The global surgical robots market is projected to reach USD 14.4 billion by 2026 from USD 6.4 billion in 2021, at a CAGR of 17.6 percent. The rising demand for surgical robots will pave the way for small and flexible medical cables in the years ahead.
With such innovations and massive amounts of data leveraging such technologies, high-capacity, and low-latency networks will be required in the near future. The cable industry aims for 10G and DOCSIS 4.0 technology would be the cornerstone. All this may entirely change the face of the healthcare sector by improving the quality of care and reducing costs. Hence, it won't be wrong to say that cable is the heartbeat of any healthcare facility.